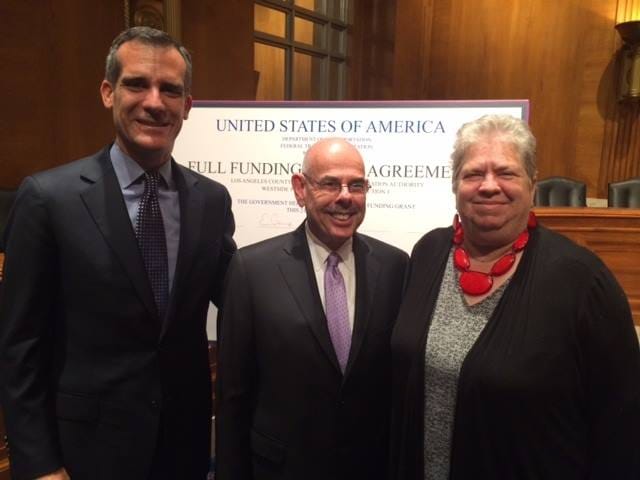 Election season 2014 may only be a couple days old in Santa Monica, but already Mayor Pam O'Connor, who is up for reelection this year, has announced major support from some of the region's top leaders.
O'Connor, who has represented Santa Monica and the Southbay on the L.A. County Metro Board of Directors since 2001, announced Tuesday that L.A. County Supervisor Zev Yaroslavsky and L.A. City Councilmember Mike Bonin – both fellow Metro Board members – have backed her bid for a fifth term on the Santa Monica City Council.
Their endorsements, along with the endorsement of former Santa Monica Mayor and State Assembly Representative Richard Bloom, come in large part due to the work O'Connor has done over the last two decades as a fierce advocate for sustainable transportation and shared streets throughout the car-choked L.A. region.
"Pam O'Connor is a champion of forward-thinking ideas and an agent of progress," Bonin said in an official statement Tuesday. "She has been at the forefront of a movement to bring mass transit and sustainability to Los Angeles. She is a forceful advocate for mobility, for multi-modal transportation, and for a cleaner, greener community."
Of the seven seats on the City Council, three are open this election year, including O'Connor's. Councilmembers Kevin McKeown and Bob Holbrook hold the other two seats. While McKeown has filed paperwork to run for reelection, Holbrook has yet to make an official decision.
While O'Connor is up for reelection to the Santa Monica City Council (the Council chooses a new Council member to hold the title of mayor every election cycle) this year, her position as a major progressive leader in the region is also at stake.
Should she lose her seat in the bayside city, so too would she be off the Metro Board and the seat would likely pass to one of the Southbay cities.
Joining Bonin, Bloom, and Yaroslavsky were several of O'Connor's colleagues on the Council, including Mayor Pro Tem Terry O'Day and Councilmember Gleam Davis and Holbrook.
One the most tangible manifestations of O'Connor's work is the Expo light rail. While construction on the 15-mile line connecting Santa Monica to Downtown L.A. is less than two years from completion, the project has been decades in the making.
After the right-of-way was purchased in 1990, it took another decade before the project began to move forward. Construction finally began on the project in 2006 in large part due to the advocacy of local leaders like O'Connor, who, after elected to City Council in 1994, worked with local leaders to help jump-start the project.
She currently chairs the Expo Construction Authority, on which Bonin and Yaroslavsky both sit.
When O'Connor was chair of the Metro Board in 2007, she created the agency's Sustainability Committee, which she has chaired since.
The Committee focuses on encouraging biking, walking, and other active and sustainable modes of transportation throughout L.A. County. It's Metro's Sustainability Committee which supports shared streets events like CicLAvia, which have been expanding throughout L.A. County over the last decade as a means of encouraging active transportation.
During her time as president of the Southern California Association of Governments (SCAG), which represents the region's six counties, the organization adopted its first Sustainable Communities Strategy.
Adopted in 2012, the strategy is a road map for reducing greenhouse gas emissions by integrating land use policies and the region's transportation networks.
O'Connor also sits on the board of ICLEI (Local Governments for Sustainability), a non-profit group looking to provide technical expertise and services to local governments looking to lead the transition to more sustainable places.
Her work has gotten her much recognition, including the American Planning Association Los Angeles Chapter's Distinguished Leadership Award in 2005. She was also recognized as one of the 25 most influential women in transportation in Southern California in 2010 by the Women's Transportation Seminar.
O'Connor's focus on environmental and economic sustainability got the attention of The Guardian recently, which published a glowing piece that highlighted her work in Santa Monica and the Southern California region.
Perhaps most importantly, she was awarded the Politician of the Year "Streetsie" for 2013 by Los Angeles Streetsblog.
From Streetsblog: "Santa Monica Mayor Pam O'Connor seems to be everywhere, advocating for transportation sustainability, livable cities, and complete streets policies." The post goes on to add, "What's truly remarkable about Pam is that none of these elected or appointed positions are full-time, as is the case with L.A. City Councilmembers. Pam serves in her free time from her primary job as a historical preservation consultant."