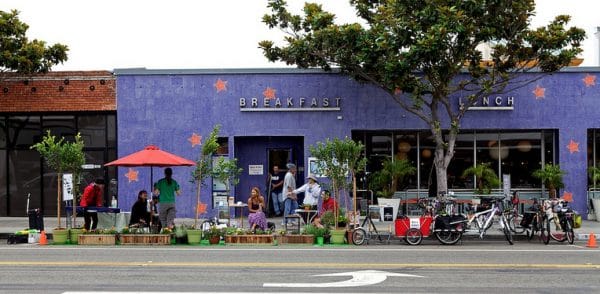 On Friday, Downtown Santa Monica, Inc. will be celebrating Park(ing) Day, the yearly world-wide event during which people transform metered parking spaces into temporary public spaces, with its own parklet.
From 11 a.m. to 2 p.m., Downtown Santa Monica, Inc., the nonprofit agency that oversees the city's bustling downtown district, will post up between Second and Third Street on Wilshire Boulevard where visitors can "Enjoy FREE snacks, beverages and cool ocean breezes. Learn about mobility options, and chances to win a pre-paid Tap Card or a free ride on Breeze Bike Share," according to Downtown Santa Monica, Inc.'s Facebook page for the event.
Downtown Santa Monica, Inc. hopes to communicate to people about their mobility options in the city's downtown, which is bounded by Lincoln Boulevard in the east, Ocean Avenue in the west, Wilshire Boulevard to the north, and the I-10 freeway in the south.
"The ultimate goal is to connect with Downtown residents and, in particular, those who work in the area and help them discover all the various mobility options Downtown and Santa Monica as a whole have available," Mackenzie Carter, DTSM's director of marketing and communication, told Next in an email Tuesday.
"We understand the challenges Downtown faces when it comes to mobility. It's a very popular destination with roughly 16 million visitors a year, but fortunately the City and its partners have provided people with various choices when it comes to getting around," she said. "Downtown Santa Monica, Inc. is doing our part to spread awareness about alternative forms of transportation and encourage people to try out a new way to commute to work, all while having fun. Parking Day provides us with a great opportunity to do just that."
Santa Monica Next is no stranger to Park(ing) Day. In 2014, Next joined Santa Monica Spoke in a parklet at the meters outside of Swingers Diner on Broadway.
While this year, it appears not much else is going on around the city for Park(ing) Day, the event remains a good reminder to think about how we allocate public space. As the city of Santa Monica recently demonstrated with three new parklets on Main Street, a little change to the public streetscape can vastly improve the experience for people who are walking in the area by providing a place to sit and shade at the small cost of one or two parking spaces.
The new Downtown Community Plan, which the City Council approved in late July, calls for increasing public open space in the urban neighborhood, including parklets.