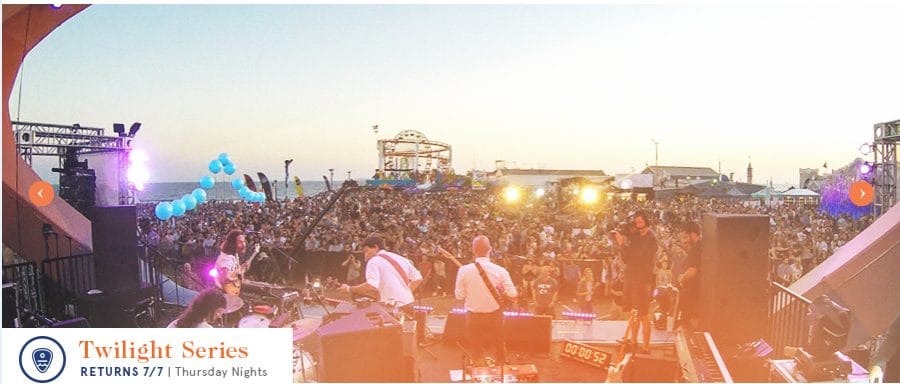 This week, the free summer concerts on the Santa Monica Pier start again, as do the weekly Picnic on the Promenade events and the Library at the Beach series. Then, later this month, you can help support Santa Monica Next at our 2nd annual summer cocktail party fundraiser.
Mayer Hawthorne Kicks of Free Summer Pier Concert Series
This Thursday, July 7 marks the start of the Twilight Concert series on the Santa Monica Pier with performances by Mayer Hawthorne and Alina Baraz.
You can hear a sample of Hawthorne's music here:
And Baraz's here:
With the Expo light rail line having opened just a few months ago and Santa Monica's public bike-share program in full swing, officials are reminding people that they have real alternatives to driving to the concerts, which can be frustrating and expensive.
"Warning: Parking by the beach is expensive! Avoid high fees, long lines and maintain your chill by riding EXPO, BIG BLUE BUS, BREEZE BIKE SHARE, skateboard, rideshare, ebike, human feet, hover-thingy, llama with a saddle. Oh and there's a sweet bike valet too," the Pier website reads.
Your evening will be much more pleasant if you don't have to worry about parking or waiting in line to get out of the parking lot after the concert.
When: Thursday, July 7 at 7 p.m.
Where: Santa Monica Pier
Picnic on the Promenade
Downtown Santa Monica, Inc., the nonprofit that runs the city's thriving downtown, is bringing back the summer lunchtime festivities with Picnic on the Promenade starting this week through August 26.
On Friday, July 8 from 12 to 3 p.m., leave the cubicle and head to the Promenade, between Arizona Ave. and Santa Monica Blvd., for some fun activities on your lunch hour.
"This annual summer series eases locals and Promenade walkers into the weekend every Friday afternoon with music, classic board games, Ping-Pong, interactive challenges, and free services from Downtown merchants. Bring a lunch or grab-and-go from one of Downtown's award-winning eateries and soak in the sun," the Facebook invite reads.
When: Friday, July 8 from 12 to 3 p.m.
Where: Third Street Promenade, between Santa Monica Blvd. and Arizona Ave.
Support Santa Monica Next at Our 2nd Annual Cocktail Party Fundraiser
It's that time of year again, folks. Santa Monica Next is getting ready to throw its second-annual summer cocktail party fundraiser on Saturday, July 30.
As a nonprofit news site, we rely on the generosity of our readers to support our work, and this year, we have an extra reason to celebrate: the Los Angeles section of the American Planning Association (APA) honored Santa Monica Next this year with an Award of Excellence in its "Communications Initiative" category.
Your donations support the award-winning content you have come to expect from us. From our in-depth looks at our growing housing crisis, to our spotlighting local businesses, to keeping tabs on how our city is making it easier for us to get around sustainably, we strive to keep you informed about the issues facing the community.
Help us keep up the good work and join the Santa Monica Next steering committee, Abby Arnold, Juan Matute, Damien Newton, Grace Phillips, Joni Yung, Carter Rubin, and Scott Schonfeld, and the site's editor, Jason Islas for a festive summer cocktail party with signature drinks at Abby's Ocean Park home. Drinks will include the Expo-tini, High Rise Highball, and Manhattan by the Beach.
You can RSVP here for more details. We hope to see you there!
When: Saturday, July 30 from 5 to 7 p.m.
Where: Abby's house (more details with RSVP)
Santa Monica Public Library Heads to the Beach
The library is heading to the beach again this summer starting on Friday, July 8 for its annual Santa Monica Public Library (SMPL) at the Beach event series.
There will be a series of five pop-up libraries between now and September at the Annenberg Community Beach House, and Dorothy Green Park.
"Visitors to our pop-up libraries can join in on a variety of fun, family friendly, activities including: Seaside Story Time, hula hooping, ukulele lessons, nautical crafts, and interactive environmental education. Librarians will be on-hand to sign out books from our curated collection of beach reads (no library card required), give personalized reading recommendations, and demonstrate cutting edge library apps, eBooks and streaming media. Folks looking to relax can beat the heat and kick back in the shade of our Surfside Reading Lounge, or enjoy beach games like bocce and ladder toss. Each pop-up will also feature a unique, limited edition SMPL at the Beach giveaway," according to a press release put out by SMPL.
This Friday's event will be at the the Annenberg Community Beach House, 415 Pacific Coast Hwy, from 10 a.m. to 3 p.m. For more information, visit smpl.org/beach.
When: Friday, July 8 from 10 a.m. to 3 p.m.
Where: The Annenberg Community Beach House, 415 Pacific Coast Hwy