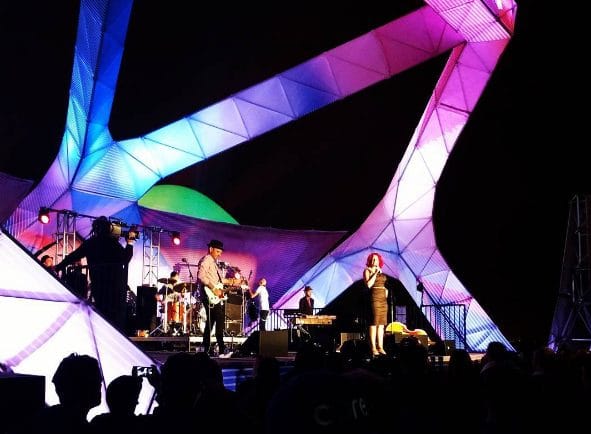 The Santa Monica City Council voted unanimously Tuesday night to keep the Pier Concerts going, but at a reduced size and in the fall.
After more than an hour of public testimony, the majority of which called for little or no change to the concert series, the City Council opted to reject the option of taking an hiatus from the popular series, instead voting to reduce the number of concerts and move them to the fall.
"The Twilight Concert Series is without a doubt one of the most admired events in Santa Monica, but we need to re-imagine it to ensure the safety of those attending," said Mayor Ted Winterer in a press release put out by the city Wednesday morning. "The Council supports the continuation of the Twilight Concerts if the Pier Corporation is able to reduce crowd size."
At the meeting, city officials noted that the increased size of the crowds in recent years have led to cost overruns due to the need for more security. In a somewhat dramatic moment during public testimony, Snap, Inc. (parent company of Snapchat) CEO Evan Spiegel offered to donate $1 million to save the Twilight Concert Series.
According to city officials, last night's vote gave staff direction to do the following:
Retain the original spirit of the Twilight Concert Series by limiting attendance to primarily the Pier Deck through a re-imagined, cultural-oriented series of no more than six events starting after Labor Day.
Give City Staff authority to achieve these goals through consideration of the options outlined in the Staff Report, including: add a no-fee ticketing system to prevent overcrowding and provide a more accurate count of expected attendees; remove all speakers that project towards the beach; reduce the size and prominence of the stage; relocate the stage so it is not visible from the beach; change the day of the week the series is held; book performers whose draw aligns with a small-sized venue; screen the Newcomb lot on the south side of the Pier to remove views from the sand; among other ideas the Pier Corporation may define.
Limit public safety costs to no more than $400,000 for public safety for the 2018 events, with the authority to suspend the series if this allocation is exhausted prior to the conclusion of the series of events.
Additionally, staff is directed to engage outside resources to develop an assessment, drawing on other places that host larger scale beach events, including exploring fixed infrastructure needed to provide security for larger scale events.
This will be the largest change to the series in its 33-year history. The concerts started as a revitalization effort for the historical Pier after a major storm significantly damaged it. The point of the concerts were to draw crowds to the Pier and the surrounding businesses.
Watch the entire hearing, including public testimony and council deliberation below.