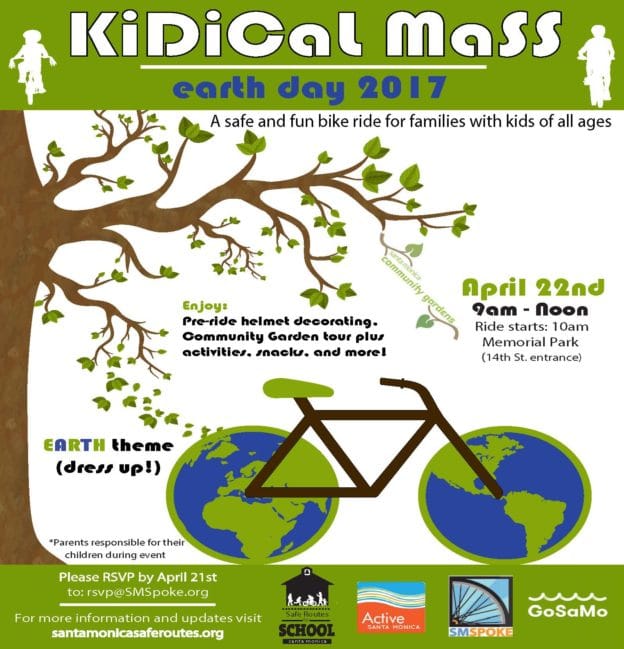 This Saturday, head to Memorial Park for a kid-friendly Earth Day-themed bike ride. Then, on Sunday, join Santa Monica Mayor Ted Winterer for a bike ride to Annenberg Beach House to learn about the city's beach restoration project.
From 9 a.m. to 12 p.m. this Saturday at Memorial Park, parents and kids can participate in an Earth Day-themed bike ride. Costumes are encouraged.
"We will take a family friendly ride in Santa Monica to visit Park Drive Community Garden for a special kid friendly event. Prizes and giveaways at Memorial Park when we return!" according to the website of Santa Monica Spoke, one of the events sponsors.
The event starts at 9 a.m. at Memorial Park with snacks, bike safety checks, and helmet decorating. Then, there will be a ride to nearby Park Drive Community Garden where kids will get a tour and a "seed bomb" workshop.
The ride will end back at Memorial Park where there will be "fun activities, prizes and post ride snacks," according to Spoke.
The event is free, but please RSVP here. Children must be accompanied by an adult.
On Sunday, from 9 to 11 a.m., the city will host the monthly Ride with the Mayor.
"The theme for the April Mayor's Ride will be a ride along the beach path to a presentation by the The Bay Foundation and the Annenberg Community Beach House about the Beach Restoration Pilot Project," according to Spoke's website.
The ride starts at Perry's Cafe on Ocean Front Walk and Hollister; the round-trip ride is about four miles. Either bring your own bike and helmet or you can rent from Perry's or take a Breeze Bike Share bike.
"Children should be capable of keeping up at comfortable pace or in an appropriate child seat or trailer," according to Spoke.
RSVP at the Facebook event page here.