At the far end of the pier Tuesday night were three upholstered chairs, a coffee table and two potted plants.
It looked like a cozy living room set, but this was actually staging for a political debate about genetically modified foods.
The pier setting, however, was not the most unusual aspect of this live event.
The real surprise was that debate organizers were hoping to foster a reasoned conversation about a controversial topic. That's a lofty goal in light of all bickering and biting personal attacks that dominate political discourse in America these days.
The event, held just two days after the nation was riveted by the acid-toned debate between Donald Trump and Hillary Clinton on Sunday night, was organized by Procon.org, a 12-year-old nonprofit organization based in Santa Monica. The group's mission is to present even-handed and expert views on its website of today'
s hot-button issues such as gun control and illegal immigration in a simple pro/con format. That way, the group hopes, people can make informed decisions away from the noise and rancor that seem to surround any conversation about divisive political topics.
Tuesday night's debate was the group's first attempt to transform the reasoned pro-con format of its website to a live event. Despite these good intentions, the debate went downhill quickly and produced the same kind of personal attacks that the group had hoped to avoid.
The two debaters were Dave Murphy, an Iowa farmer and leader of a grassroots campaign against genetically modified foods, and Bob Goldberg, a UCLA science professor and supporter of genetically engineered agriculture.
An audience of about 100 people gathered in rows of chairs provided for the event or positioned themselves on the wooden pier steps nearby.
Procon.org's president Kamy Akhavan moderated the debate, declaring at the start that they were going show the world how to "disagree without being disagreeable."
The evening began promisingly enough as the two debaters arrived on stage and appeared to exchange informal greetings, although they didn't shake hands. The glowing sunset provided a pleasant backdrop. Nearby, fisherman cast their lines into the water.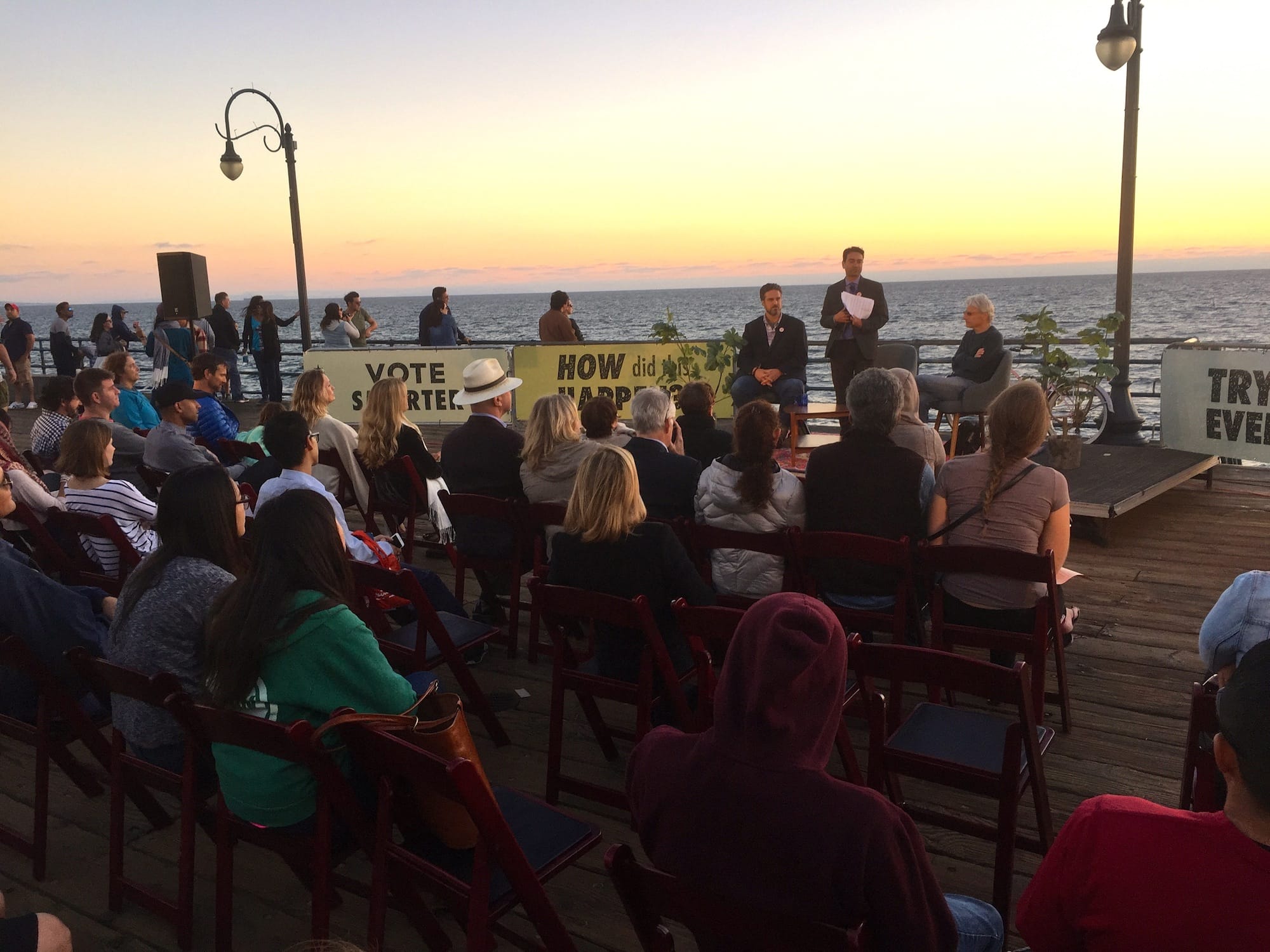 As seagulls landed on the railing behind the stage and stared at the debaters, Goldberg and Murphy presented their basic arguments.
Goldberg maintained that genetically modified foods have been scientifically studied for decades and are entirely safe.
Murphy said the science behind genetically altered foods was flawed because it was politically influenced by companies such as agrochemical giant Monsanto.
So far, so good. But as the sun descended below the horizon and the night air became chilly, the exchanges on stage heated up as each man went on the attack.
When Goldberg maintained that genetic engineering has not led to a decrease in crop yields, Murphy interrupted him.
"So the Soviets don't have yield drag?" he interjected. Goldberg said that was "nonsense."
Goldberg suddenly sat upright, clearly agitated, and pointed a finger at Murphy. He accused Murphy of being unworthy to criticize scientific data because he had "never picked up a test tube or worked in a lab his entire life."
Murphy countered: "I just want to say that Bob is basically resorting back to basic talking points of the bio-industry."
An exasperated Goldberg then turned to Akhavan and said: "I am not going to sit here and be insulted and say that I am a spokesperson for biotechnology, which I am not."
Murphy leaned in to Goldberg and told him: "You are not being insulted. You are saying I'm wrong. I'm saying you're wrong."
Goldberg then whispered to Akhavan, in audio that was picked up by his microphone: "I don't want to go on."
Akhavan just smiled and the debate continued on for another 20 minutes or so, including a few questions from the audience.
At the conclusion of the debate, an unfazed Akhavan told the crowd that a return to civility in political discourse was going to be a difficult path.
"You see what is happening now. Sometimes bridging the gap is difficult," he said.
Afterward, audience reactions were mixed. Asked if he thought civil political discussion was possible, Greg Messina said, "Well, you would think with food you could." Of the debate, Messina added," I thought it was highly charged. I think the political aspect of it kind of drowns out the science aspect of it."
Meanwhile, Jennifer Piette said she wasn't bothered by the heated exchanges during the debate.
"That's great. I want people to be passionate about these things. These are really important things," she said.
Procon.org is planning three more live debates on the pier before Election Day, with the next one scheduled for Oct. 18 on the death penalty. It will be hosted by former Los Angeles County District Attorney Gil Garcetti. Other events include: "The Cost of Education: Is College Really Worth it?" on Oct. 25, and "Marijuana: To Legalize or Not?" on Nov. 1. The events are held at the western end of the pier and begin at 6 p.m.
Procon.org at Pier captions
Debate heated: One of the many heated exchanges at the debate on genetically altered foodsThe event was held Tuesday night at the western end of the Santa Monica Pier.