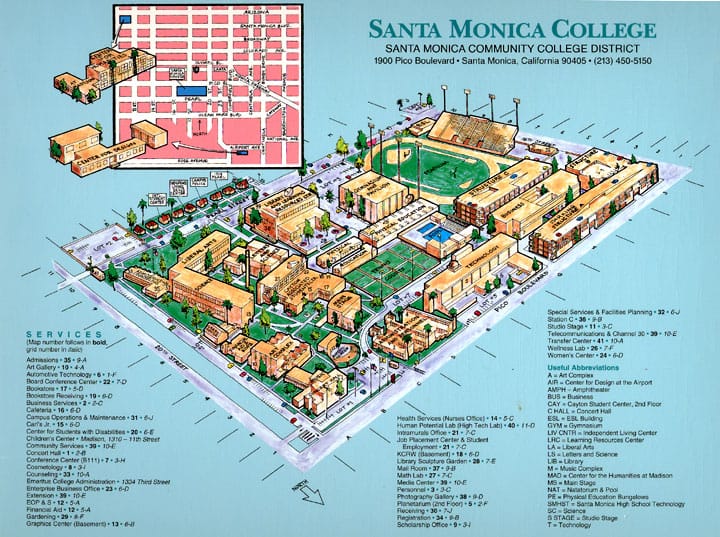 Santa Monica College (SMC) announced earlier this week a program that grants priority enrollment to local students and residents of Santa Monica and Malibu for the winter semester that begins January 3, 2017. To qualify for the program, applicants must apply and completed pre-enrollment orientation, assessment and educational planning by Nov. 22, 2016. The rest of the world can't begin enrollment at the college until December.
For more information on how to enroll, visit SMC's website. A complete list of everyone who is eligible for the program is available at the end of this story.
The pre-enrollment program is the first phase of a Santa Monica College Promise program, with a planned launch date of fall 2017, to help students reduce the expenses related to their first year at SMC.
"Santa Monica College has always been a tremendous asset to the Santa Monica and Malibu communities," said SMC Superintendent/President Dr. Kathryn E. Jeffery. "By giving local students and graduates priority enrollment, SMC will continue to build upon decades of commitment to provide our communities the highest quality in post-secondary education, reflecting the values of open access and educational equity of which we are all so proud."
Critics of Santa Monica College are quick to point out that only four percent of the students enrolled at SMC are graduates of Santa Monica High School and over three times that many are citizens of countries other than the United States. With a $345 million ballot measure for new school construction on the November ballot, these statistics are being used to fight the measure by critics of the college.
However, Santa Monica High School is not the only high school in the area. A college spokesperson pointed out that over 27,000 residents of Santa Monica and Malibu have attended the college over the past decade. When one considers that the total combined population of the cities is just under 105,000 residents, according to recent census figures, that means that over a quarter of the residents of these cities have attended SMC in recent years.
That's a pretty good base of support for a ballot measure or other actions the college may face. But college officials maintain this isn't about local politics; the college wants to do more for its community. The benefits of this program is not lost on other educational leaders in the community.
"This is a great opportunity for our current high school seniors to apply for priority enrollment at SMC starting in January 2017," said Dr. Sylvia Rousseau, co-interim superintendent of the Santa Monica-Malibu Unified School District (SMMUSD). "We are extremely fortunate to have such a wonderful partnership with SMC that will now include this new program, in addition to our thriving dual enrollment and concurrent enrollment programs. This is another step toward establishing Excellence through Equity."
Current residents of Santa Monica and Malibu are eligible; F-1 visa students are not. In addition, graduating seniors and alumni of Santa Monica High School, Malibu High School, Olympic High School, St. Monica Catholic High School, Crossroads School, New Roads School, Pacifica Christian High School, and Lighthouse Academy—regardless of home address—are also eligible.
Returning and continuing students must be in good academic standing and have fewer than 90 credit units at SMC. The State of California also requires certain populations—like veterans and foster youth—to be granted priority enrollment. The State does not permit priority enrollment for students currently enrolled in high school (enrollment for currently enrolled high school students for winter session begins in late Dec. 2016).