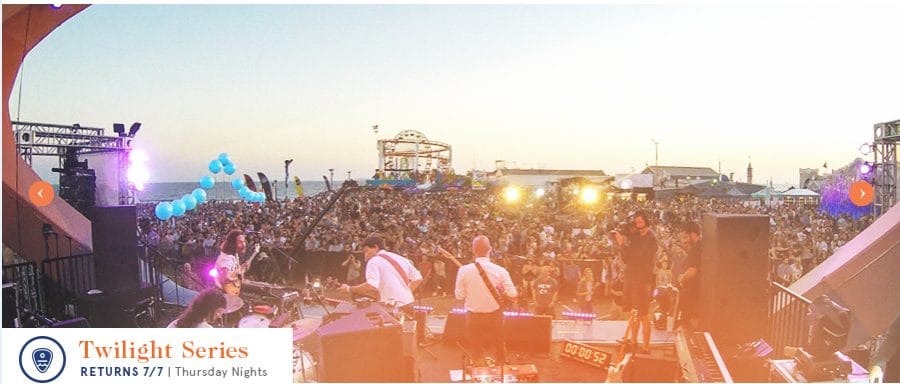 Medicare turns 51 this year and County Supervisor Sheila Kuehl will be joined on Sunday by other elected officials and community leaders for a garden party in Santa Monica to celebrate and promote even more progressive healthcare reform.
On Saturday, Breeze Bike Share and Santa Monica Spoke are hosting a community ride; Dine LA returns with plenty of tasty Santa Monica-based options; the Twilight Pier Concert series returns with another installment; Downtown Santa Monica, Inc. will have another Picnic on the Promenade; and the Santa Monica Public Library heads back to the beach.
Celebrate Medicare's 51st Birthday
Physicians for a National Health Program California (PNHPC) will host a garden party in Santa on Sunday, July 24 in celebration of the 51st anniversary of Medicare from from 2 to 5 p.m.
Kuehl and Dr. David Carlisle, President and CEO of Charles R. Drew University of Medicine and Science in South Los Angeles, will be featured speakers and local political leaders including State Senator Ben Allen and Santa Monica Mayor Tony Vazquez are scheduled to attend.
"Medicare, a publicly financed, healthcare system has worked well for our elderly and disabled for over 50 years. It is time to improve and expand it to cover everyone from birth to death," said PNHP California Executive Director Dr. William Skeen in a press release.
To purchase tickets and to find out more information about the event, including the location, visit pnhpcalifornia.org.
The host committee for the event includes Santa Monica Next steering committee member Abby Arnold.
Community Ride with Breeze and SM Spoke
This Saturday, July 23 is Breeze and Santa Monica Spoke's monthly community ride from 10 a.m. to 12 p.m.
Monthly ride participants get three free hours on a Breeze bike and a chance to learn how to use the system. During the ride, participants also get to learn rules of the road and discover local bike-friendly businesses and attractions.
"The ride meets at 1640 5th Street just south of the 4/5th Street Expo Terminus. This month we'll explore the benefits of the new rate structure along with Santa Monica's growing bike network, connections to transit and MORE!" Spoke wrote in an email.
Participants — all of whom must be 16 years or older and anyone under 18 must be accompanied by a parent or guardian — will also get a free helmet, if it's your first time.
Registration is required so if you plan on participating, send an email to RSVP@smspoke.org.
Bi-annual dineLA week returns with Choice Santa MOnica Selections
Santa Monica Centric reports that dineLA is back. The two-week affair highlights some of the best places to grab food and there are no shortage of options in Santa Monica.
"All across Los Angeles County, foodies are pulling out their stretchy pants and sharpening their smartphone photography skills in anticipation of the return of dineLA's bi-annual Restaurant Week. It's actually two weeks of indulgence as restaurants ranging from the casual to the I-only-go-there-for-anniversaries-or-graduations offer special pre-fixe menus for lunch and dinner that are more affordable than their regular offerings," according to Santa Monica Centric.
To see the list of Santa Monica restaurants, visit santamonicacentric.com.
Twilight Concert Series Continues with Psychedelic Furs, Day Wave
It's another Thursday in summer, which means another awesome free concert on the Santa Monica Pier.
This Thursday, July 21, Psychedelic Furs will be sharing the stage with Day Wave. You can sample each band's music below.
Psychedelic Furs
Day Wave
This year, there are more options than ever for getting to the Pier concerts without driving. If you've ever driven to a Pier concert, you probably know that if you can avoid driving, you should.
In addition to the new Expo light rail stop at 5th and Colorado (about four blocks from the Pier), concert-goers can ride Santa Monica's bike-share system, Breeze. There will also be a free bike valet at the Pier for those who ride their own bikes. And, of course, most Big Blue Bus lines serve Downtown Santa Monica or connect with one of several Expo stations. Find out more at on Metro's website, at GoSaMo.net, or on Breeze Bike Share's website.
If you have to drive, you are better off carpooling, since it will get you a discount on parking.
"Parking is available for the Twilight Concert Series for $10 – 20. The rates apply to vehicles entering the below lots after 4 p.m. Any vehicle entering one of these three lots with 4 or more people of any age will receive a voucher that they can turn into the bike valet stand for a $5 rebate," according to the city.
Just make sure there aren't more people in your car than there are seat belts.
Picnic on the Promenade
On Friday, July 22, Downtown Santa Monica Inc. is inviting people out of their offices and onto the Promenade for music, games, and a generally fun lunch.
Every Friday through August 26, Downtown Santa Monica Inc. will have tables, activities and entertainment out on the Promenade between Wilshire and Arizona from 12 to 3 p.m.
"This annual summer series eases locals and Promenade walkers into the weekend every Friday afternoon with music, classic board games, Ping-Pong, interactive challenges, and free services from Downtown merchants. Bring a lunch or grab-and-go from one of Downtown's award-winning eateries and soak in the sun," according to Downtown Santa Monica, Inc.
Santa Monica Public Library Goes to the Beach
The library is heading to the beach again on Saturday, July 23 as part of its annual Santa Monica Public Library (SMPL) at the Beach event series.
There will be a series of five pop-up libraries between now and September at the Annenberg Community Beach House, and Dorothy Green Park.
"Visitors to our pop-up libraries can join in on a variety of fun, family friendly, activities including: Seaside Story Time, hula hooping, ukulele lessons, nautical crafts, and interactive environmental education. Librarians will be on-hand to sign out books from our curated collection of beach reads (no library card required), give personalized reading recommendations, and demonstrate cutting edge library apps, eBooks and streaming media. Folks looking to relax can beat the heat and kick back in the shade of our Surfside Reading Lounge, or enjoy beach games like bocce and ladder toss. Each pop-up will also feature a unique, limited edition SMPL at the Beach giveaway," according to a press release put out by SMPL.
This Saturday's event will be at Dorothy Green Park, where Ocean Park Boulevard ends from 10 a.m. to 3 p.m. For more information, visit smpl.org/beach.