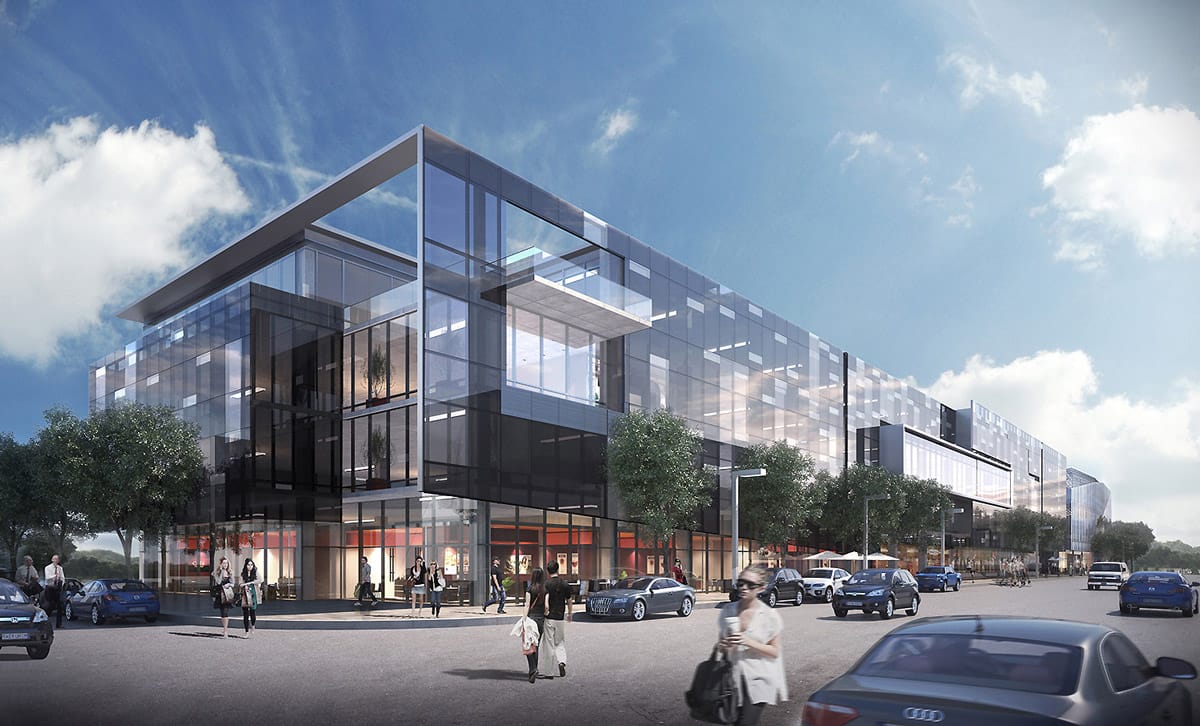 Four years after the City Council voted in favor of a development agreement with Colorado Creative Studios for the new 200,000-square-foot Santa Monica Gateway, construction has begun on the glass-and-metal creative office building. The project is located at the corner of Stewart Street and Colorado Avenue in Santa Monica's new Bergamot Transit Village, formerly Santa Monica's light industrial and studio district and less than a quarter of a mile from the 26th Street Expo Light Rail station. Construction is scheduled for completion in late summer 2017. All renderings courtesy of Santa Monica Gateway (santamonicagateway.com).
The project, owned by 2834 Colorado Avenue LLC, is managed by Jack Walter, with development management and leasing being handled Jones Lang LaSalle. The building was designed by Paul Quin Davis of DRD-Studio. Gruen & Associates is handling construction administration, while the project is being built by McCormick Construction.
Santa Monica Gateway consists of two separate buildings over one 640-space subterranean car parking garage. The buildings are named "Shift" (the larger of the two) and "Ice." There will be neighborhood-serving ground floor retail, according to Walter, and a shared parking program that will open the underground garage to the public on evenings and weekends.
As with most development agreements in Santa Monica, the City Council negotiated a litany of benefits from the developer.
The project will provide an on-site location for Santa Monica's new bike-share, Breeze, to put in a hub.
As part of the development agreement with the city, the owner will pay $385,000 for public art, $1,275,000 to benefit Santa Monica childcare and early childhood education programs, $374,000 toward the city's storm water treatment system, and $362,000 to the Expo Light Rail 26th Street station enhancement program. While Metro only pays for the basic construction of the station, Santa Monica is responsible for funding any aesthetic improvements the city might like to see.
The project will also participate in a traffic demand management (TDM) program, which is a city-wide effort designed to reduce the number of people driving to work alone by encouraging multi-modal commuting, including carpooling, public transit, biking, and other modes.
The project will provide secured long term bike parking and street level bike racks for easier access.
Carpools, as well as electric and low emission vehicles, will receive priority parking. Additional electric charging stations will be installed as the need increases for charging stations.
Walter said the building design is on track to achieve a U.S. Green Building Council LEED Silver status, focusing on long term sustainability by reducing water and energy consumption, which ultimately reduces the building's carbon footprint.
As a part of the Bergamot Area Plan, the developer will extend Pennsylvania Avenue east of Stewart Street to the project property line in an effort to break up the former industrial super block. Further extensions of Pennsylvania Avenue will happen with redevelopment of other properties in the area.
The developer will also widen the sidewalk along the entire 640-foot frontage along Stewart Street to enhance the pedestrian experience. Stewart Street connects Santa Monica's Mid City neighborhood — situated directly north of the project — to the Expo Light Rail station.
This project is unique in that it will benefit a good cause.
"The property will be held by a family trust for the benefit of a charitable foundation with a purpose to support charitable organizations that provide recreational activities for the physically challenged," said Walter, who has been a supporter of wheelchair and adaptive sports for 25 years.
"My personal focus for the foundation is the support and development of future Paralympic athletes. The Paralympics, the second largest world athletic event, are held every four years right after the Olympics and in the same Olympic City and venues," he said.
"Paralympic athletes are rarely sponsored by the sports industry and there is very little public funding to help individual athletes achieve their goal of becoming Paralympians. Support and funding for Paralympic athletes and adaptive sports is mostly private," Walter said.
"My family is grateful and excited to have the opportunity to support people with special needs by donating all the profits from this project to organizations that provide support for adaptive sports and rehabilitative activities" he said.
Santa Monica Next is published thanks to the support of our advertisers: Bike Center, Pocrass and De Los Reyes LLC Personal Injury Attorneys and Los Angeles Bicycle Attorney.