The Santa Monica Planning Commission tonight will take a look at a mid-rise (4-to-5 story) mixed-use project that, if approved, would add 90 new homes — including nine three-bedroom apartments for families — about two blocks from the future Downtown Santa Monica Expo light rail station. The project is designed by local architectural firm, Michael Folonis Architects, which supplied the renderings.
The project, proposed for the corner of Lincoln and Colorado Blvd., will set aside 14 of the units for very low-income households, defined as a household making 50 percent or less of the regional area median income (AMI). An additional four units will be set aside for low-income households (those that make 80 percent or less of the AMI).
As proposed, there would also be about 10,617 square feet of ground floor commercial/retail space and about 8,000 square feet of communal residential open space, including a roof deck, according to the Planning Commission staff report. Not to mention that the project is within walking distance of Tongva Park and Ken Genser Square, Reed Park, and Santa Monica High School.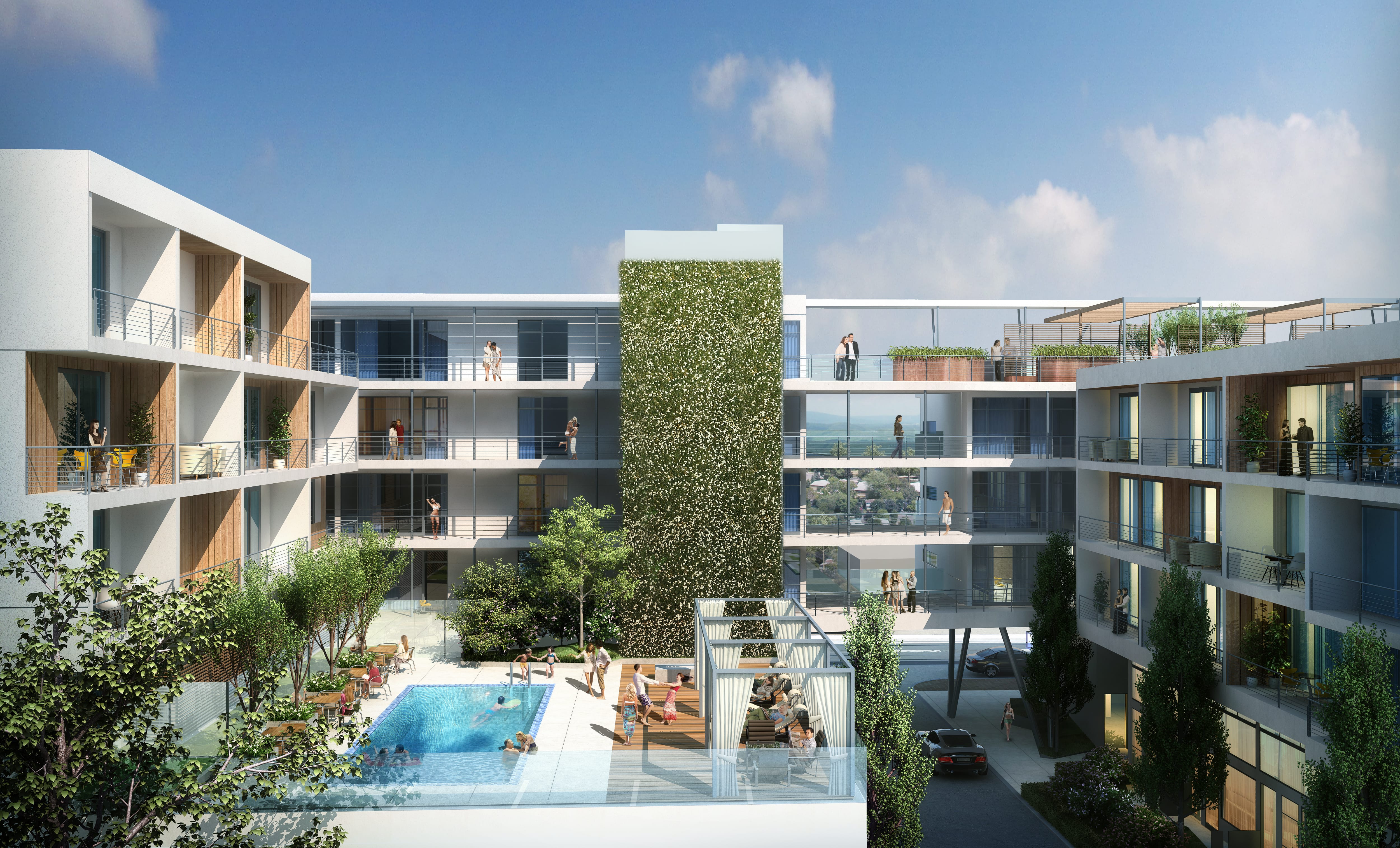 As with all major projects — yes, a 90-unit mid-rise apartment building is considered major here — in Santa Monica, the developer of 1601 Lincoln has proposed a litany of other community benefits:
$820,000 towards transportation programs
$595,000 towards parks and recreation programs
$175,000 for an affordable housing-commerical linkage fee toward development of affordable housing units
$150,000 that would support early childhood initiatives
$50,000 towards historic preservation programs
$80,000 towards Big Blue Bus transit improvements in the Downtown area
$50,000 towards Transportation Management Association programs
$300,000 towards water conservation programs
$200,000 towards sustainability programs by the city
a local hiring program for construction-related jobs and for the commercial tenants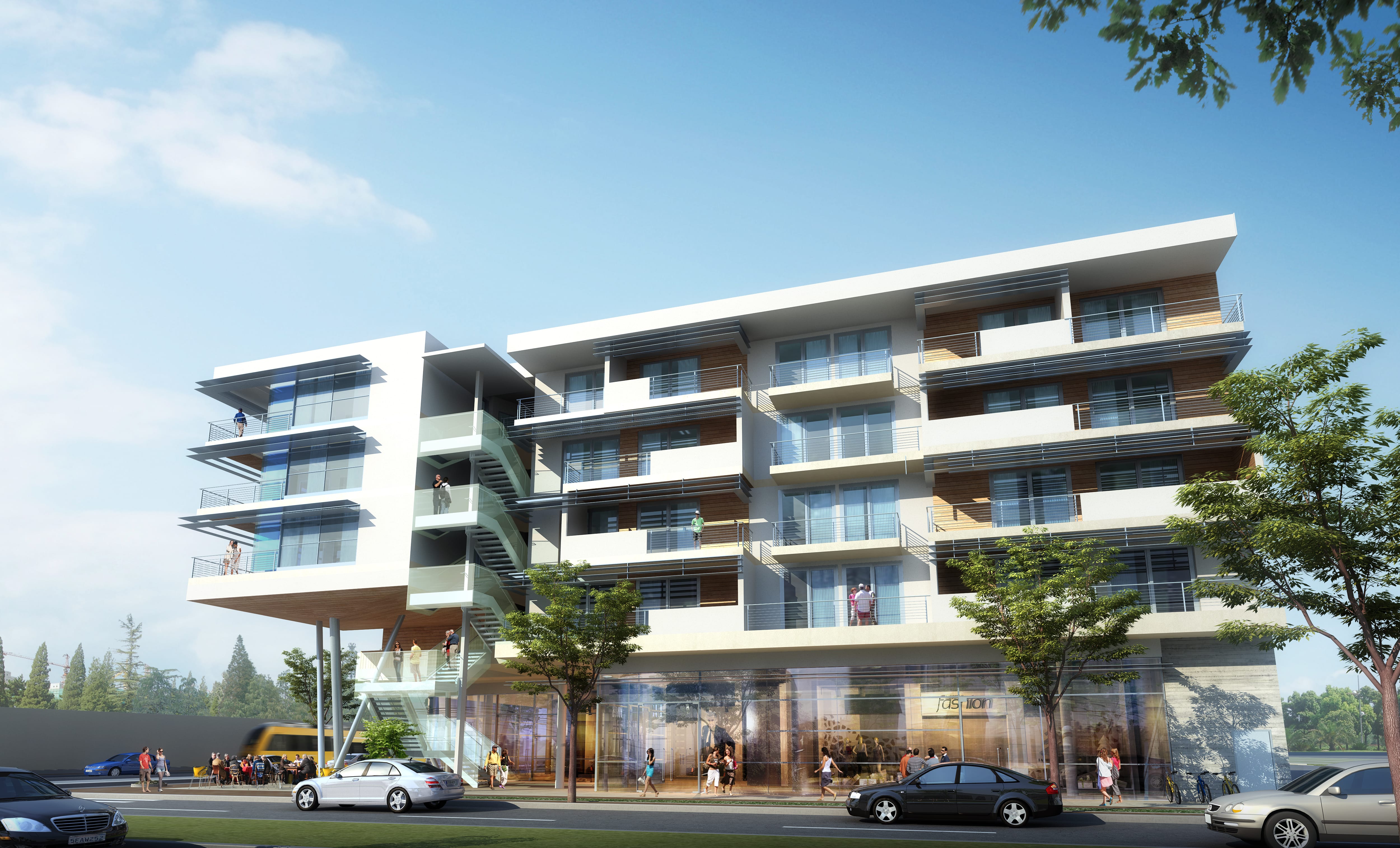 As designed, the project is expected to meet a LEED Platinum designation by the US Green Building Council. It includes rooftop photovoltaic solar panels, a plan to use recycled, nonpotable water for landscaping, and a plan to equip 10 percent of the parking spaces for electric vehicle recharging.
The project is planning for 168 underground vehicle parking spaces, but as part of a traffic demand management (TDM) program, tenants will be offered a parking cash-out option and the parking will be unbundled from their rent.
The TDM program also includes transportation allowances for employees and residents equivalent to 100% of the cost of a monthly regional transit pass, showers and lockers for commercial employees who bike to work, ground level short-term visitor bike parking, long-term resident and commercial bike parking, and active participation in a Transportation Management Association, which would be a city-wide effort, coordinated by city officials in cooperation with local businesses and property owners, to reduce traffic in town.
The developer plans to put 138 secure, long-term bike parking spaces on site and 17 short-term bike parking spaces. "Long-term bike parking for both commercial and residential uses, including locker and shower facilities, would be located on the first and second garage levels in a location convenient to access elevators. Short-term bike parking, including cargo bike spaces, would be located throughout the ground floor open space areas as shown on the project plans," according to the staff report.
The Planning Commission will deliberate the project tonight and vote on whether to recommend the plans for approval to the City Council, which has final discretion over whether the project will get built as proposed.
Santa Monica Next is published thanks to the support of our advertisers: Bike Center, Pocrass and De Los Reyes LLC Personal Injury Attorneys and Los Angeles Bicycle Attorney.