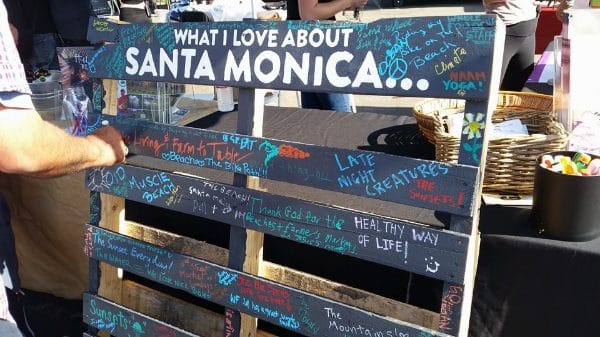 "The Santa Monica Life" is a weekly roundup of local fun, food, drinks, and lifestyle goings-on in Santa Monica. When the fun is so close, it's easy to leave the car at home and walk, bike, or bus to all the exciting stuff our city has to offer. Isn't that why we love it here?
Are you a fresh-fruit connoisseur? Santa Monica's famous farmers market is the place to be. The week, Los Angeles Magazine takes us on the hunt for the "elusive" Snow Queen nectarine.
What's so special about these nectarines? Apparently, they have some of the best flavor in the nectarine world. Don't take L.A. Mag's word for it, though. You can them yourself here in Santa Monica.
"Keep an eye out for Snow Queen nectarines at Honey Crisp Farms at the Wednesday Santa Monica Market and Summer Harvest Farms at the Saturday Downtown and Pico markets as well as the Sunday Beverly Hills Market," L.A. Mag reports. "According to David Karp, they are also marketed as the June-ripening "Stanwick" at Kennedy Farms at the Wednesday Santa Monica Market."
After a long day of fruit hunting, there's no shortage of ways to unwind. L.A. Eater reports that Belcampo in Santa Monica (near 11th and Wilshire) is offering a new late-night deal: a Belcampo Cheeseburger, fries, beer, and a shot of Buffalo Trace for $25. The deal is available Sunday to Thursday from 9 to 10 p.m. and Friday to Saturday from 10 to 11 p.m.
Main Street has a new joint: The Pink Elephant. The new spot, which replaced Barcopa "almost overnight," according to L.A. Eater, is by the same people behind Areal restaurant just down the street.
If that's not enough to keep you busy, don't worry. Thrillist has got you covered with a list of dozens of beachside bars throughout the whole county and Santa Monica has its share of winning spots that run from divey to swanky and back again, including Rusty's on the Pier, the Bungalow, and Shore Bar, to name a few.
For more family-oriented fun, though, check out Heal the Bay's aquarium on the Santa Monica, one of the six "wonderful" aquariums to explore in L.A., according to LAist.
"This unassuming space is very kid-friendly and features over a 100 different species that are found just in the Santa Monica Bay. Don't miss Tuesday and Friday feeding times at 2:30, where visitors are invited to help feed the sea stars. On Sunday afternoons, you can safely watch a shark feeding frenzy when the animals get their meal at 3:30," LAist writes.
Have you got a tip for Living the Santa Monica Life? Send them to editor@santamonicanext.org.