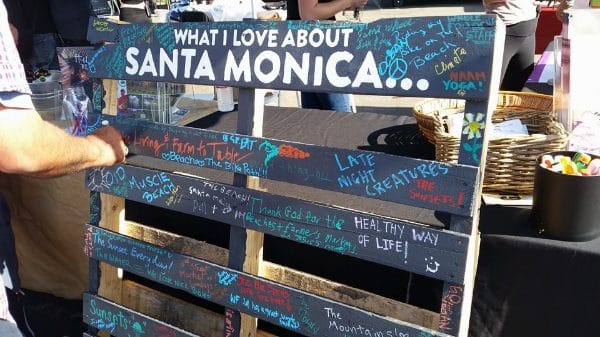 "Living the Santa Monica Life" is a weekly roundup of all the local fun, food, drinks, and lifestyle goings-on in Santa Monica. When the fun is so close, it's easy to leave the car at home and walk, bike, or bus to all the exciting stuff our city has to offer. Isn't that why we love it here?
The big news out of Santa Monica this week is that the City Council voted to regulate sites like AirBnB. Despite some headlines, it is not the end of AirBnB in our lovely beachside city. The city recently clarified what you can and can't do.
In short, if you have a bedroom, a guest house, or even a couch you want to rent on a site like AirBnB, you still can so long as you live on site and you register for a business license with the city. What you can't do is rent a unit or a house that you don't live in for less than 30 days.
Still confused? Curbed LA has a helpful list of a several (quirky) AirBnB units that would still be legal under the new law. LA Magazine took a look at a few examples that will soon be illegal once the ordinance goes into full effect in June.
Looking for a new — affordable — place to grab a drink in Downtown Santa Monica? It looks like Brilliantshine, the swanky eatery on Wilshire between 5th and 6th streets, is getting a new life as a divey watering hole called Back Bar, according to LA Eater.
Back Bar, LA Eater reports, will be "a dive with bar food and any type of cocktail for $10, with a promotion including a shot and a beer for $13, which is pretty reasonable for Santa Monica."
For fans of The Moth and other great storytelling shows, Santa Monica's historic Rapp Saloon building — the one in front of Hostelling International on 2nd Street — is the new Westide home of "BUSted! True Stories About Getting Around L.A., Told By People Who Don't Drive." The show is produced by Scott Schultz and put on in partnership with the Big Blue Bus and Hostelling International.
The title says it all. BUSted! is a monthly show where comedians, musicians, writers and others tell true stories about getting around the city by bike, bus, train, foot, skateboard, or any other means beside a car. According to Santa Monica Centric, the show, which has been running for about two years now, will be at the Rapp Saloon building every second Thursday of each month, at 7:30 p.m. (BUSted! had its Westside debut yesterday.)
Santa Monica Centric reports, "BUSted! has been fortunate to have some fantastic storytellers share their tales about getting around our giant city, and the folks behind it were recently the proud recipients of the 'EMERGING IDEAS AWARD' at the New Urbanism Film Festival in Hollywood."
Welcome to Santa Monica, BUSted!
Looking for a good date spot in Santa Monica? KCET's got your back. Katherine Spiers, KCET's Living Editor, gives a run down of some of the best places for a date night. Among them are Copa d'Oro and Chez Jay.
Have you got a tip for Living the Santa Monica Life? Send them to editor@santamonicanext.org.