It's bike week, so we thought we would celebrate with a special edition of Throwback Thursday. It turns out Santa Monica has had bicycles in its DNA from the very beginning. All clips from the Evening Outlook come for the Santa Monica Public Library archives.
"When children are being run over it is time to exclude bicycles from sidewalks"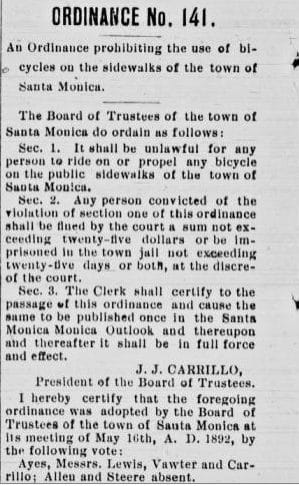 The Santa Monica Board of Trustees — the predecessor to the City Council — banned bicycles from sidewalks 123 years ago this month. The ordinance, Ordinance 141, passed unanimously on May 16, 1892, though two of the five trustees were absent.
Ordinance 141 declared it "unlawful for any person to ride on or propel any bicycle on the public sidewalks of the town of Santa Monica." The consequences for scofflaws? A $25 fine and up to 25 days in the town jail.
According to the Evening Outlook report on the meeting, the trustees present were concerned with the safety of the young ones.
"When children are being run over it is time to exclude bicycles from the sidewalks," the Outlook reports one trustee remarked. Another trustee, according to the Outlook, said "he saw a lady knocked down by a bicycle the other day on Ocean avenue."
It's important to note that it is still illegal to ride a bike on the sidewalks in Santa Monica today, though, as of press time, Next was unable to ascertain whether those violating the law were still subject to spend up to 25 days in the town jail.
"Stand Guard over your bike with a gun"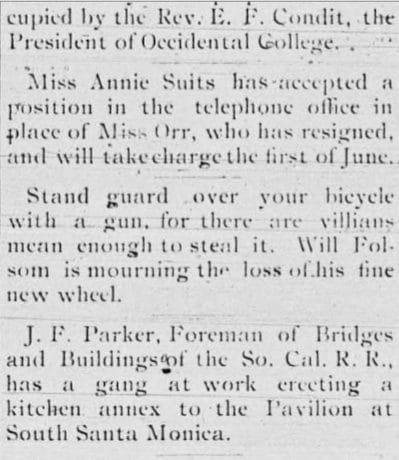 Santa Monica of yesteryear sounds like it might have been a tough place for bike enthusiasts. In a round up of local events in the Evening Outlook of May 11, 1895, the author exhorts the reader to "stand guard over your bicycle with a gun, for there are villians [sic] mean enough to steal it."
Apparently, one Will Folsom lost his "fine new wheel" to said villains. It's a good thing that bike lock technology has progressed to the point that we no longer need sit vigil over our bikes with a loaded pistol to assure its protection.
"She Carries a Steady head upon this two-wheeler"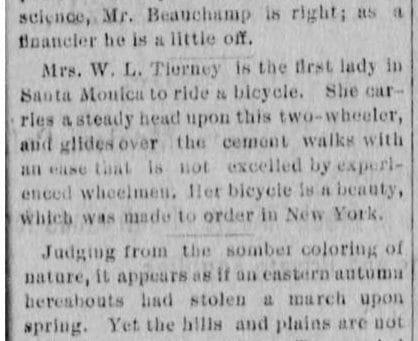 May 1, 1889, was a milestone in Santa Monica's local bicycle history. 'Twas on that day that one Mrs. W. L. Tierney became the "first lady in Santa Monica to ride a bicycle," according to the Evening Outlook.
This was, of course, before the banning of bicycles from the beachside city's sidewalks.
"She carries a steady head upon this two-wheeler, and glides over the cement walks with an ease that is not excelled by experienced wheelmen," the Outlook reports. "Her bicycle is a beauty, which was made to order in New York."
Fancy.
"The Bicycle Race"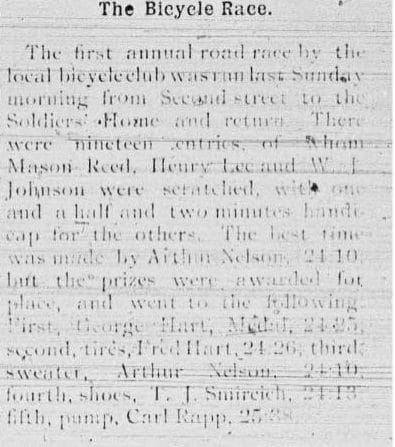 Santa Monica hosted its first annual bicycle race 120 years ago this week. According to the Evening Outlook, on Sunday May 12, 1895, the local bicycle club hosted a race of 19 riders from Second Street in Downtown Santa Monica to the Soldiers' Home at the VA in Westwood and back.
It's hard to make out, but it looks like Arthur Nelson made the best time: 24 minutes and 10 seconds. Medals, tires, shoes, a pump, and a sweater were meted out as prizes to the riders placing first, second, third, fourth, and fifth.