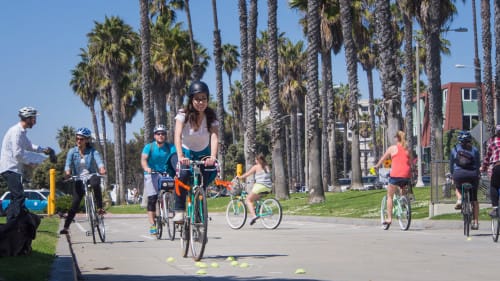 May is Bike Month and there are plenty of ways to celebrate! Join Santa Monica Spoke, City of Santa Monica, the Santa Monica Bike Center, RideAmigos, and many others and leave the car at home.
One of the best ways to celebrate Bike Month is to sign up for the National Bike Challenge. It's easy. Compete to see which team can ride the most throughout the month of May. Those participating in Santa Monica's first annual Commuter Challenge are also encouraged to sign up for the National Bike Challenge.
"At the end of the month, eight individuals will be recognized for the highest CO2 savings and participation rates, and awarded Laemmle Premiere Cards, dinner for two at Bandera, tickets to McCabe's Guitar Back Room Show, or lunch at Lemonade. Teams with the highest CO2 savings and participation rates will win tickets to a Magicopolis show, a group lunch at Bay Cities Deli, or certificates to three training sessions at Dethrone Basecamp. Participating companies will also be recognized for the highest rates of employee participation and CO2 savings," according to RideAmigos, one of the sponsors of the Commuter Challenge.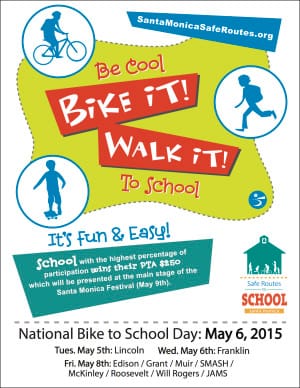 There's plenty else going on throughout the month. May 4 through 8 is Bike It! Walk It! Week in Santa Monica. It's also National Bike/Walk to School Week. During this week, local schools will coordinate days for students to walk, bike, or bus to school.
"Join the fun by contacting SRTS [Safe Routes to School] Coordinator Cory Keen, your PTA President or the Bike it Walk it coordinator at your school to find out about how you can participate," says SMSpoke.
May 10 through 15 is L.A. Bike Week. Santa Monica Next and Santa Monica Spoke will have a free showing of Dogtown and Z-Boys at Vidiots on May 13.
Check out SMSpoke.org for a longer list of regional and local events. Do you know of any other Bike Month events? Let us know at editor@santamonicanext.org.