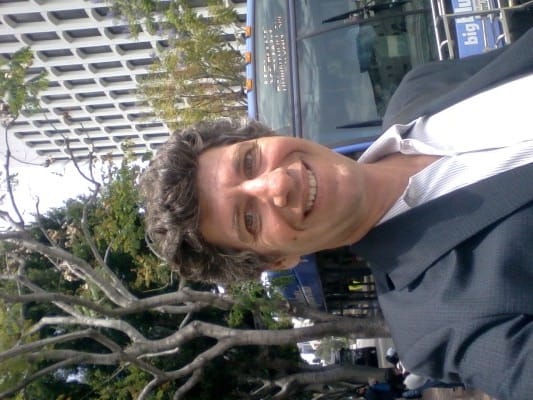 Everyone has a story, especially if you ride the bus. That's something Scott Schultz understands first hand, as someone who lives in Los Angeles without a car.
For example, there was that time Schultz became an accidental guide for a pair of lost Korean tourists trying to navigate Skid Row. Schultz is the founder and host of the storytelling show called "BUSted! True Stories About Getting Around LA, Told By People Who Don't Drive!" and this Thursday, "BUSted!" will be making its Westside debut, in association with the Big Blue Bus and Hostelling International.
If you're curious how Schultz's adventure as an impromptu guide for those two tourists turned out, you'll have to attend Thursday's show at Hostelling International on Second Street in Downtown Santa Monica where Schultz will join several others in regaling the audience with stories about getting around car-free in Los Angeles.
Schultz, a veteran user of the public transit system and the Los Angeles comedy scene in the 1990s, is excited for BUSted's Santa Monica debut this Thursday.
"Santa Monica has a terrific public transportation system," he said. "The Blue Bus is amazing. You have the bike paths and the wide sidewalks."
BUSted's home venue is Stories Books and Cafe in Echo Park, where Schultz has hosted the show every month since January 2014.
Originally, he was going to host a storytelling show around rotating themes, but after BUSted's debut, the stories about the bus kept coming.
"How long can we run with the theme? After a few months, I thought it'd just peter out due to lack of stories," he said.
Part of it was that the idea was novel and began drawing from Los Angeles' rather large public transit commuter community.
"A lot of people who ride the bus wear it like a badge of honor," Schultz said. "They take it seriously."
While Schultz has a background as a performer, the storytellers that share the stage with him often aren't performers themselves.
"Not all the storytellers are performers. They are bus riders," he said. "I like to encourage people in the audience to tell their stories."
Schultz lived for some time in Cambridge and Boston and, he said, on the east coast, there is a strong tradition of public storytelling. There's also a strong tradition of not driving, he said.
"I don't drive. I come from Boston and Cambridge and that's part of the culture out there," Schultz said, adding that one of the main reasons he ditched his car while living in Los Angeles is because it was so expensive.
"I couldn't tell you what gas costs," he said. "I like being able to not worry about it." Contrary to Los Angeles' reputation, Schultz said, he's found it pretty easy to live without a car in Los Angeles. "Downtown [L.A.] to the beach: That's very workable without a car," he said.
Though living without a car would be even easier still if he lived in Santa Monica.
"If I lived in Santa Monica, I could get by with a bike and an occasional bus pass," he said. "Once that train opens… people in Santa Monica won't even need cars. I feel like they are finally reaching their potential as a green city."
He is particularly excited about the venue for Thursday's show. It'll be held in the historic Rapp Salon, adjoined to Hostelling International. He worked at Hostelling International in Boston and said he had been targeting the one in Santa Monica as a venue for BUSted! for a while. Located in Santa Monica's Downtown core, it's easily accessible by transit.
"I try to find locations where it will benefit people," he said. As for working with Big Blue Bus? He said, "I thought [Big Blue Bus] would be a perfect partner because I love their bus system."