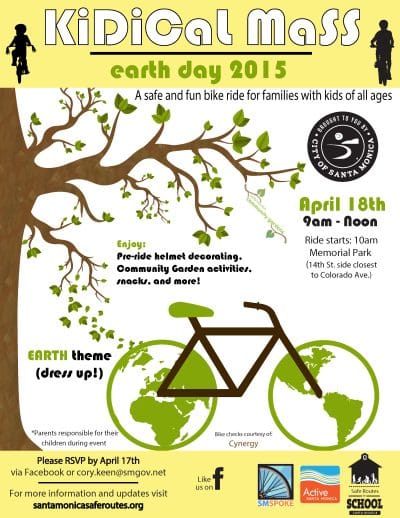 It's time for another Kidical Mass bike outing, Santa Monica. This time, we'll ride in celebration of Earth Day.
"Grab your bikes and kids and head to Memorial Park April 18th for a special Earth Day themed Kidical Mass family-friendly bike ride," said Santa Monica's Safe Routes to School Coordinator Cory Keen. "There will be prizes for best costume, snacks, and other family activities."
Kidical Mass is cosponsored by Santa Monica Spoke, Safe Routes to School, Active Santa Monica, and the City of Santa Monica.
As in the past, the festivities will start out with bike safety checks, helmet decorating, snacks and refreshments. The pre-ride festivities start at 9 a.m. Then, at 10 a.m., the ride starts.
There will be a pit-stop at the Santa Monica Community Gardens and then concludes back at Memorial Park for prizes and treats, according to Keen.
"The goal of the Santa Monica Safe Routes to School Program is to help families bicycle and walk to school by offering education and encouragement programs, and by improving walking and bicycling conditions near schools, according to the city's website.
And the benefits are myriad. According to the city, Kidical Mass and other Safe Routes programs are crucial for:
Helping children arrive at school alert and ready to learn
Helping families establish healthy habits of daily physical activity
Encouraging families to make walking and biking to school part of everyday life
Teaching children the skills and knowledge they need to be safe and independent when walking or bicycling, including rules of the road, physical skills, and safety behaviors
Helping reduce auto congestion and improve traffic safety outside our schools
Improving air quality by reducing vehicle emissions associated with school travel
Those interested in attending should RSVP to cory.keen@smgov.net by April 17th.