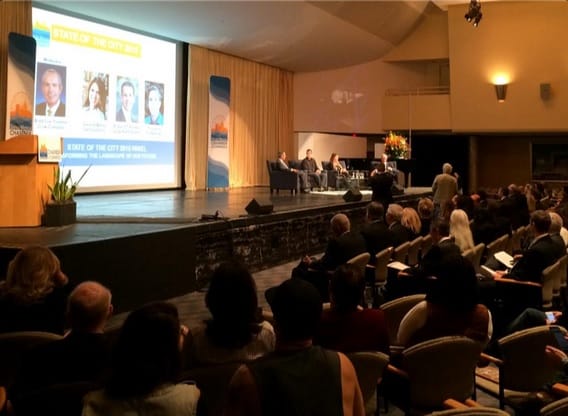 While most of the message at Tuesday's State of the City event focused on the many positive trends in Santa Monica, one trend came up that could have a devastating impact on the bayside city's booming tech sector: fear of growth.
[pullquote]
"We're struggling with growth, frankly, in the tech sector here in Santa Monica. There's insufficient available reasonably priced office space." – Tony Karrer, CEO TechEmpower
[/pullquote]At the end of the event, a panel of leaders in three of Santa Monica's biggest industries — tech, medicine, and tourism — convened to discuss the positive trends in their respective sectors, the impact of technology on their businesses, and the obstacles facing them.
"Santa Monica is the epicenter for everything that is going on in technology here in L.A.," said Tony Karrer, founder and CEO of TechEmpower, a consulting firm that works with directly with tech startups. According to his bio, Karrer has worked with more than a dozen startups as a consulting chief technology officer (CTO) to help get their ideas off the ground.
"Probably Culver City, Venice, and Playa Vista should all be thanking Santa Monica right now that it is the hub and the economic activity across Los Angeles is incredible," he said Tuesday. "It's really a phenomonal growth engine for all of Los Angeles"
But, with Santa Monica's office space at a premium, and housing prices out of reach of recent college grads, in large part due to the relatively slow amount of growth that has occurred in the last 20 years, that could change.
"We're struggling with growth, frankly, in the tech sector here in Santa Monica. There's insufficient available reasonably priced office space," Karrer said.
"And, Santa Monica is a great place to attract talent to, however, the cost and inaccessibility of living [space], especially for recently… out of college talent, is a challenge as well." he said. "It's great to be based here, but it's getting harder and harder to be based here, so there are a lot of startups that are moving to other geographies just to address those particular needs."
David Feinberg, president of UCLA Health System, joined Karrer and Caroline Beteta, president and CEO of Visit California, on Tuesday's panel.
Growth is a "very, very difficult process for us," Feinberg said, adding that the UCLA Medical Center in Santa Monica is sometimes at 108 percent capacity.
As the number of insured people increases due to the Affordable Care Act, so does the need to have the facilities to provide high quality medical care for them, he said.
Organized Opposition to New Jobs, Housing
While the tech sector makes up about 25 percent of Santa Monica's workforce, in the last couple of years, Santa Monica has seen some of its biggest tech companies — including Google and, most recently Yahoo — leave the city for its much-larger neighbor, Los Angeles.
This trend, while good for Los Angeles, isn't really beneficial for the region, according to a Los Angeles Times editorial, since it doesn't create new jobs, it just moves them around.
And, in fact, with these companies increasingly choosing to locate in Playa Vista, a neighborhood of Los Angeles south of Santa Monica, it is an overall loss, since that part of town is void of any reliable public transit. Workers, who could have commuted to Santa Monica by relatively abundant public transit, will have little choice but to drive to Playa Vista.
The problem is in large part due to increased organized opposition to growth of any kind, most visible in the recent referendum against the proposed mixed-use residential and commercial Bergamot Transit Village project.
Were it not for a successful referendum effort led by no-growth activists last spring, that project would have replaced an defunct pen factory across the street from the future site of the Expo Light Rail station at 26th Street and Olympic with hundreds of new apartments and plenty of office space for growing tech startups.
Despite the claims of anti-development activists that Santa Monica has had too much growth recently, the fact is that it hasn't.
In the last 12 years, planning policy in Santa Monica has only allowed for about 67,000 square feet of net new nonresidential development to be built. In about the same time period, the city saw a net increase of about about 230 new multifamily housing units a year.
Now, the city if facing the social and economic consequences of under-supplying housing and job space: namely soaring rents for both and increasing traffic on the Westside as people who can't afford to live here commute by car.
A Desirable Place to Live and Work
While resistance to even modest growth is a problem, the consequences of no-growth activism are only exacerbated by the fact that people, especially in the tech sector, want to be in Santa Monica.
Part of it is the beach, said Karrer, but there is also a municipal investment. Santa Monica is home to one of the fastest municipal broadband networks in the country.
Santa Monica decided in the late 1990s to begin installing its own broadband network throughout the city, originally for use by City Hall and the School District. Today, approximately 130 businesses, including hotels, tech startups, and entertainment companies, use the City's fiber optic cables, in part because Santa Monica can offer competitive pricing compared to national broadband providers.
Santa Monica was also one of the founding cities involved in Next Century Cities, a bipartisan, city-to-city initiative dedicated to ensuring the availability of next-generation broadband Internet for all communities. The initiative launched in the bayside city last summer and was recently mentioned by President Barack Obama as a model for his new federal broadband initiative, Broadband USA.
And, Santa Monica is currently exploring a pilot program that would bring make the city-owned broadband network to people's homes.
"There would be a lot more companies that would want to locate here [in Santa Monica] and a lot more people would want to work here if [space] was available and the pricing was right," Karrer said.