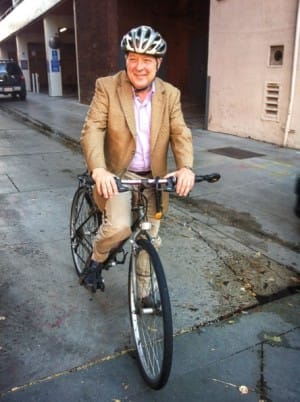 Editor's note: Below is the first in a series of blog posts by former City Council Candidate and long-time political observer, Frank Gruber, taking a closer look at the November 2014 election. The original post, titled "Back to What I do Better," can be found on his personal blog, The Healthy City Local.
Now where was I? Oh yeah, back in July I wrote my last post on this blog, a manifesto on why I was running for Santa Monica City Council, and then something happened called a campaign. I spent four months expressing myself as a politician not as a pundit.
My political self terminated, abruptly, November 4, when I lost, and since then I've been taking it easy. (One could say I've been licking my wounds and I wouldn't argue the point.) Anyway, there's life after politics. I hope I'm better at punditry.
As always Santa Monica provides a lot to write about, and I'll start with the election. The most important vote was the landslide victory of LC and defeat of D, which removes the most significant local impediments to closing the airport and building a big park there.
But enough happy talk. I can't help but write about the election for City Council even if, as a candidate who lost, I'm unlikely to be objective about it. But my observer self is fascinated by the election, especially since the results were so different from those of two years ago—at least when viewed through the lens of the development politics that have pushed all other issues to the side.
How different? In 2012 there were four winning candidates (Ted Winterer, Terry O'Day, Gleam Davis and Tony Vazquez). If you take them and add the runner-up (Shari Davis), only one of the top five candidates (Winterer) ran with the support of the anti-development side of Santa Monica politics. In 2014 there were three winning candidates (Kevin McKeown, Susan Himmelrich and Pam O'Connor). If you take them and add the runner-up (Phil Brock) only one of the four top candidates (O'Connor) ran without the support of the anti-development side. (I came in fifth.)
In 2012 only one of four winners ran with anti-development support; in 2014 two of three winners did. That's a big change, and the anti-development folks are claiming victory. I don't argue the fact that they won, but has there been a seismic shift in the electorate—as they claim?
There are two explanations going around for the success of the anti-development candidates, one from each side. I don't buy either.
The opponents of the anti-development side argue that the electorate in 2014 was more conservative and anti-development than usual because turnout was much lower. True, 47,945 Santa Monicans voted in 2012 and only 28,333 in 2014, but I don't see how a larger turnout would have changed the results, except perhaps at the margins.
The anti-development side argues that in the aftermath of the controversy over the Hines project and the formation of Residocracy the electorate has become more focused on (and angry about) development, and better organized to vote for anti-development candidates. There is no question that development seems to be the only issue that anyone talks about these days, in part because the Hines project was the first large development that the City Council had approved in a long time, but I'm skeptical that this indicates anything meaningful about a long-term trend. There has been plenty of anti-development agitation going back 30 years and the success of anti-development candidates has always ebbed and flowed.
So what do I believe happened between 2012 and 2014?
I'm of the "the more things change, the more they remain the same" school, and I suspect that the results in 2012 and 2014 reflected two constants of Santa Monica politics, namely the power of incumbency and the power of Santa Monicans for Renters' Rights (SMRR).
The victory in 2014 of then-Mayor O'Connor illustrated the power of incumbency, as she won notwithstanding vicious and well-financed attacks against her. (The other incumbent, McKeown, won easily.) Incumbency was also significant in 2012 when incumbents O'Day and Davis, and former council member Vazquez, all won easily.
As for the power of SMRR, nothing illustrated it more than the victory of newcomer Himmelrich in 2014. Himmelrich defied conventional wisdom and showed that a first-time candidate could win—with the SMRR endorsement. But beyond Himmelrich's victory, there was also the fact that Jennifer Kennedy, who ran little of a campaign other than by way of her SMRR endorsement, and who had no other significant organizational endorsements, finished a strong sixth.
The SMRR brand is by far the strongest in Santa Monica, but it's especially important for anyone running as an anti-development candidate. Since SMRR ran its first candidates 35 years ago no candidate running as an anti-development candidate has won election to the Santa Monica City Council without SMRR's endorsement. (Funny how anti-development organizations and activists rail against SMRR's control over local politics when they wouldn't have any power but for that control—but that's another story.)
The most reasonable explanation for the 2014 results is the most obvious one. "Follow the SMRR endorsements." In all previous elections going back more than 30 years SMRR has endorsed candidates from both its anti-development and progressive, housing-and-services factions. In 2014, the anti-development victory, winning two out of three seats, happened because for the first time SMRR endorsed only anti-development candidates.
It wasn't easy for SMRR to get there. Readers will recall that the original SMRR slate left an open slot, which the SMRR Steering Committee filled in a special meeting less than six weeks before the election with its endorsement of Himmelrich.
Why did SMRR go 100% anti-development in 2014? I'll get into that question in my next post.
Thanks for reading. It's good to be back. Happy New Year.