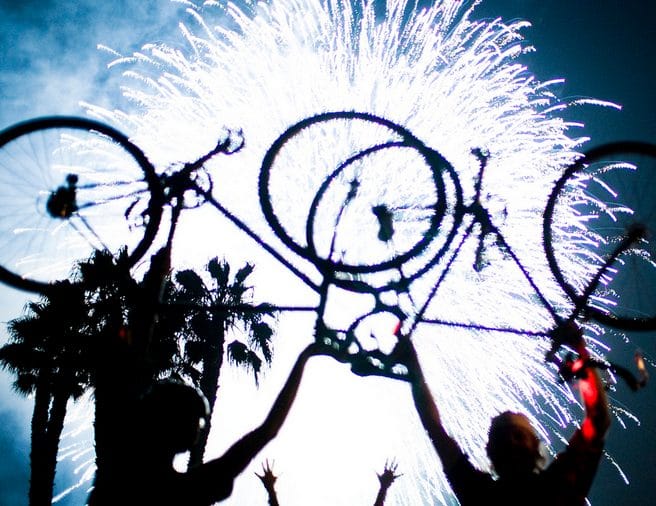 Welcome back! We hope that everyone enjoyed their holidays. At Santa Monica Next, we were able to get some much-needed downtime. Now we're rested and ready to get back to work.
What are you most looking forward to in 2015, Santa Monica? We've compiled a list of the big changes we're excited — or nervous — about this year below. Did we miss anything?
Big Blue Bus' Great Leap Forward
Big Blue Bus will make some major changes this year, and we're excited (mostly) for them. The Big Blue Bus announced recently that this March, riders will be able to use TAP cards to pay fares. TAP is the fare cards used in most major transit systems in L.A. County including LADOT's Express and DASH service and all Metro buses.
But, perhaps the most exciting change will be coming to bus service in Santa Monica this summer. According to Big Blue Bus Director Ed King, riders will finally be able to track real-time arrival information for buses on their phones or computers by this summer.
The availability of real-time arrival information will be key in improving ridership especially as the Big Blue Bus prepares to undertake the biggest realignment of its service in the agency's 80-year history. The first phase of could be implemented in August or September. The realignment will increase north-south service and create many new connections in Santa Monica and West L.A. with the Expo Light Rail. But, with addition of new routes, there will be increases in the headway for certain lines. Real-time info will allow riders to plan accordingly and cut down on wait times.
That brings us to the next exciting thing happening in 2015: Expo Light Rail phase 2 is scheduled to begin testing in March. That means we'll begin seeing trains running down Colorado, but won't likely be able to ride them until early 2016. Agonizing, yes, but still exciting.
Then, there is bike share! In November, the City Council unanimously approved a contract with CycleHop to move forward with what could be L.A. County's first public bike share program. The City is asking for help naming the program; you can give input here. If things go as planned, Santa Monica could see bike share stations cropping up this year. Bike share is an integral part of Santa Monica's award-winning Bike Action Plan. It is also a huge part of the city's strategy for connecting people to Expo in an affordable, sustainable way (i.e. not cars).
What's Next for the Bergamot Area?
Also to be determined this year: the future of Santa Monica's formerly industrial Bergamot Area. This year, we'll likely find out what the future holds for the former Papermate factory at 26th Street and Olympic Boulevard, across the street from the future Light Rail station.
While the City Council originally approved plans to replace the obsolete factory with housing — about 500 apartments — and office space, no-growth activists successfully gathered enough signatures for a referendum on the project. Instead of going to the ballot, however, the Council voted to rescind its approval, leaving open the question of what happens next.
Rumor has it — and in the next few months, we'll find out if the rumor is true or not — that the owner hopes to sell the property and that the building will be reoccupied as 100 percent office space (about 300,000 square feet of it). Under this scenario, there will be no housing at the site, but instead, the property, home to an office building and a surface parking lot, will remain a super block with no sidewalk along Olympic.
There's also the City-owned property across the street known as the Bergamot Arts Center (completely unrelated to the Papermate project), whose future will likely be determined this year. In September, the Council chose a development team to go forward with redesigning the property, currently a surface parking lot surrounded by various art galleries, creative spaces, and the Santa Monica Museum of Art.
Of course, the project created some controversy and the Council called for the convening of an advisory board that would include various stakeholders to help with the project design.
Santa Monica Airport
This summer has been long looked forward to by opponents of the century-old Santa Monica Airport. July 2015 is when the City's 1984 settlement agreement with the Federal Aviation Administration expires.
In that agreement, which came out of a conflict over whether or not the City could restrict the types of planes that flew out of the airport, Santa agreed to operate the City-owned land as an airport until July 2015.
While it is clear that the City has a fight ahead of it, voters resoundingly defeated Measure D (and approved Measure LC) in November, which means the City won't have its hands tied when it starts its David-and-Goliath battle with the FAA over control of the public property.
Trouble Ahead
While there's plenty of promise for 2015, there's one major problem facing Santa Monica and the region: the housing crisis. Los Angeles County is facing the worst housing crunch since the end of World War II.
Skyrocketing rents due, in large part, to the sluggish construction of new housing, high demand, and zoning that increases construction costs through requiring excessive amounts of parking, have begun to create a demographic crisis as middle- and low-income workers are priced out of the region.
Until recently, Santa Monica has been able to work with nonprofit housing developers like Community Corporation of Santa Monica, to help preserve or create new affordable housing in the city. However, this year, the City doesn't have the money to help.
Before its redevelopment agency was axed, along with all others redevelopment agencies in California, in 2012, the City funneled about $15 million a year to nonprofit affordable housing developers. Measure H, which would have generated up to $10 million a year to fund affordable housing by raising Santa Monica's property transfer fee, was defeated at the ballot in November.
With no real funding alternatives, the City will now have to rely exclusively on development agreements to require private developers to build or pay for affordable housing, since the City's charter calls for 30 percent of new construction to be affordable to middle- and low-income households.
Growing Santa Monica Next
And finally, on a more positive note, we are looking forward to growing Santa Monica Next and taking a more active role in the community. Thanks to the generous support of our readers, we will be able to continue — and even expand — our coverage of the issues important to you.
As the year unfolds, we look forward to helping continue the fact-based dialogue around issues that all too, due to heated rhetoric, often get muddied.
Thanks for a great 2014 and we look forward to an even better year ahead of us.