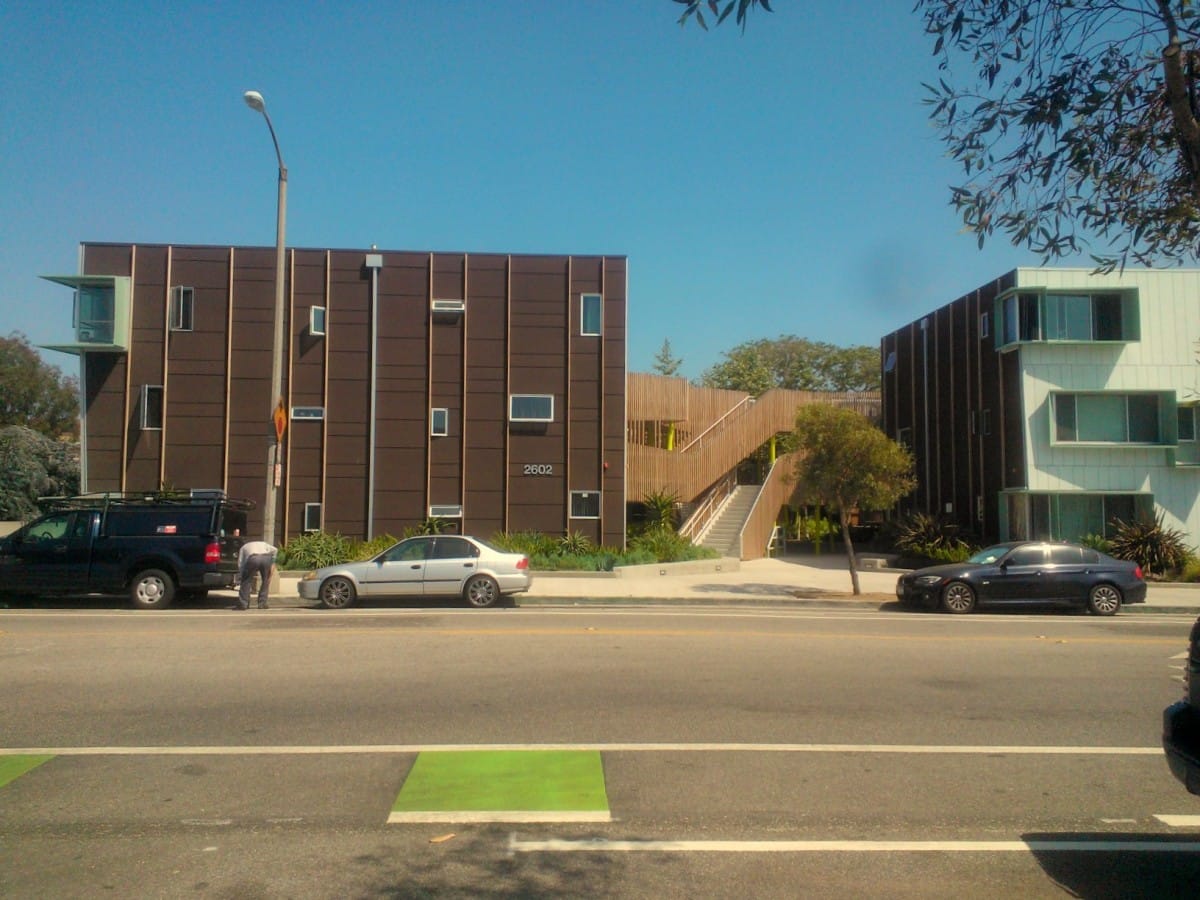 Editor's Note: This is part three of a series looking at the cost of renting in Santa Monica. Here is Part One: The Rent's Too Damn High and here is Part Two: Rent Control.
The corner of Colorado Avenue and Lincoln Boulevard in Santa Monica is about to get a major make-over that will include nearly 200 new apartments.
Construction crews are laying tracks all along Colorado west of 11th Street for the Expo light rail line and at that intersection, just two blocks east of the train's future terminus, two budget diners will get replaced by two mixed-use developments, between 57 and 60 feet tall, assuming the projects make it through the city's lengthy public process.
Since the two projects, as proposed, are taller than the 32-foot height limit in the area, both developers have applied for a development agreement (DA) that would allow them to build taller projects.
With the region facing a rental crisis, in part due to the fact that demand for housing is outpacing its construction, additional housing units cropping up in Santa Monica, where rents are the highest in the county, is generally a good sign, especially when they do not take existing housing offline.
Still, restrictive zoning laws that limit the number and size of the apartments that get built, scarce and pricey land, and the city's desirability as a destination all combine to keep Santa Monica's market-rate rents high.
In the face of skyrocketing rents, Santa Monica has struggled to maintain its commitment to economic diversity among its residents. New construction or market-rate rental units in the city's 8.3 square miles is not likely to ever be enough to satiate the demand for housing enough to stabilize rents.
And, rent control, which has been a powerful force in keeping rents low for decades in Santa Monica, has been on the wane since 1999. That's when a state law went into full effect, requiring the city to allow land owners to raise rents on controlled units to market rate between tenants. Rent control also has no impact on the rents of newly-constructed units, since it only applies to apartments built before 1979.
Why Bother Building Affordable Housing?
"You need people who work in your city to be able to potentially be able to live in your city," said Sarah Letts, director of Community Corporation of Santa Monica (CCSM), one of the city's leading producers of affordable housing.
Over the years, CCSM has bought or built about 1,700 rental units throughout the city, the vast majority of which are affordable to people who otherwise wouldn't make enough money to live here.
Being able to live near to where you work means shorter commutes and less traffic. Living in Santa Monica also means having access to great public amenities, like excellent schools and an award-winning network of public libraries.
"You really do want the whole range of people and professional interests to be able to live in Santa Monica," she said.
Santa Monica's Affordable Housing Production Program
Economic diversity, in general, is something that Santa Monica has, for many years, championed, whether through its rent control law or the City's affordable housing production program (AHPP).
"Because we've got the affordable housing production program, it assures that affordable housing is addressed whenever market-rate housing is developed," said Andy Agle, Santa Monica's director of Housing and Economic Development.
Since the voters approved Measure R in 1990, Santa Monica has required developers to earmark a certain percentage of new units being built as affordable units or to pay a certain amount of money to the City specifically to fund affordable housing production.
For example, one of the two proposed projects on Lincoln and Colorado, will include 90 apartments. Because of the City's affordable housing rules, developer FSTAR will earmark 18 of those units as affordable.
Unlike rent control units, deed-restricted units built as part of the City's affordable housing production program (AHPP) never see market-rate rent increases.
Nine of those units – or 10 percent of all the units – would be affordable to households that qualify as making a "very low" income. The city defines "very low" income to be 30 percent of the area median income (AMI).
In 2013, California's Housing and Community Development department defined the regional AMI for a family of four as $64,800, so under Santa Monica's charter, a family of four living in one of those nine units would have to make less than $20,000 a year.
The other nine units would be for families with "moderate" incomes, or 80 percent of AMI ($51,840 a year for a family of four).
Across the street, another developer hopes to put in 100 new housing units with 20 of them earmarked for people with "low" income, or 50 percent of AMI.
That affordable housing production program is one of the only reasons that an apartment in Santa Monica, especially one walking distance from a future light rail station, could be affordable to someone making less than $20,000 a year.
Still, 38 affordable units is a drop in the bucket, considering officials estimate that Los Angeles County needs to build nearly half-a-million new affordable housing units to ease the burden placed on renters by rising rents.
If Santa Monica's zoning were relaxed, it could help shore up the number of affordable housing units that were built by private developers.
"If the allowed densities were increased, it's likely to increase the value of the underlying land," said Agle. "That would be mitigated by the fact that, if you could build more housing on the site, the land cost per unit would be reduced."
And, if the developer could build more housing, because the AHPP requires a percentage of the total project to be deed-restricted, it would mean more affordable units per project.
Of all the housing produced in Santa Monica in the past 20 years, 38 percent of it is "affordable to low and moderate income households," Agle said.
For-profit developers have built about 1,000 deed-restricted in the city, but they aren't the only ones addressing the need for affordable housing in the city.
Nonprofits and Affordable Housing in Santa Monica
Since its formation in 1982, the nonprofit Community Corporation of Santa Monica (CCSM) has become one of the city's leading producers of housing for lower income families.
But unlike market-rate developers, CCSM and other nonprofits cannot rely on market-rate rents to help subsidize housing.
As a result, they rely on public money, grants, and other funding sources, much of which has recently dried up.
"Historically, because the City was making a contribution… we were very successful when it came to competing for state and federal sources," Letts said. Until 2012, the City of Santa Monica contributed about $15 million a year to affordable housing production projects from funds it got through its local redevelopment agency (RDA).
Two years ago, however, the State killed RDAs throughout California – there were about 400 – eliminating many nonprofit housing developers' primary source of funding.
"Over a billion dollars a year was in the [State] financing system in order to get affordable housing done" before RDAs were eliminated, Letts said. "Throughout the state of California, every community is reeling from" the loss of that money.
"It's going to take years to be able to build ourselves back up," she said.
There are some state answers to the affordable housing funding crisis, like using cap-and-trade funds to help build affordable housing near transit, since low-income commuters are more likely to take buses and trains to work.
Still, it won't be enough to make up for the loss of RDAs. That's why Santa Monica is considering raising fees on property transfers that could help shore up affordable housing funding by about $10 million a year.
With rents as high as they are in Santa Monica, demand for below market-rate housing keeps growing.
As of January, CCSM had about 3,500 on its marketing (or, waiting) list, which it opens to new people every year and only about 10 percent of CCSM's 1,700 units turn over each year.
"Everybody wants to pay a reasonable price for housing. And reasonable depends on their circumstances," Letts said. "It diminishes everybody's quality of life when the vast majority of income goes to rent."