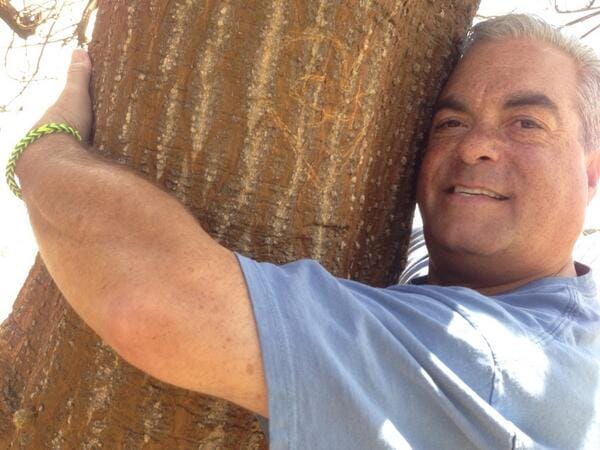 Originally timed to coincide with Jerry Peace Activist Rubin's "Tree Hugging Day," we did get a couple of great submissions. But since I spent my day working on fixing the website (the problem was our calendar was mis-firing, FWIW) and not promoting the contest we're going to extend through the weekend.
As many of you noticed, Santa Monica Next was down for much of yesterday. As a result, we're extending the "#TreeHugSaMo" contest through the weekend.
Here's how it works. Take a picture of yourself hugging a tree or get a friend to take a picture for you…preferably somewhere in Santa Monica. If we get more than five submissions, we'll pick the top five and let readers select the winner from our top finishers. The winner will receive a Streetsblog L.A. messenger bag and a choice of two Streetsblog/Santa Monica Next t-shirts, and a "golden spoke card" allowing special access at Santa Monica Next events.
You can get pictures to us by tweeting with #treehugSaMo, tagging us in a post on Facebook or posting a link in the comments section below. By submitting a picture, you give us the right to republish it in other posts about Tree Hugging Day but retain all other rights. The deadline for submissions is 9 a.m. on Monday morning.