(This is the second in the second "Santa Monica Next Salon" on why people choose to live in Santa Monica. In Part I, Jasneet Baines discussed why she moved to Santa Monica. – DN)
In 2009, I moved to Santa Monica for the same reasons a lot of people my age do: jobs; the beach; the weather; the walkability.
It's now 2014, and my husband and I still live here, for the aforementioned reasons and more. We have the resources to leave, but we are committed to staying. We're optimistic about the future of Santa Monica. We've made lifelong friends here, with whom we can share the happenings of our lives and of this city. It's something I've looked for, quite possibly, all my life.
We're also committed to staying because I think Santa Monica is going to be a great place for us to raise a family.  You know how some people say they want to do better by their kids? Providing any future kids of mine with the best education I can is so important to me. And so is providing my (future) kids with mobility independence. I think that both are feasible by living in Santa Monica. Because of the city's walkability, bike infrastructure and transit grid, I'm optimistic that any kids of mine will be able to get from school to third places like the Boys & Girls Club or the YMCA or back home on their own. Before anyone says that I'm already intending to be a reckless parent, my husband and I came of age in the suburbs, where he was given keys to a car when he turned 16 and I walked the Last Mile home because it was faster than waiting for a bus on 60 minute headways. I felt really badly about being so dependent on my parents for my transportation needs as a teenager.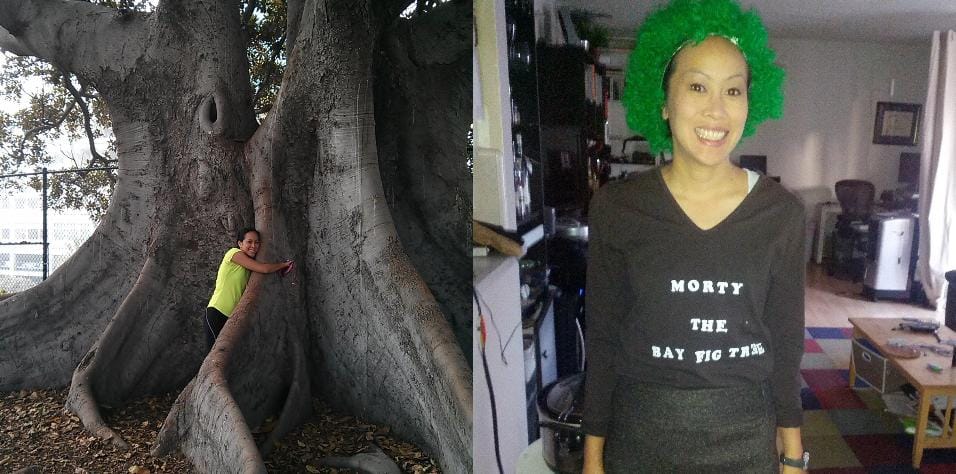 Nonetheless, I think I will always feel some unease about living and committing to staying here. My husband calls it Westside Guilt. My experience living here, in Santa Monica, is in such stark contrast to where and how I grew up, further east in the Wilshire Center section of LA and later in the Valley, where my parents bought a house when I turned 14. 
The greater Los Angeles metropolitan area is one of the most diverse, poorest, and segregated in the country. The neighborhood I grew up in was poor and predominantly minority immigrants; our retail was all neighborhood-serving and it was looted and/or burned during the 1992 Riots. I got to ride my bike on the street but as long as I came in before dark because of gang activity. There is considerable wealth and privilege today here in Santa Monica and on the Westside in general. In contrast, my parents now live in an inner-ring suburban neighborhood adjacent to a light industrial zone with vast income inequalities.  They made sacrifices that I would have tried to stop had I known better (which is kind of nuts given that I was a kid at the time). I'm convinced that the doubling (Dad) or quadrupling (Mom) of their commutes has taken years off their lives.
I'm also a person of color living in a city that is mostly white, and there's a certain discomfort that I'm not sure if I'll ever shake off. I worry (sometimes a lot) that my choices – to live here, in an apartment, in a community that is so much more homogeneous ethnically and socioeconomically than where I grew up, and certainly not with my parents (I'm the oldest girl) – could be misconstrued as a rejection of my parents and their choices.
But as I see it, I have choices now. I live in the region in which I was raised. So I could go back to Wilshire Center, or to the Valley. But it's unlikely we will do so if we still have jobs on the Westside. We're willing to live compactly in order to stay here. And we're happy here. The train is coming, which I think that will actually go a long way to addressing a lot of the isolation and disconnect I felt from my professional circle in downtown. We are talking a lot about how we want to shape the future of our city through the updates of our zoning ordinance, the creation of specific plans for our downtown and the Memorial Park Expo Station, the completion of studies and plans to improve Safe Routes to School and the development a pedestrian action plan.
And I see Santa Monica coming into its own as a multimodal city; every day, I see something new that's been implemented as part of the bike action plan. We are building more housing, which I believe is critical, and I see civic leaders reaching across generational lines to welcome newcomers and millennials. It's so reassuring to be part of a community where I have met people who share my optimism about Santa Monica's future and who also walk, bike, and ride the bus. And no one here bats an eye at the idea of bringing your own bag to the store, not the way that I get stared at differently when I go to my Asian grocery stores.
Right now, I'm committed to staying because I finally feel like I have found somewhere that I think I can belong.