At the Sant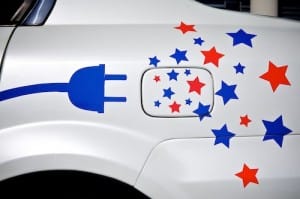 a Monica city council tonight the city is considering an item (7-D), a first reading of a possible ordinance change, to exempt state issued sticker "clean air" vehicles from payment at parking meters indefinitely by removing the language "valid and current" from the city's municipal code on exceptions to parking meter payment.
The stickers have been given out by the state for access to HOV lanes on freeways, and cities such as Santa Monica created other incentives tied to the stickers, meant to encourage early adoption of alternative fuel and EV vehicles to reduce harmful emissions.
The staff report on considering extending the parking exemption even after stickers expire with the state, acknowledges the contradiction with policies and goals in the LUCE and other documents intended for better management of parking resources through market pricing dynamics.
When it comes to the whole business of "alt-cars", I am deeply concerned about both local pollutants and particulates from vehicles and globalized emissions, but I break from a lot of the "green" and enviro crowd these days in not going out of my way to support alternative energy cars. I explained why in a little more detail for a column I wrote for Santa Monica Patch a few years ago.
My views haven't changed too much though the adoption rates picked up just a bit since then. Many of the problems mass car use in cities create (traffic congestion, land use, crash casualties, resources for construction, rare metals use, etc.) are not solved by an energy switch, many of the alternative energy sources create their own environmental problems (are resource conflicts over lithium supply chains in our future?). I would rather see public resources devoted to the task of improvements in public transit, bicycling and walking.
I am fairly confident the automobile industry, with it's tremendous power, deep pockets, and the support of the U.S. federal government propping it up as needed domestically, will do what ever it takes to remain relevant in the changing energy landscape of the 21st century, for as long as they possibly can. Frankly, the car industry doesn't need the help of environmentalists to sell cars, and I wish it were all hands on deck to facilitate a transition beyond the car centric urbanism paradigm in the first place.
In Santa Monica, which already has been leading the state and the nation on early adoption rates of alt-cars, or clean vehicles, of various kinds or hybrids, and with the much bigger city of Los Angeles also a leader in the country, it is not an inconsequential number of vehicles that potentially have these stickers locally. Giving free parking to sticker holders indefinitely, is expanding the pool of exceptions too wide, and could be an invitation for sticker abuse or forgery as the new placard abuse in parking.
It also smacks of being a bit regressive, as in being a reward predominately slated for the wealthiest. Early adoptions of technology when it remains more expensive in upfront cost is out of reach to many people with various incentives or not.
Where I think alternative fuel vehicles or EV's can have the biggest impact in changing outcomes for the better is inclusion in car sharing and micro-rental car service business models. In that context a modest car fleet begins to serve many more people, and with fewer parking spaces required than mass private ownership. The typical car spends about 95% of it's time doing nothing anyways. If we are going to be extending long term public incentives to these next generation automobiles, I would rather see it in come from providing resources, or by other means, facilitating the entry and adoption of such vehicles to rental and shared use.
I'm open to hearing other thoughts on this, but I remain unconvinced that this is either as much of an environmental benefit as it is cracked up to be, nor prudent given a greater necessity for local revenue streams in a climate of greater federal and state funding uncertainties.