Today, the Metro Board of Directors approved making Metro's transit ambassador program permanent. The approval included plans to bring ambassadors in-house as Metro staff; ambassadors are currently contracted workers.
Transit ambassadors grew out of Metro's faltering efforts to reimagine public safety, intended to invest in care-based programs and reduce reliance on armed police response.
Metro first started deploying transit ambassadors in September 2022, with significant numbers appearing at the time of the October 7 opening of the new K Line. The program had reached its full 300-person strength by the formal program kick-off event last March. Green-shirted ambassadors have become a ubiquitous presence, especially at rail stations in central Los Angeles, and during Metro events, including the Regional Connector opening and the added Taylor Swift concert service.
Ambassadors' roles include: engaging with riders, wayfinding assistance, supporting riders with acute health issues (via CPR, NARCAN), and notifying Metro policing and cleaning staff of issues needing attention. A Metro presentation notes that ambassadors have saved 72 lives, and have improved cleaning and maintenance repair response times by reporting more than nine thousand problems, ranging from spilled food to elevator/escalator outages.
Metro recently conducted an extensive rider survey that found a great deal of support for ambassadors. Nearly two thirds of riders who had encountered an ambassador agreed that their presence helped riders feel safer. Survey results linked ambassador interactions with improved rider satisfaction.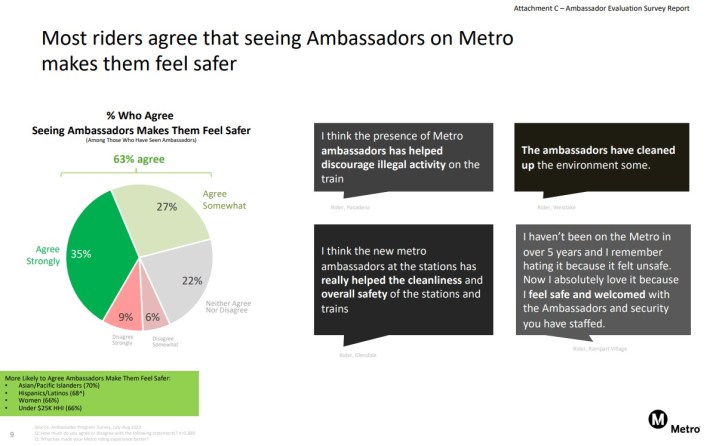 Metro's ambassador program was started utilizing a private contract that allowed the agency to get its pilot up and running quickly.
According to Metro staff, to continue the program the ambassadors should become Metro employees. Metro expects that moving the ambassadors in-house will streamline the program, save money, and provide ambassadors better job benefits, including facilitating possible promotion to other Metro jobs.
During today's board meeting, there was unanimous support for the ambassador program, even from Glendale City Councilmember Ara Najarian who, years ago, refused to vote in favor of establishing the program. Najarian now acknowledges the program's successes have won him over.
Today's approval authorizes Metro to transition the program in-house over the next twelve months – and includes a check-in report at six months, including a review of program costs.
The ambassador transition has a few wrinkles to work out. Metro will honor its current two-year ambassador contracts, though almost certainly won't utilize two additional one-year extensions. During public comment, Metro's contractors expressed displeasure with this.
Metro will need to navigate transitioning individual workers to in-house jobs, and still needs to work out the terms of that employment, including addressing concerns of Metro worker unions. Last summer, there was an unsuccessful push to unionize Metro ambassadors.
Overall, the future looks bright for Metro ambassadors. Their green-shirted presence is here to stay.