This story first appeared at Streetsblog Los Angeles.
Earlier today, the Metro Operations Committee approved Metro on-bus cameras for ticketing drivers who park in bus lanes. Metro is looking to allocate $11 million for its Bus Lane Enforcement Pilot Program [staff report, presentation], including a five-year contract with Hayden AI Technologies.
San Francisco and several other jurisdictions already have automated bus lane enforcement up and running. Recent California legislation permitted statewide on-bus camera enforcement. This year, Santa Monica Big Blue Bus completed a 45-day test of this technology. Metro and the city of L.A. Transportation Department (LADOT) had announced their plans for piloting bus lane enforcement starting this fiscal year – first on Wilshire Boulevard and 5th and 6th Streets.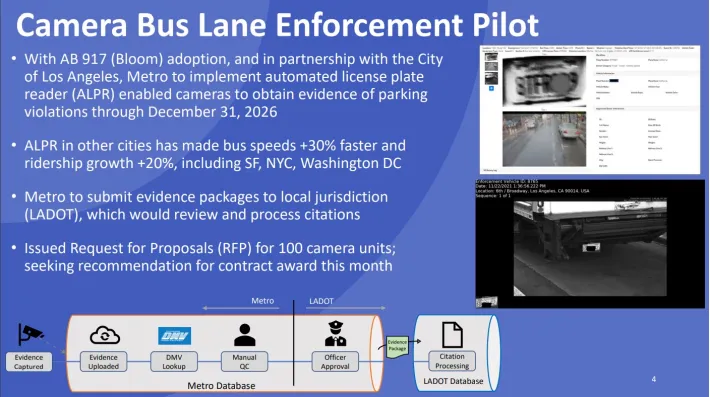 Assuming board approval this month, Metro now plans a program rollout in Spring 2024. This will include "education-first outreach with key stakeholders along selected bus lane corridors, beginning 60-days [in] advance with increasing visibility towards implementation."
Metro has worked with local jurisdictions, mainly Los Angeles, to grow its bus lane network, with nearly 30 miles of new bus-only lanes since 2019, including on La Brea Avenue and Venice Boulevard this year. These great new bus lanes have not quite lived up to their full potential, as they are often blocked by scofflaw drivers. On-bus camera enforcement has the potential to improve bus speed and reliability, improving the lives of millions of Angelenos.