This article first appeared on Streetsblog Los Angeles.
Streets for All (SFA) recently released a dramatic proposal for removing the three-mile-long Marina Freeway (State Route 90) to create a new Marina Central Park – with housing, parks, bus rapid transit, and bikeways – all where the six-plus lane freeway stands today. As with earlier efforts to re-envision and reallocate space away from the Westside's soul-killing traffic, Marina Central Park has aroused some vocal opponents who are now rallying to "Keep the 90."
SFA Founder Michael Schneider notes that "Los Angeles is at a crossroads, with dueling climate and housing crises…[which] warrant us reconsidering our entire built environment, questioning assumptions made 50+ years ago, and perhaps exploring making changes based on today's thinking." He states that the need for "more affordable housing, more park space, and multi modal transportation options" led to the Marina Central Park proposal.
"It's worth studying," Schneider concludes. Streets for All worked with Caltrans, State Senator Lola Smallwood-Cuevas, State Assemblymember Isaac Bryan, and the underlying jurisdictions – Los Angeles and Culver City – to tee up an application for a federal Reconnecting Communities grant to study Marina Central Park. The grant would include a two-year community engagement process.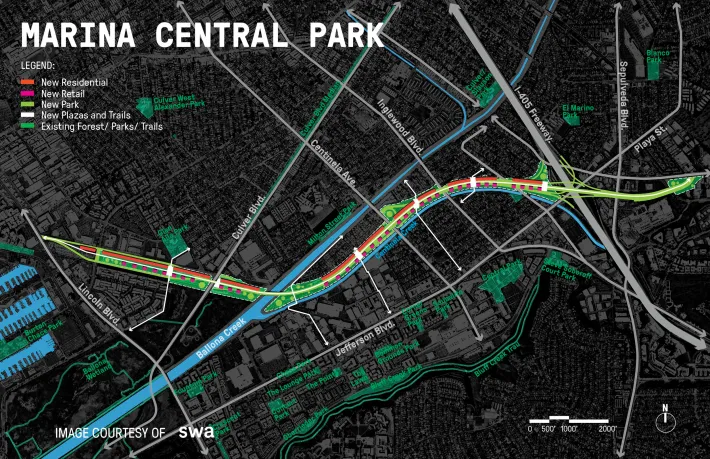 After some favorable media coverage, the opposition put together a website and petition to "keep the 90" in part because "it looks like a highway is supposed to look." "You won't find a freeway in SoCal with a better reputation" the site asserts, and the 90 Freeway "is rarely congested, has wide lanes with a generous shoulder," and "boasts expansive views."
Streets for All and other project supporters are encouraging interested folks to support the Marina Central Park project by taking the following actions:
Learn more about Marina Central Park, and get on SFA's project mailing list, by visiting the project webpage.