This story first appeared at Streetsblog Los Angeles.
This week, singer-songwriter Taylor Swift will perform six sold-out concerts at SoFi Stadium in Inglewood. Concerts start Thursday, August 3 and continue August 4, 5, 7, 8, and 9. Across America, cities have been experiencing spikes in transit ridership as "Swifties" take trains and buses to concerts. Some have dubbed the phenomenon the "Taylor Swift Transit Effect." Swift even has the L.A. Times gushing about riding transit.
For Swift's concerts here, Metro is extending transit hours, and running extra buses, trains, and shuttles. And Metro's not alone, as crowdsourced private shuttle buses step in to meet demand.
WHY?
For starters, there's the high cost of parking.
A quick glance at the SoFi Stadium parking website reveals that, where it's not already sold out, nearby parking will set drivers back $49 to $70 or more.
It's not just the cost, but the parking experience at big events is consistently wretched. Drivers can get stuck in bumper-to-bumper traffic congestion both before and after concerts, easily lasting 20-30-40 minutes or more.
Arriving by bus or train, there is also the intangible benefit of sharing space with other concertgoers. Approaching and departing the venue, there is often a camaraderie bubbling among fans. Strangers often strike up conversations, either sharing excited anticipation beforehand or basking in the recollection of the event after.
HOW?
For folks interested in taking transit – public or private – to August Swift concerts, here is a run-down of your options, plus some tips.
First up, private buses. Rally OurBus is a company that organizes crowdsourced bus transportation to concerts and sporting events at numerous venues, including SoFi Stadium, where Rally has already served Super Bowl and BTS concert attendees.
For the August concerts, Rally is running prepaid charter shuttle buses to and from locations throughout Southern California, including Santa Monica, Huntington Beach, downtown L.A., and more. Customers can request new locations, and Rally adds buses where there is sufficient interest. Rally buses have wi-fi, restrooms, and allow food and drink.
Prices vary, with roundtrip tickets now running around $80, around the cost of parking solo. According to Rally, earlybird trip sign-ups were about half that.
Significantly cheaper is public transit. Metro fare is just $1.75 per trip. No bathrooms, wi-fi, or food and drink onboard.
For the August concerts, Metro rail will be running until about 2 a.m. and will run shuttle buses between SoFi and the Metro C and K Lines.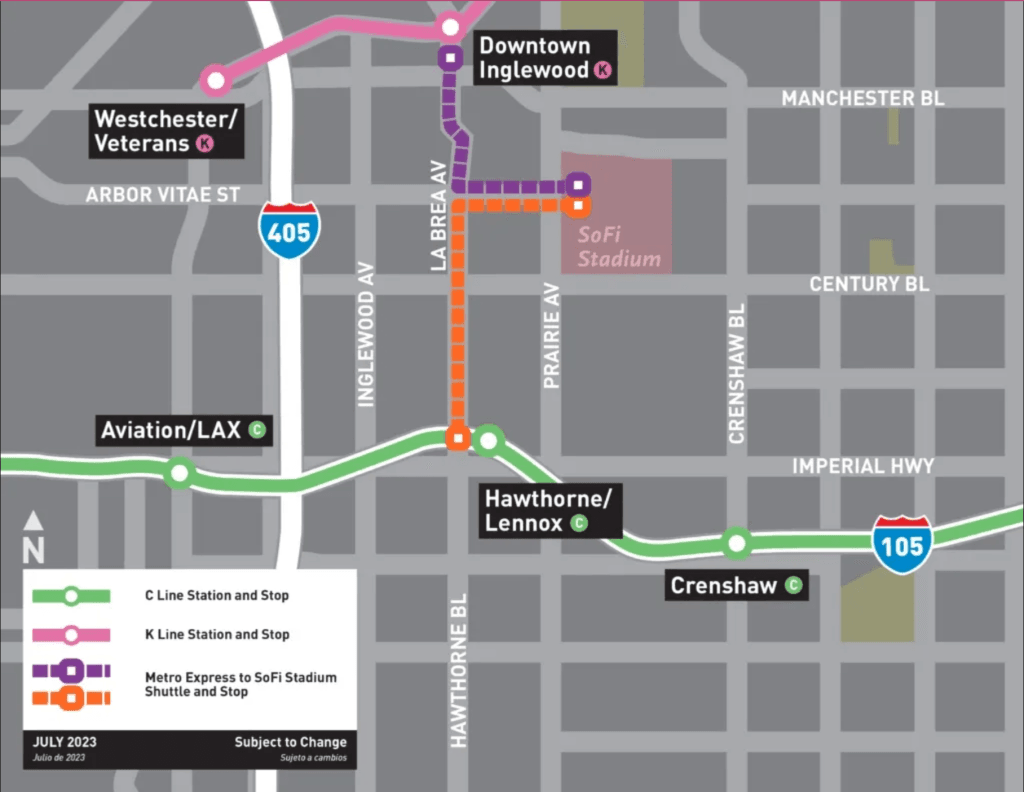 Metro's Taylor Swift announcement includes very good basic instructions, especially regarding riding Metro rail to the concerts.
As Metro notes: plan your trip ahead of time. Best to get a TAP card (one per rider) or TAP app, and pre-load stored value, so you don't get behind a line of newbies trying to use fare machines that day.
ADDITIONAL TIPS
Take a Metro bus
Metro rail is great, and fairly convenient for SoFi, but there are also several Metro bus lines that serve SoFi events:
1) Metro Bus Line 115 [schedule/map] runs from Norwalk to Playa Del Rey, mainly on Manchester Avenue and Firestone Boulevard. The 115 is useful for getting to SoFi from Cudahy, Florence, South L.A., Westchester, and Playa Del Rey.
2) Metro Bus Line 117 [schedule/map] runs from Norwalk to Westchester, mainly on Century Boulevard and Imperial Highway. The 212 is useful for getting to SoFi from Downey, South Gate, Watts, and Westchester, including areas just above LAX.
3) Metro Bus Line 212 [schedule/map] runs from Hollywood to Hawthorne, mainly on La Brea Avenue, hooking over to Prairie Avenue at SoFi. The 212 is useful for getting to SoFi from Hollywood, mid-city, and Crenshaw.
For all three of these lines, trips are fairly frequent around weekday rush hours – every 10 minutes – and less frequent on weekends and evenings, when service thins to every 30 minutes. Service ends between midnight and 2 a.m.
The later it gets, the less often buses run. It's frustrating to just miss an infrequent bus, so it's a good idea to check the schedule (can be via Google Maps) when leaving an event to know if you might need to walk fast to make sure to catch a bus that's arriving soon.
Getting to rail stations, skip the Metro shuttle and walk or bike instead
The hardest part of taking Metro will likely be waiting for shuttles after the concert; it often means waiting in a long line to access a packed vehicle that may be caught in a post-concert traffic jam. (The shuttle to the event is usually pretty chill.)
It may sound daunting, and it's certainly not for everyone, but one post-concert solution is to walk from SoFi to nearby C or K Line Stations. The walk to the Downtown Inglewood Metro K Line Station is about 25 minutes. The walk to the Hawthorne Metro C Line Station is about 40 minutes.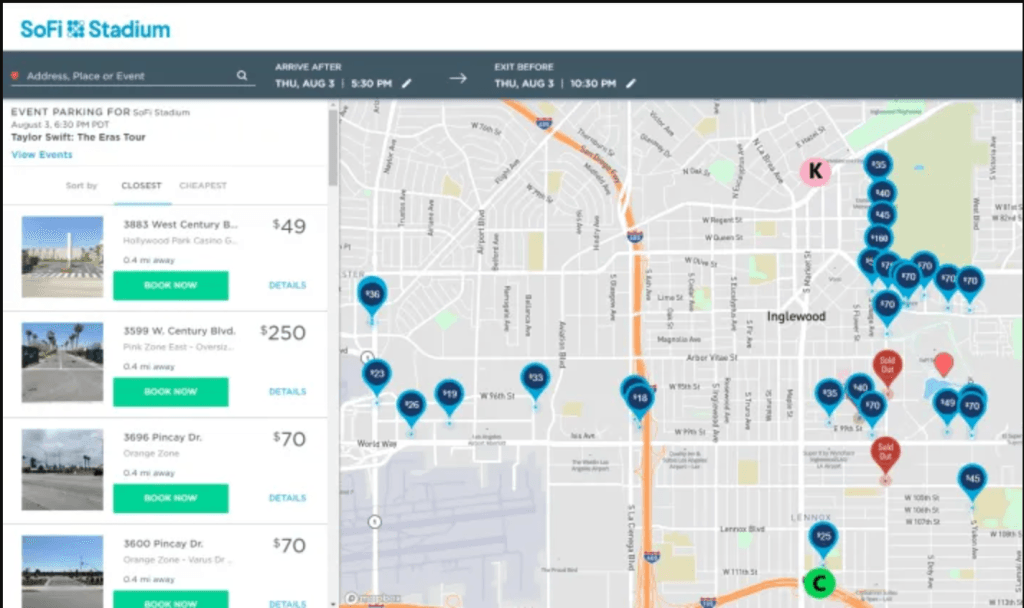 And before angry readers write in about how you won't walk 25-40 minutes, check out comparisons with parking options. If you want halfway reasonably priced parking near SoFi, you would likely pay $18 to $30 or more – and would walk 20 or more minutes to get to your car, and then wait in a line of cars to get out of your lot. Some people already walk 30 or more minutes to access free on-street parking.
So, one option is to enjoy the night air while you casually stroll past the post-concert traffic which is probably moving at a walking pace or slower.
Then there's bicycling – also not for everyone. Metro allows bikes free on rail and buses – though it's only 2-3 bikes per bus, so it's not recommended for popular events; the bus bike racks are nearly always full before the bus gets to you.
For Metro rail, board bikes at train doors with a bike symbol. Bring a bungee cord to keep bikes in place. Packed trains after concerts can be a bit difficult to get bikes on to. It's sometimes easier to ride to the station before the crowd gets on. For example, if you're heading north on the K Line, bike from SoFi to the Westchester/Veterans Station instead of Downtown Inglewood (C Line trains are far enough from the venue that they perhaps won't be too crowded).
SoFi Stadium has basic bring-your-own-lock bike parking, though the stadium website showing bike parking locations is currently down.
MORE TIPS?
Readers – how do you get to SoFi events? Please add additional tips in the comments.