In the 2016 presidential election, a Trump surrogate promised a taco truck on every corner if Hilary Clinton won. This is one of many reasons I supported Hilary. However, as with most policy positions, Trump overestimated the federal executive branch's ability to influence local street vendors.
In 2018, California approved the Safe Sidewalk Vending Act, which regularized the practice of street vending and has substantially reduced barriers for loncheras (traditional taco trucks). Before that bill, it was more common to see gourmet nouveau lunch trucks, like Kogi or the Lobster Truck, around Santa Monica, primarily serving the offices around Cloverfield Blvd. and Broadway.
Since that bill, taco trucks now post up regularly across the City because all they need is a city permit (easy as a result of the state bill) and a county health permit (available to food trucks based on a commissary, though with a lot of restrictions). Tacos Tuzo hangs out downtown and Tacos Mar Vista spends its days by the American Automobile Association.
Last year, Santa Monica's Senator Ben Allen tried (but failed) to overturn parts of the Safe Sidewalk Vending Act. Instead, the state further relaxed restrictions for street vending.
My family in Mexico are mostly Tapatios (from Guadalajara) , with some Chilangos (from Mexico City). Guadalajara has a slower pace of life, and while street tacos are available, they celebrate dishes like birria and tortas over street tacos.  It wasn't until living in Mexico City during college that I gained an appreciation for street tacos, especially al pastor al trompo. With pastor al trompo the taquero can blacken and caramelize the pork, bringing a sweeter taste.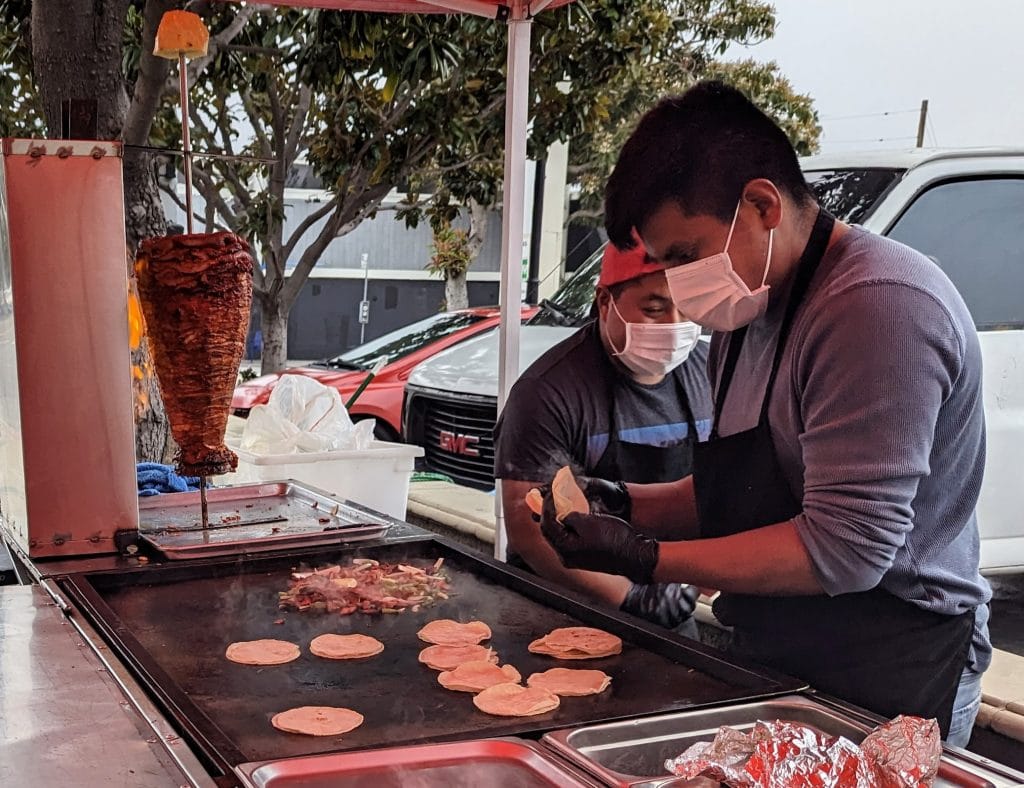 The trompo is a gas-powered open flame adapted from Lebanese shawarma cooking.  The open flame and emissions mean very expensive ventilation and fire control needs if these are indoors.  They can occasionally be placed outside of a licensed taco truck (Leo's on La Brea), but they're most often seen in outdoor pop up stands that aren't part of a truck.
Pop ups stand with pastor al trompo is a huge weeknight and weekend presence in areas of LA that have more chicanas/os, but have been steadily migrating westward. The premier taco news and culture publication LA Taco lists Sawtelle's Brothers Cousins as one of the top spots in LA.
On Monday, I saw a pastor al trompo stand within the boundaries of the City of Santa Monica. I was surprised, grateful, and fearful at the same time.
Of course I had to try it. I ordered an alambre for $12, which fed 5 people as part of dinner. It was very good. And very affordable.
Existing taco options in my area aren't so affordable. When I'm home in the evening, taco options within walking distance are priced at $5-10 per taco at sit down restaurants with a full bar: not a great spot for families with young children. I can also walk to Del Taco, which is affordable, but not very good.
Pop-up Taco stands provide a much-needed alternative These celebrate a culture of taco lovers who seek the pleasures of a neighborhood taco without a $15 margarita and an hour at a restaurant. This is an important aspect of fostering neighborhood diversity and providing economic opportunities for entrepreneurs who find a way to make money by enhancing communities.
An important part of taco stands is the culture. People gather while waiting to order, watching food get made, and eating. These hyper-local establishments become a place where neighbors can meet neighbors and the subject of neighborhood conversations. When I was walking my son to school the next day, I discussed the taco stand with another parent who also ate tacos from this stand the night before. We learned what style of tacos each likes (me: con piña, him: tan picoso). He told me the taqueros said they'd be back next week.
However, I was also apprehensive that the taco stand would be short lived. These taco stands only exist with the implicit permission of the City agreeing to let be a taco stand that serves as a community asset and creates minimal issues for its neighboring residents and businesses. The city should informally classify these neighborhood amenities as a low enforcement priority that lets them exist even if the City has a legal authority to shut them down. Because tacos bring people together, and Santa Monica needs more of that.