This year's midterm Congressional elections saw a surprisingly strong turnout from progressive voters hold back and nearly completely dissipate a 'red wave' that pundits expected to sweep over the country. Santa Monica was no exception, as a well-funded conservative slate of candidates for City Council and the School Board have seemingly been rejected by voters. Of the two slates, only incumbent Councilmember Lana Negrete is winning. She currently holds a (narrow) lead for re-election.
There's a big caveat here that somewhere around votes left to be counted and things could change dramatically by the time the final votes are counted considering that the leading City Council candidates have less than 10,000 votes total. As these ballots are expected to trend towards the progressive candidates that unless there's a shocking change, there's a few things that we can divine from this election.
The biggest takeaway is that the candidates endorsed by the Democratic Club, Santa Monicans for Renters Rights, Santa Monica Forward and Unite Here did very well in the election. The two candidates that were each endorsed by all three groups, Caroline Torosis and Jesse Zwick, are at the top of the results and it's a near certainty they are heading to the Council. One of the following four candidates will get the last seats: Negrete, Ellis Raskin (endorsed by SMRR/Unite Here), Natalia Zernitskaya (endorsed by Forward/Dem. Club) and Armen Melkonians who ran on a ticket with Negrete and was backed by many of the same PACs, and the police and fire fighters union.
After the preliminary votes were counted, Negrete was holding on to her seat with 5,494 votes with Raskin (5,002), Melkonians (4,994) and Zernitskaya (4,943) all well within striking distance. In the results released just minutes ago, Negrete's lead over Zernitskaya was only slightly increased (it was 551 votes, now it's 563 votes) and she increased her margins versus Raskin and Melkonians. As of this evening's vote drop, it's Negrete has 6,360 votes ahead of Zernitskaya (5797), Melkonians (5777) and Raskin (5714).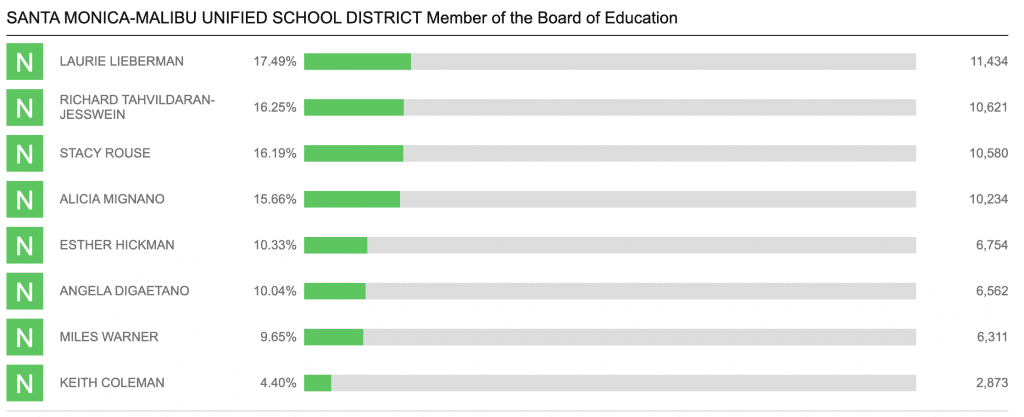 The incumbent school board members on the ballot seem to have also survived despite being heavily outspent by the slate of outsiders backed by the 'A Brighter Future' slate. As we've seen in the rest of the country, a slate of outside candidates emerged that was backed by wealthy out-of-town donors. However, in this case the incumbent slate was successful.
One of the losers of this election was the local Santa Monica media outlets. Two of the three largest media outlets, the Lookout and the Daily Press, passed on making City Council endorsements. As part of a 501c(3) public charity, Santa Monica Next can't make candidate endorsements, but what's the excuse for the for-profit publications?
On top of that, despite having far more resources than Next, it fell to our publication to look into irregularities and unethical behavior from City Council candidates and the PACs that supported them. Santa Monica is a city with around 90,000 residents, with two daily newspapers and three weekly ones (in addition to Next). What benefit does a city get from a stack of news options if they don't provide adequate coverage of a major election? Outside of the Daily Press' hour long interviews with most of the candidates, what value was the election coverage to voters who don't have the time to obsess over local politics?
Next will continue to update as election results are posted.