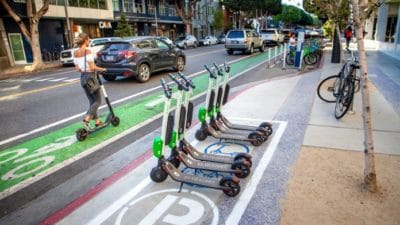 (This story first appeared on Streetsblog Los Angeles)
Last week Santa Monica's City Manager Rick Cole tweeted a photo of the city's newly installed first in-street e-scooter drop zone. In-street parking corrals have been recommended as a solution for dockless device clutter.  Seattle pioneered early dockless parking areas on sidewalks. Santa Monica appears to be the first city to implement in-street corrals for e-scooters and e-bikes.
Redesigning our @santamonicacity streets for a multi-modal future.
First in-street drop zone for e-scooters & e-bikes. pic.twitter.com/bjRI0qOsBS

— Rick Cole (@urbanistcole) November 2, 2018
In a statement to Streetsblog, Cole noted that "Santa Monica is committed to overhauling our street network to make our public realm safer, greener, and more attractive."
The beachfront city of Santa Monica has been at the forefront of the proliferation of shared e-scooters. The city is home to Bird, whose e-scooters first appeared in September 2017. Seemingly overnight they became ubiquitous throughout Los Angeles County's Westside, especially in and around downtown Santa Monica. The city is a popular tourist destination, and e-scooters have seen a lot of tourist use.  Some Santa Monicans are critical of the new devices, but people ride them in great numbers. Safe streets advocates have become proponents for the new shared mobility devices.
City staff initially proposed significantly reigning in e-scooters, but the city council rejected tight fleet limits when it approved pilot regulations. Santa Monica selected four pilot operators: Bird, Jump, Lime, and Lyft. These private companies operate shared e-scooters and e-bikes, alongside the city's Breeze bike-share system.
In August, the city began installing drop-off zones for scooters, initially on sidewalks. The city's Mobility Manager Francie Stefan reports that there are currently nineteen sidewalk corrals and four in-street corrals. Her aim is to have roughly 100 corrals by April 2019, about half on sidewalks and half in-street. Sidewalk corrals are easier to install, and generally smaller (some as small as six feet by six feet), so they were the first ones to go in. Other than staff time for siting, design, and installation, Stefan estimates that in-street corral hard costs are about $800 (mostly bollards), and sidewalk corrals $200 (paint.) To date, on-street corrals have not removed parking, instead taking advantage of red-painted curb areas.
The city started with drop zones at Metro Expo Line light rail stations, then on main streets.
Santa Monica Bike Program Coordinator Kyle Kozar reports that drop zone usage has been mixed, with many riders continuing to leave e-scooters pretty much anywhere. But operators have caught on. After nightly charging, many e-scooters are neatly placed in designated corrals, resulting in them being easier for regular users to find.
The city is working with operators to devise ways to encourage drop zone usage. Kozar expects that in-app parking incentives may be required in the future, similar to how Breeze bike-share works. Breeze is a smart-bike system where riders are encouraged to lock up at designated docks, but are allowed to lock Breeze bikes anywhere in the service area. Riders are charged a small fee if they lock up outside an official dock, and receive a small discount for moving undocked bikes into docks.
Last spring, a staff report asserted that e-scooters were adversely impacting Breeze bike-share ridership. Kozar reports that overall Breeze rides are down about thirty percent from 2017 to 2018, but that there is still a solid user base taking 4,000-5,000 bike-share trips per week.
Stefan notes that shared mobility rules and facilities remain a work in progress. Santa Monica's sixteen-month pilot kicked off in September, and lessons learned from it will be applied to updated regulations.
City Manager Cole emphasizes that Santa Monica is "committed to creating a new model of mobility that gives residents, commuters, and visitors an expanding range of choices for getting around." He takes pride in Santa Monica "starting the region's first bike-share" and "birthing the micro-mobility industry." The in-street dockless device corrals represent another important Santa Monica first.