Last week, the Los Angeles County Homelessness Services Agency (LAHSA) released countywide homeless count numbers for 2018 showing a decrease of 3% with 53,195 people living on the street. This is the first countywide decrease in four years, a sign that more people are being housed and recent investments are paying off. Santa Monica saw a 4% increase with more people experiencing unsheltered homelessness – bunkering down on our streets and in cars.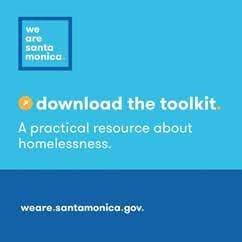 "The Santa Monica City Council had the forethought to make a one-time investment of $1.4 million in street engagement activities last November," said Senior Advisor on Homelessness Alisa Orduña. "We're beginning to see these investments pay off both in terms of the number of people connected to services and new levels of regional collaboration. The countywide release signals this shift and gives us all momentum to continue to forge ahead."
The November funding is supporting an expansion of homeless outreach services across the city including an additional multi-disciplinary outreach team in Downtown Santa Monica, a social worker and additional service officers at the Library, and additional officer for the Santa Monica Police Department Homeless Liaison Program (HLP Team). These resources coupled with existing programs such as West Coast Care and the Homeless Multidisciplinary Team have engaged more than 250 people since April 1st  alone, when the new programs launched.
The City recognizes the vital role of community engagement as it seeks to implement its strategies so that the public is aware and can participate as a force multiplier in doubling down on this regional human crisis. The City recently released a toolkitabout homelessness for residents, businesses, and workers in Santa Monica. The 13-page booklet offers practical resources based on questions raised by the community. Homelessness is one of the Santa Monica City Council's top five strategic goals and this toolkit is part of the City's efforts over the last seven months to double down on its commitment to making an impact on homelessness.
The homelessness toolkit is available in print and digital formats in English and Spanish. Here is a look at what is included:
Background on homelessness and its emergence as a regional crisis.
Information about how to contact the experts, including trained staff that knows what to do and how to call for assistance in different circumstances.
A recap of how the City of Santa Monica, LA County and State of California partners are working on this issue.
Tips on knowing what to say, how to make a difference and advocate for change.
Ways to get involved, including a full list of service providers working in the area.
"Information can open the door to have meaningful engagement with our community," said Chief Communications Officer Debbie Lee. "Homelessness is an important issue in our city and across the county. This toolkit provides our locals the latest on the City of Santa Monica's efforts and how our community can come together to make a difference."
The City will distribute a toolkit to every Santa Monica address in the June edition of Seascape. Additional copies will continue to be distributed through the networks of our local businesses, school districts, nonprofits and other community organizations. A digital version of the toolkit can be downloaded at weare.santamonica.gov.  If you want printed copies of the toolkit, email the City at communications@smgov.net.
About We Are Santa Monica
The toolkit is part of the We Are Santa Monica initiative with the goal of encouraging members of the community from all sectors to join the City in taking action to address our greatest challenges like homelessness to make our community stronger. To stay informed, sign up for our email list at weare.santamonica.gov.