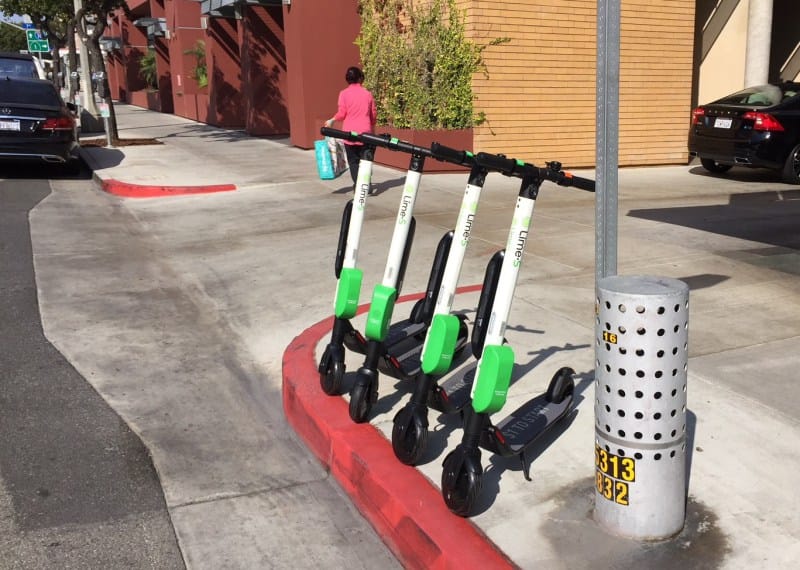 "Not Exactly One Bill to Rule Them All" first appeared on Streetsblog California.
A state bill, A.B. 2989, focuses on defining stand-up electric scooters and safety regulations that apply to them, but does not weigh in on questions about rental or shared e-scooter business permits, leaving that–and other rules–to cities. The bill mirrors current electric bicycle regulations, and would create a new category of vehicle with a top speed of 20 mph.
Pedestrian advocates are not happy with it. They say current regulations are enough, and they specifically don't like the speed limit and the fact that A.B. 2989 would not prohibit e-scooters from riding on sidewalks.
"We were quite surprised that the bill included sidewalk riding, as well as an increase in speed to 20 mph. It was shocking to us," said Cathy DeLuca of Walk San Francisco. "We are definitely strongly opposed to this change."
The speed limit for "motorized scooters," under which stand-up scooters are currently included, is set at 15 mph, and motorized scooters are also not allowed on sidewalks at all. A.B. 2989 would change that to match the law for e-bicycles, which allows cities to decide whether and where they can be ridden on sidewalks.
This acknowledges that local context matters–a lot. Crowded urban sidewalks are certainly not a good place for any vehicle going 20 mph. But in other areas, requiring people to ride in the midst of car traffic on tiny, limited-speed e-scooters, where there are relatively unused sidewalks nearby, makes no sense.
While many cities have adopted ordinances on sidewalk riding—by bikes—advocates say they may have to adopt new rules that apply specifically to e-scooters. There seems to be a fear of being caught off-guard, the way regulators were when Uber and Lyft came along to upend urban transportation.
Esther Postiglione of California Walks worries that the bill "will require cities to go back and rewrite ordinances, because it creates a new category of vehicle that would not be covered by existing regulations." The bill could, she said, "create a potential loophole for businesses to deploy e-scooters before cities can catch up" with new ordinances. Given the way that e-scooters suddenly appeared on city streets, there is merit in that argument.
At the same time, current law is inadequate. It includes restrictions—requiring helmets and drivers' licenses—that A.B 2989 would eliminate. Those restrictions could hamper the adoption of what is a clean, easy—and fun–way to cut pollution and congestion by providing quick and easy connections, especially in urban settings. And a blanket ban on any sidewalk riding could bring an end to the entire project.
An amendment is being floated to allow sidewalk riding only where there is no parallel bikeway for e-scooters to use, but that isn't good enough, say advocates. "Our concern is for the safety of pedestrians," said Postiglione. "At this speed–20 mph–we don't want them on sidewalks."
"Every single person walks," said DeLuca. "And pedestrians seem to have the least infrastructure and are the least unobstructed as they move about. Their portion of the right of way is very small—to take away from that doesn't seem right," she said.
"As a pedestrian advocate, I'm not willing to cede that space," she said. "E-scooters could be a great mobility solution, but we also need to protect space for pedestrians."
The problem is that there aren't adequate safe bikeways for people to use, and DeLuca acknowledges that we've been reduced to fighting for scraps.  "If you want to be innovative,"she said, "then help design better infrastructure—help us figure out how to reallocate public space. That's where we need to shift."
While sustainable transportation advocates would probably prefer to see this kind of energy focus on transportation modes that create negative impacts like congestion and pollution, the fight for sidewalk space is not trivial.
E-scooters have the potential to transform mobility for a lot of people, especially in dense urban cores, and good regulations are needed. "E-scooters could have a great benefit for mode choice and greenhouse gas reduction, and even equity," says DeLuca.
Also, the California vehicle code spells out that getting it right is actually kind of required:
"This state has severe traffic congestion and air pollution problems, particularly in its cities, and finding ways to reduce these problems is of paramount importance"; electric scooters do not contribute to emissions or congestion, and it is "the intent of the Legislature … to promote the use of alternative low-emission or no-emission transportation." (section 21220, emphasis added)
A.B. 2989 has passed the Assembly and will be heard some time in the next few weeks in the Senate Transportation and Housing Committee, chaired by Senator Jim Beall.
Meanwhile, California cities are struggling to solve a number of policy questions raised by the introduction of shared e-scooters, including whether and where they can be deployed, by which companies, and under what types of permits. San Francisco, Santa Monica and Los Angeles are exploring caps on the number of operators and the number of devices permitted. Downtown Los Angeles and San Francisco have temporarily banned e-scooters while they are figuring out what approach to take. Santa Monica's newly-adopted e-device pilot regulations were justified in part to protect its city-run bike-share systemfrom better-funded competition.
They are also confronting larger questions about the use of public space that go way beyond e-scooters. "There's a value to public sidewalks," said John Brazil, Bike and Pedestrian Program Manager for the city of San Jose. "Should cities be monetizing that space?–whether that is for picking up and dropping off rides via Uber and Lyft, or parking e-scooters, or something else."
The cities also want operators to share the trip data they collect—something that Uber and Lyft have been uncooperative about, which has hampered cities' abilities to plan for and adapt to their presence. And San Francisco and San Jose are exploring ways to make sure that e-scooters are available to more than just the well-off techies in their midst, pushing for a low-income program similar to the Bay Area's Bike Share for All.
Next week, San Jose will host a public meeting to talk about residents' e-scooter concerns. They have also invited several companies to bring a few e-scooters to the meeting so that people can try them out.
Judging from a current journalistic mini-trend ("How I learned to stop worrying and love e-scooters" "I tried to hate them" "Unfortunately, scooters are fantastic"), offering test rides could potentially have a dramatic impact on the outcome of that meeting.