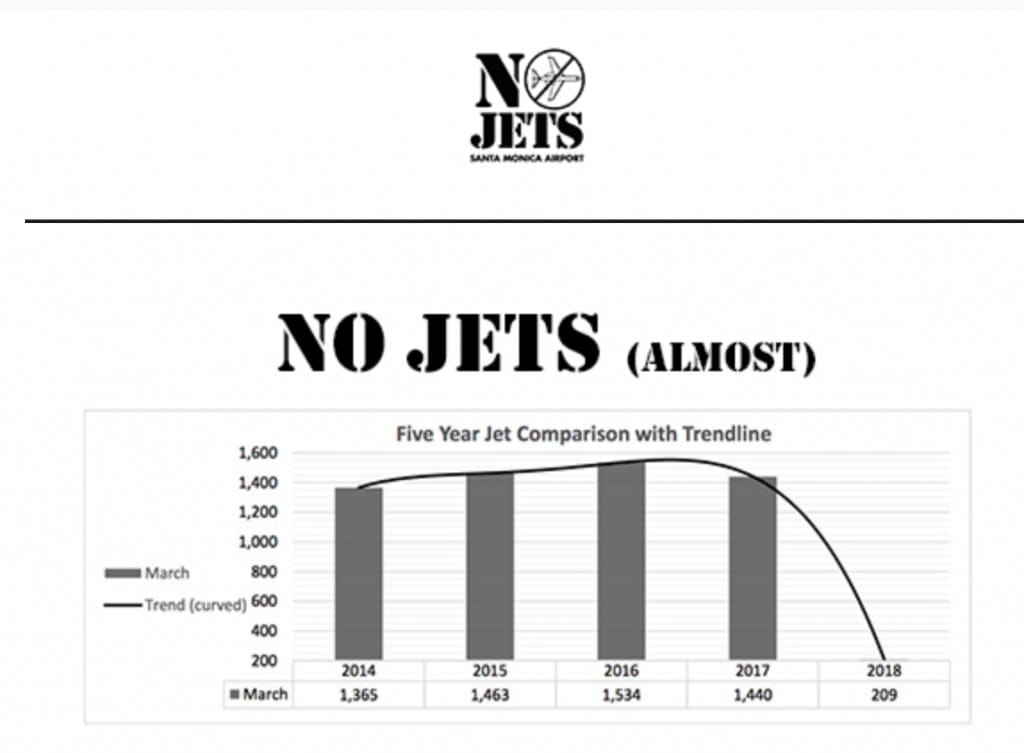 Late last week, the Santa Monica Airport (SMO) announced that the runway shortening project completed last December is working. Comparing air traffic from March of 2016 to March of 2017, the airport saw a drop in jet traffic of 86%. Suja Lowenthal, the senior advisor for airport operations for the City Manager, qualified that jet traffic could increase in the coming months as March was unusually cloudy and gloomy.
However, the drop in jet traffic has been consistently over 80% the last couple of months compared to 2017. In February the drop was 80%, in March 86% and April 82%.
The runway shortening is the first step in an 11-year plan to close the Santa Monica Airport by January 1, 2029. The City of Santa Monica and Federal Aviation Administration (FAA) agreed to a binding consent decree which gives the city the power to slow operations and close down the airport in less than a decade.
Advocates for closing the airport celebrated the news. An email from No Jets Santa Monica noted the success of the runway shortening.
"The good news is the decrease in jet traffic and the reduction in noise and pollution from the jets has been holding fairly steady. Additionally, another flight school will be closing later this month. This raises the total to three flight schools that have recently left the airport," stated No Jets Santa Monica.
But for the advocates of closing the airport, there is a dark lining to this silver cloud. While the number of large jets is falling, the number of smaller jets and turbo prop trains will increase.
"In addition to the old users, there are now several new airlines using our airport not with jets, but with turboprops and helicopters that use jet fuel: Wheels Up, Blackbird Air, and Blade. Surf Air wants to lease space and likely wants to start scheduled flights. If these airlines gain traction as they have done in similar airports on the east coast and elsewhere then we will see turbo props, helicopters, and small jets increase," continues the No Jets Santa Monica email.
As the airport, and its operators, adjust to the new runway and other changes; there's another dark cloud on the horizon. A lawsuit to overturn the consent decree and restore the runway filed by the National Business Aviation Association was heard in federal court last week. A final ruling is expected by the end of the year.