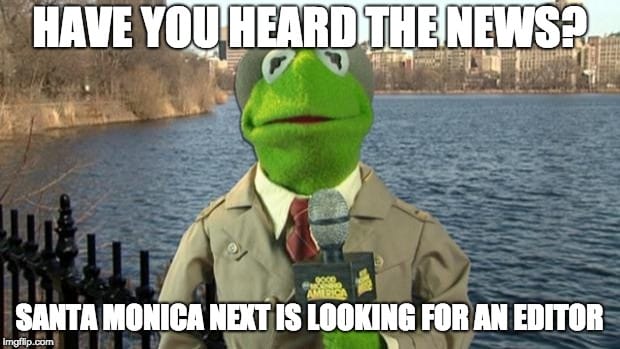 It's taken me nine days to get over the shock of losing Jason, but Santa Monica Next is ready to move on and is now actively looking for a new writer/editor. If you are interested, please contact me at damien@streetsblog.org.
Here is our job posting:
Santa Monica Next is looking for a new editor/writers.
Over the past five years, Santa Monica Next has established itself as an online home for breaking news and amplifying progressive voices in our community. Next writers and editors have been honored for excellence by the American Planning Association and Los Angeles Press Club.
Santa Monica Next is a non-profit publication of the Southern California Streets Initiative, who also publishes Streetsblog Los Angeles, Streetsblog California, LongBeachize and Streetsblog San Francisco.
The Next editor position is currently a part-time position, although the editor has been full-time in the past and we hope to return to that funding level in the near future. The editor will be in charge of:
Producing 2-5 unique stories a week

Laying out and publishing submissions from our publication partners

Working with freelancers and other contributors to place stories in Santa Monica Next

Working with the Steering Committee and SCSI staff to manage the editorial position of

Santa Monica Next

Social media support for stories, both from partners and by the editor

Other work as assigned
The winning candidate will have the skills to:
Interview people in a wide range of circumstances

Write copy for publication on a tight deadline

Build contacts and sources for use in future stories

Fact-check the information given to you by a source

Work in wordpress
If you're interested in learning more, drop a line to damien@streetsblog.org. The more information you include (links to stories, cover letter, resume) the easier it will be for us to evaluate your experience before getting back in touch.