From West Hollywood to the beach in Santa Monica, several bike-share systems run by CycleHop have officially integrated into a regional bike-share system.
Yesterday marked the first day that the four CycleHop-run bike-share systems on the Westside — Santa Monica's Breeze Bike Share, UCLA's Bruin Bike Share, Beverly Hills' Bike Share, and WeHo Pedals Bike Share — integrated their service areas.
"The network will encompass a 35-square mile system area with 135 station locations and 830 GPS-connected Smart Bikes equipped with integrated computer and locking mechanism. The network is a 'dock-optional' system, which allows users to find available bikes at stations or out-of-hub using the Social Bicycles app, and to lock up at designated stations or any public bike rack," Santa Monica city officials wrote on their website.
Already, bikes from the other systems have been showing up at docks in Santa Monica. Left, a Bruin Bike Share bike is parked near Virginia Avenue Park in the Pico Neighborhood.
While each of the four bike-share systems are branded differently, they run on the same "smart bike" technology and have the same operator, allowing for easy integration across the service area.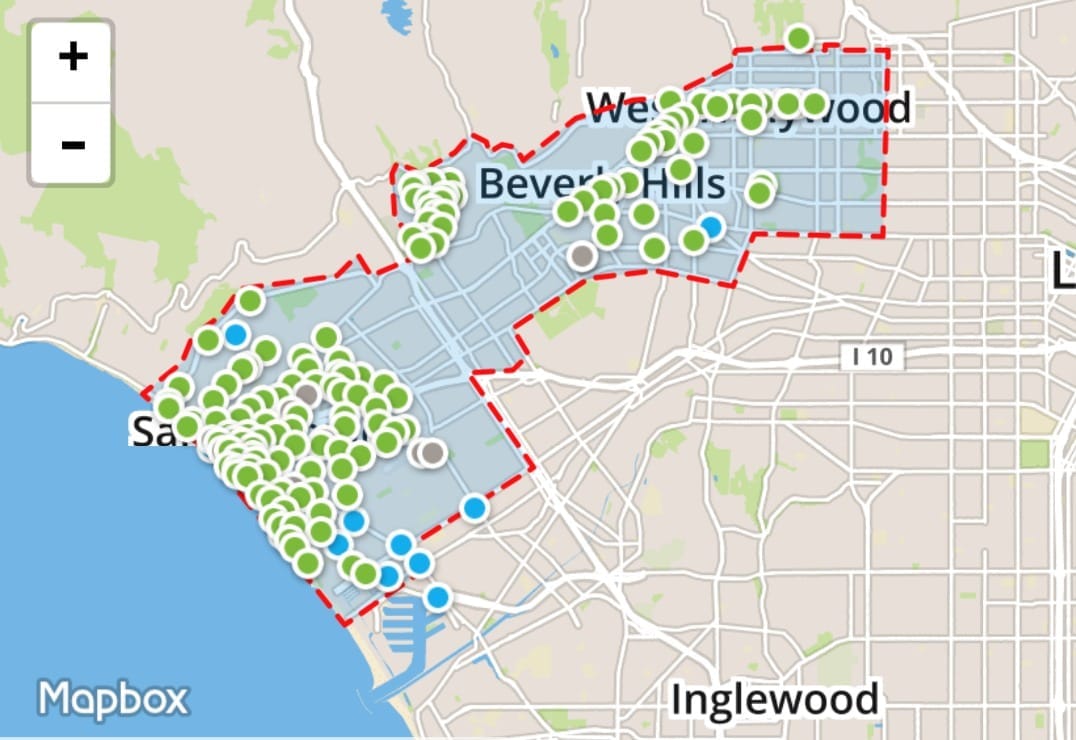 "Existing users of the Breeze Bike Share, Beverly Hills Bike Share, WeHo Pedals Bike Share, or Bruin Bike Share programs will automatically have access to the Bike Share Connect network. New users can join the network by downloading the Social Bicycles mobile app, selecting the Bike Share Connect network, and choosing a payment plan," the city's website reads. "Residents, commuters, or visitors without a smartphone or internet access can create an account at any time at one of the 16 self-service kiosks in the network. Once a member, users enter their phone number or 6-digit account number and their 4-digit PIN on the back of the bike to unlock bike in the system."
The website also noted that the pricing scheme will be consistent across the service area.
Breeze Bike Share officially launched in November 2015, becoming L.A. County's first public bike-share system.
UCLA, West Hollywood, and Beverly Hills followed suit, adopting the same "smart bike" model, which allows for "dock optional" parking of the bike.
For more information about the new regional network, visit bikeshareconnect.com.