This post originally appeared on Streetsblog CA.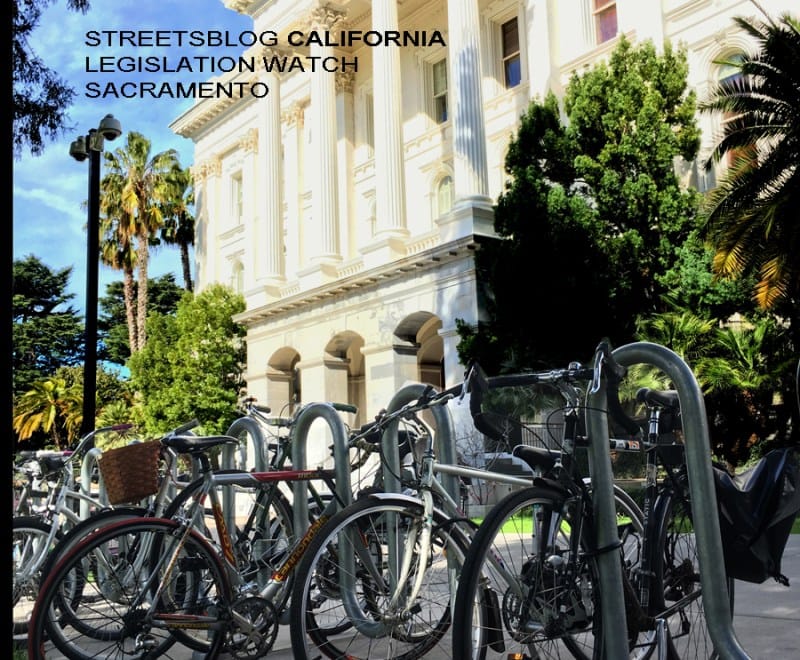 Assemblymember Laura Friedman has been working on A.B. 2363 – a bill to fix long-standing issues with speed limits in California. In its first committee hearing this week, the bill was amended to create a task force to study the complex issue from all sides—with a tight deadline for reporting its findings.
Currently, speeds are set according to how fast people are already driving. That's supposed to prevent speed traps, and it's also supposed to reflect the safety of the road design. But it ignores the history of street and road design, which has focused on making it safer to drive fast—eliminating curves and trees, for example, and widening lanes. The result is that speed limits are creeping upward even though research clearly shows that higher speeds reduce safety, and the higher the speed, the less safe for all.
The first draft of Assemblymember Friedman's bill would have made small change to the current process. That is, it would have allowed a local jurisdiction to round a speed limit down, rather than up, when performing a speed survey for the purpose of determining a speed limit. But even that was too dramatic a change for the California Highway Patrol, the Teamsters, the Auto Club, and trucking industry reps, who strongly opposed the bill. Their resistance made Assembly Transportation Committee chair Jim Frazier (D-Oakley) oppose it.
It's not easy to pass a bill when the chair of its first committee doesn't like it.
But Friedman persisted, meeting with a wide range of interested parties and signaling openness to discussing changes. She accepted amendments proposed by committee staff, and in the end Frazier signed on as a co-author. That move brought bipartisan support from Assemblymembers on the committee, including Republicans Catharine Baker (R-San Ramon) and Matthew Harper (R-Costa Mesa).
In the end the Assembly Transportation Committee passed it this week on a 13-1 vote, with only Devon Mathis (R-Visalia) voting against it.
It helps that bicycle and pedestrian advocates were joined by what Friedman called "an outpouring of support from local cities." Los Angeles, Oakland, Berkeley, Watsonville, and Malibu, among others, strongly favored some version of a fix for speed limit issues. Jennifer Cohen of the city of Los Angeles Transportation Department spoke in favor of the bill at yesterday's hearing, pointing out that LADOT had been forced to raise speed limits on "94 miles of our most dangerous streets" just so they could enforce them. The law required them to do this even though they knew that "speed is undeniably tied to the likelihood and severity of crashes," she said.
Chair Frazier mentioned a phone call he got from L.A. Mayor Eric Garcetti, who, he said, was quite passionate about the issue.
As amended, the bill would not change anything yet. Instead, it would create a statewide Vision Zero task force to develop policies to reduce traffic fatalities. The task force would have four and a half months to report to the legislature—by May 15, 2019—giving legislators time to introduce informed bills by the 2020 session.
The task force's report would discuss the current process for setting speed limits and how it came to be. It would also make recommendations about alternative methods for setting speed limits and gather information on existing speed-reduction policies and engineering recommendations for increasing traffic safety for all users. It would discuss differences between urban and rural areas, as well as how bicycle and pedestrian plans are affected by the speed limit rules.
The task force is not expected to start from scratch but must gather and incorporate existing studies and analyses on the subject.
While it may not be what Friedman was aiming for, the legislation is a work in progress. A task force can help inform future discussions of the issue, and even if the Governor signs the bill, there will still be work to do.
At the hearing, Friedman said she planned to keep working on the bill's language. "I never intended this to be a standalone measure," she said. "Enforcement, engineering, and education are also needed. The goal is to reduce collisions to zero."
The bill now goes to the Assembly Appropriations Committee, which it must pass by May 18 before it can go to the Senate for consideration.