Via Santa Monica College press release.
Santa Monica College (SMC) is pleased to announce that its student-run newspaper The Corsair has won 12 awards from the California College Media Association (CCMA). The awards were announced on Saturday, March 3 at the CCMA awards banquet during the Midwinter National College Journalism Convention held at the Hyatt Regency in Long Beach, Calif. The four first-place awards included one for Best Newspaper Website in the community college category.
The full listing of awards— all won in the community college category — is below:
Best Newspaper Website, 1st place
Best Sports Story, 3rd place (Daniel Cifuentes-Farr)
Best Breaking News Story, Honorable Mention (Marisa Vasquez, Daniel Bowyer, Yuki Iwamura, Zane Meyer-Thornton, Ryanne Mena and Emeline Moquillon)
Best Newspaper Front Page Design (Jazz Shademan)
Best Photo Series, 1st place (Daniel Bowyer, Jose Lopez, Jayrol San Jose, Yuki Iwamura, and Zane Meyer-Thornton)
Best Photo Illustration, 1st place (Jazz Shademan)
Best Feature Photo, 1st place (Zane Meyer-Thornton)
Best Sports Photograph, 3rd place (Josue Martinez)
Best News Photograph, 2nd place (Jayrol San Jose)
Best News Video, 2nd place (Michelle Ayala, Emeline Moquillon, Brian Quiroz, Ingrid Martinez and Jessica Uhler)
Best Social Media for Single Story, 1st place (Marisa Vasquez, Daniel Bowyer, Zane Meyer-Thornton, Yuki Iwamura, Emeline Moquillon and Ryanne Mena)
Best Multimedia Presentation, 1st place (Marisa Vasquez, Rosario Lopez, Michelle Ayala, Edward Lee, Ryanne Mena and Roy Garza)
"The student staff of The Corsair worked very hard in the Fall 2017 semester to cover both local and national issues that had major impacts on SMC students," said SMC Journalism Professor and Corsair co-adviser Ashanti Blaize-Hopkins. "These awards show how their hard work, tenacity and dedication as journalists to best inform the SMC community paid off many times over."
The California College Media Association was formed in 2003, and is made up of staff, advisers, and supporters of college news media in California. To learn more, visit the CCMA website.
Corsair Photographer Named Finalist for PPAGLA Student Photographer of the Year
The Press Photographers of Greater Los Angeles (PPAGLA) named The Corsair news photographer Jayrol San Jose one of two finalists for PPAGLA Student Photographer of the Year. The winner will be announced on April 7, 2018 during the PPAGLA Awards banquet. More details about the awards may be found athttp://www.ppagla.org/
Last year's finalist, Corsair news photographer and contributing editor Daniel Bowyer, made a networking connection at the banquet that resulted in his current position as a Los Angeles Rams Photographer and freelance photographer for the Associated Press. In the past decade, Corsair news photographers have taken 13 out of 20 places in the PPAGLA Student Photojournalist of the Year competition.
"It is always thrilling to see The Corsair news photographers operating at a professional level," said photo adviser and SMC photojournalism professor Gerard Burkhart. "Winning in competitions is a confirmation of their talent and hard work. I am deeply proud of every student on staff, from contest winners to first semester students."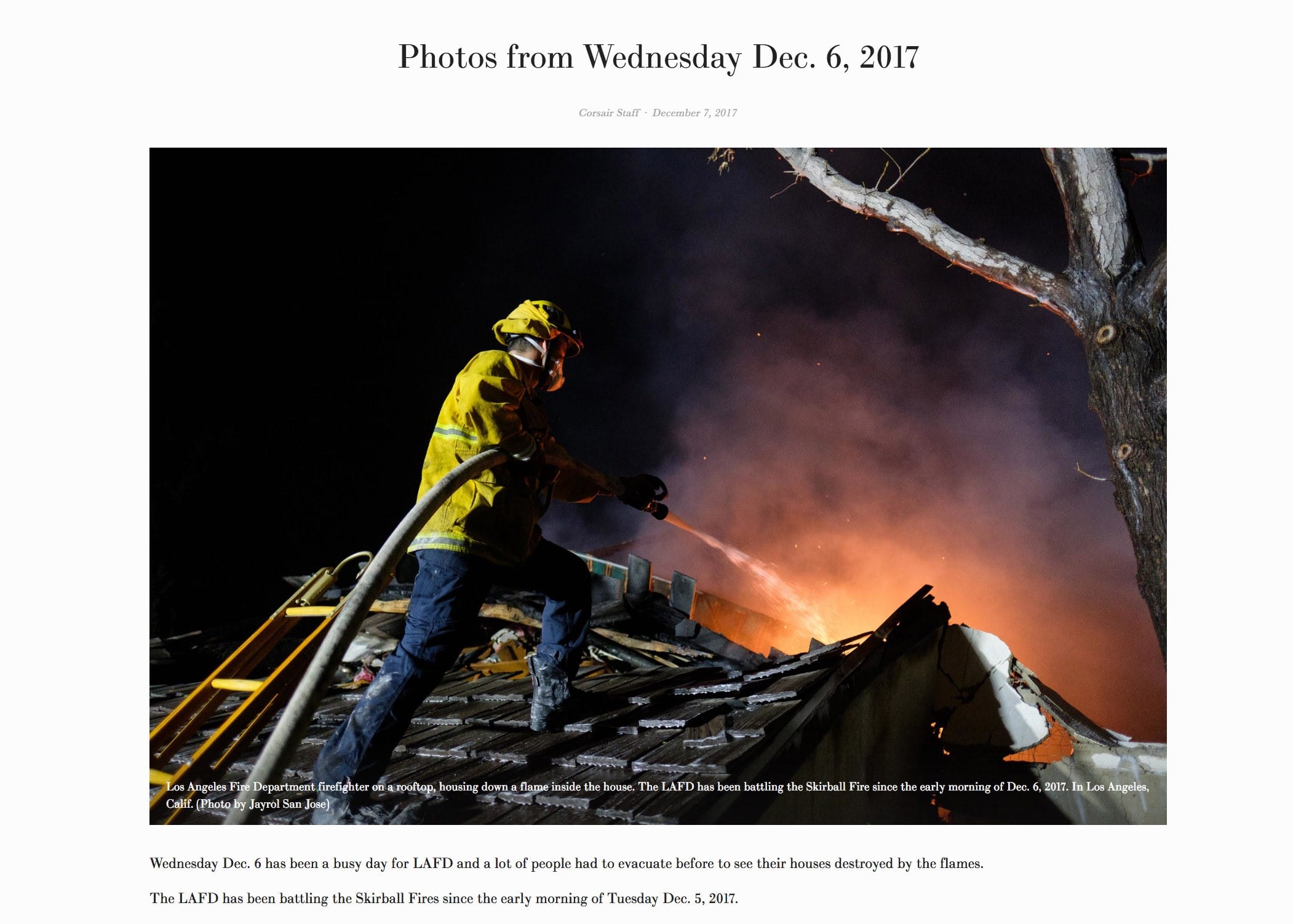 The Corsair staff produces a bi-weekly newspaper in the spring and fall semesters and also maintains an online news site: www.thecorsaironline.com.
Santa Monica College is a California Community College accredited by the Accrediting Commission for Community and Junior Colleges (ACCJC) of the Western Association of Schools and Colleges (WASC).