This post originally appeared on Streetsblog California.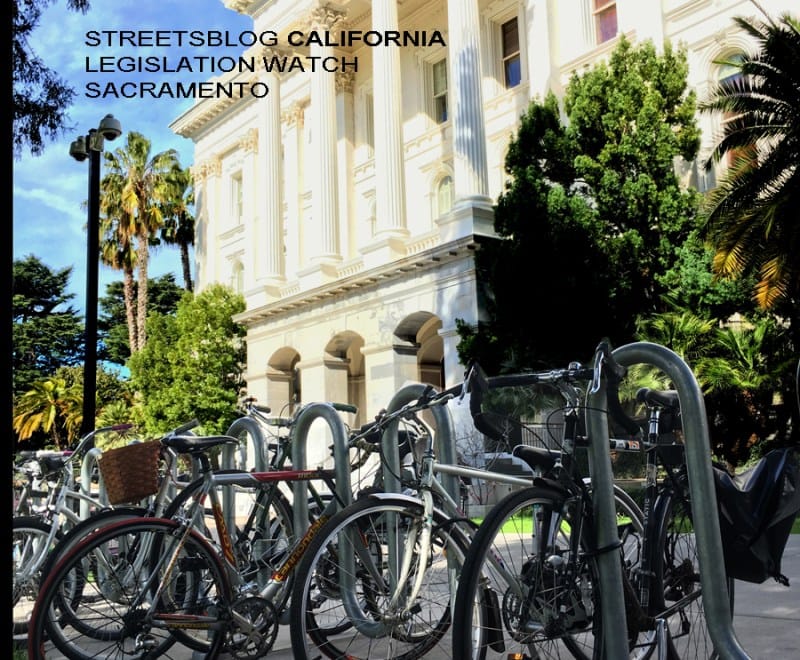 It's February, so all bills that did not get passed by their first house by now, in either the California Assembly or Senate, are being officially declared dead. Unfortunately, among them are some that could have been good ones for bicyclists and sustainable transportation advocates. Below is a recap.
Complete Streets
Okay, S.B. 760 from Senator Scott Wiener isn't actually dead, but it was been amended to within an inch of its life. Streetsblog wrote earlier about how it was amended to remove some really good provisions that would have required Caltrans and state funding plans to apply complete streets concepts on its projects—that is, consider all road users, not just car drivers. It wasn't onerous, but even so it was cut to include only a requirement that Caltrans officially adopt the National Association of City Transportation Officials' (NACTO) Urban Street Design Guide into the California Highway Design Manual (HDM).
Now, it is even less. With its latest amendment, all it does is "authorize" the use of design guides in addition to the HDM. In fact, Caltrans already has this policy in place, so this bill now falls into the category of "why bother?"
We wrote before about how supporters of S.B. 1, the new gas tax, are in fear of a repeal effort that could bring the question to voters in November. The issue is twisting any conversation that touches on transportation funding in California right now, and will until the issue is settled in November. Expect lots of rhetoric about taxes and inefficient and corrupt agencies and politicians. Also expect even reasonable attempts to fix flaws in S.B. 1 or the way California's transportation funding is handled to be shut down quickly.
Equity in Transportation Funding
We'll be seeing more of that pressure to close ranks in the coming months, but it is already beginning to take a toll. In addition to helping gut the meaning out of S.B. 760, which really did nothing more than tell Caltrans it had to follow its own guidelines, it added to pressure to kill another bill that would have required a portion of some transportation funds to provide direct, meaningful, and assured benefits to low-income individuals. This shouldn't even be debatable. The state and its regions have a history of spending transportation money on projects that cut through and destroy low-income communities and communities of color, and that benefit people who want to pass though or around those places, but bring little benefit people living in them. Future investments should all be made with that in mind.
But the conversation around A.B. 1640 couldn't even get started, and Eduardo Garcia's bill died in committee.
Safety: Speed Enforcement
Also dead is Assemblymember David Chiu's attempt to create a limited, five-year pilot program in San Francisco and San Jose to study the use of speed enforcement cameras, which have been used successfully to slow speeders in other states. But the Auto Club and the CHP objected, and A.B. 342 died. It was a pilot program. It was a study. The question is, why are these organizations opposed to studying speed cameras? Are they afraid they might have to acknowledge that they work?
Clarifying "Ride to the Right"
When the CHP came out hard against another innocuous bill, A.B. 694 from Assemblymember Phil Ting, it seemed like overkill. The bill would have simply been a clarification of existing law. Advocates called it the "right to ride side-by-side" bill, because it would make it clear that bicyclists do not have to hug the curb, but just ride in a reasonable way and let vehicles pass. It's not a law change—it clears up what the statute says now. The law is just currently worded in a way that is as clear as mud. That is, it says riders are required to stay as far to the right "as practicable"—a word that was invented for this rule—and follows up with a list of those times when they don't have to, like when they're avoiding a hazard.
Does the CHP prefer the law to be confusing, because it gives them more discretion? Dave Snyder, director of CalBike, says the CHP "wants to enforce the law they wish existed, rather the one that exists." They're not likely to come out and say so—but it doesn't matter. Their lack of support killed a bill that would have made the law more clear.
Bikes: Stop Signs as Yield Signs
We have already written about the bike yield law, A.B. 1103, which was also officially declared dead.