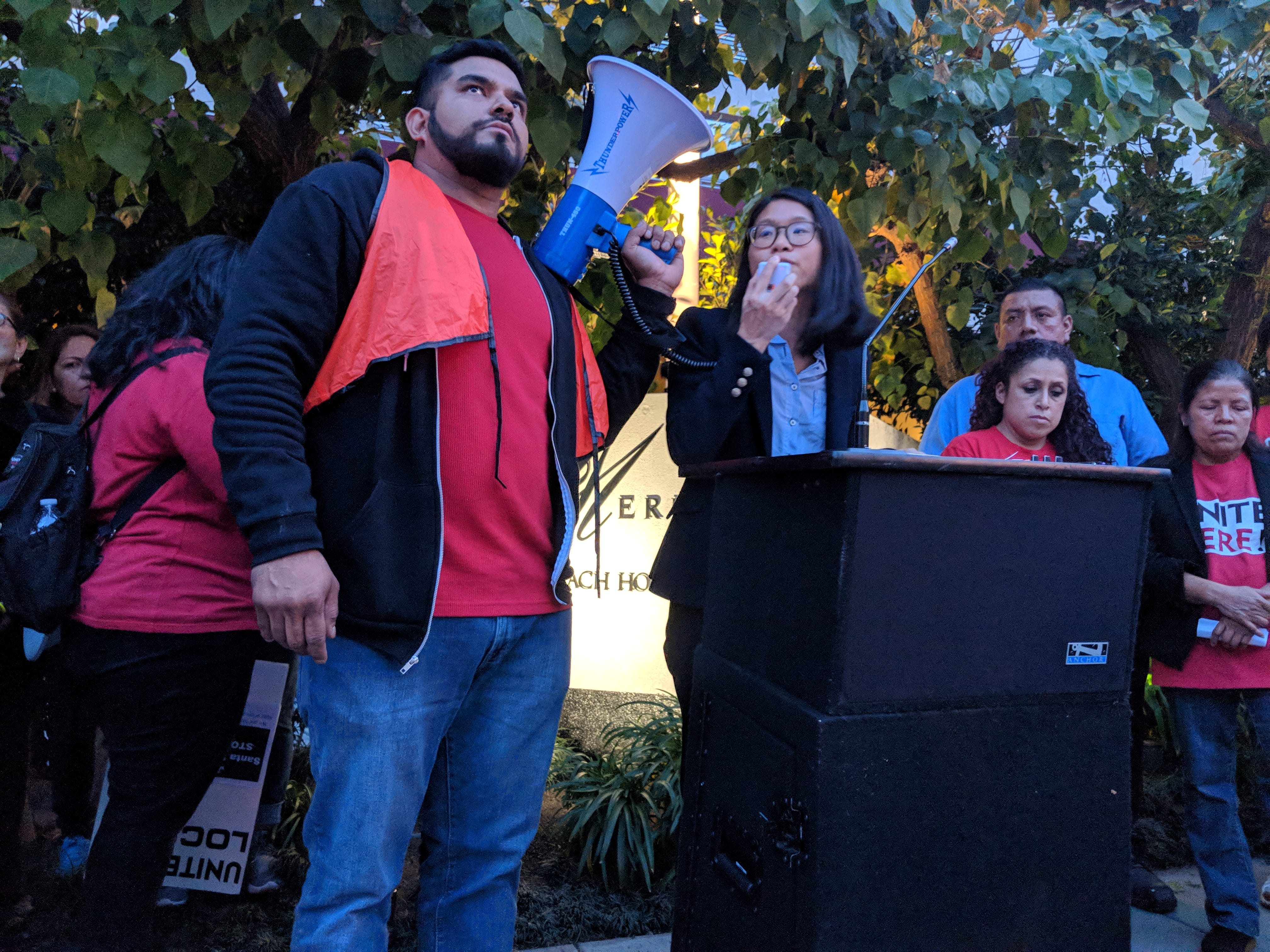 Members of the regional hospitality workers union, UNITE HERE Local 11, gathered to protest Monday in front of the JW Marriot Le Merigot after the National Labor Relations Board filed charges against the hotel's management company, Columbia Sussex.
The NLRB is investigating allegations that management at the Santa Monica hotel engaged in "a series of Unfair Labor Practices in violation of the National Labor Relations Act," according to UNITE HERE officials. The complaint itself outlines allegations that workers were prohibited from posting flyers related to unionizing and that management promised better benefits if workers rejected unionization and "threatened employees with adverse consequences if they selected the Union as their representative," among other things.
Monday's demonstration was attended by Santa Monica Mayor Ted Winterer and Councilmember Kevin McKeown, who spoke to the crowd gathered outside the hotel on Ocean Avenue.
McKeown, using a bullhorn, told the crowd that the workers at Le Merigot were under the city of Santa Monica's protective wing and, in a dramatic gesture, he turned the bullhorn to the hotel and announced, "We are watching!"
This is the second complaint filed against the hotel, which has been engaged in a protracted battle over its workers unionizing. Earlier this month, workers at the hotel filed a complaint with the California Labor Commission, alleging thousands of dollars in lost wages and rest and meal-break violations.
Workers at Le Merigot voted to unionize in November 2016, but since then have been unable to negotiate their first contract with management.
At Monday's demonstration, Le Merigot workers reiterated the allegations against the hotel. One worker, Aurelia Gonzalez, a 17-year employee of the hotel, claimed that workers who engaged in union activity were denied holiday bonuses.
"We've been trying to negotiate with Columbia Sussex managers, but it's hard to trust the process when they break the law. After we won the vote for the Union the managers started writing up and firing my coworkers. Now many housekeepers who first pledged for the Union have been fired, forcibly transferred from their job, or written up," said Housekeeper and Union Committee member Filadelfia Alcala. "I'll picket and I'll strike because my job is on the line. What do I have to lose?"
As of press time, management at the JW Marriot had not returned a request for comment.