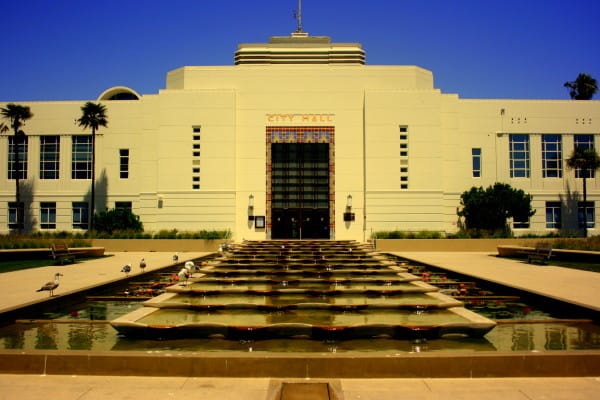 A petition filed with the City Clerk Monday could put the question of whether Santa Monica City Council members should have term limits before the voters this November.
The proposed ballot measure [PDF], signed by Santa Monica City Councilmember Sue Himmelrich and anti-development activist Mary Marlow, if approved, would change the city's charter to limit Council members to three four-year terms over their lifetime.
While the language filed with the City Clerk's office frames the move as part of the "good governance" movement, several of Himmelrich's colleagues are skeptical new term limits will have the positive impact she expects.
"We've watched term limits turn Sacramento over to lobbyists and special interests," said Councilmember Kevin McKeown, who noted that the proposed measure wouldn't have an impact on him. McKeown, who was elected in 1998, is the second-longest serving City Council member currently seated.
McKeown noted that there are plenty of other, more effective strategies to make elected office more accessible.
"Leveling the playing field for new candidates calls for getting money and privilege out of politics, not restricting voters' choice to retain experienced, effective representatives. I've championed clean public campaign finance laws in Santa Monica, only to be stymied by entrenched money, which distorts democracy. We need to provide financial support for genuine citizen representatives to lead our community, not just the corporate-sponsored or self-funding wealthy."
Mayor Ted Winterer, who was elected to the City Council on his third bid for a seat in 2012, echoed McKeown's sentiments, noting that he has his own self-imposed term limit of "three, possibly even two terms."
"I'm not a fan of term limits, as dedicated and competent elected officials are precluded from continuing to serve the public. I sure would have liked to have been able to vote for President Obama again in 2016 and I've admired Governor Brown's work in his third and fourth terms, especially on climate change," he said. "And think of how much [former City Councilmember] Ken Genser contributed to Santa Monica in more than three terms in office. If the goal of this initiative effort is to make it easier for challengers to replace incumbents I think adopting ranked voting and/or public financing of elections would have been a much better option."
Genser was elected in 1988 and served until he died in 2010.
City Councilmember Pam O'Connor, who has served since 1994, noted that term limits would stifle Santa Monica's ability to have representatives in leadership positions in regional bodies including the Metro Board of Directors, where she sat for 13 years.
Perhaps the most visible benefit of having Santa Monica elected officials on regional boards like the Metro Board of Directors is the Expo light rail.
It was in her first year on the board that the alignment for the Expo line was decided; that year, O'Connor made the motion that assured the Expo line would come to Santa Monica. That story is retold in a book about the history of modern rail in Los Angeles County, Railtown: The Fight for the Los Angeles Metro Rail and the Future of the City by Ethan Elkind.
"Downsides of such imposed term limits is that Santa Monica will unlikely ever again be represented on regional bodies such as Metro which does transportation planning for the County and the metropolitan planning organization, the Southern California Association of Governments (SCAG), which does state-mandated housing and federal-mandated transportation planning," she said. "It usually takes more than three terms to work up to membership or such boards much less to achieve leadership positions—all of which help the city of Santa Monica."
She also said that a term limit measure would be a solution in search of a problem, citing city records that show that since 1988, eight Council members have served fewer than 12 years and four Council members have served more than 12 years, including herself and McKeown.
Currently, the Council has a mix of long-term incumbents and recently-elected representatives. Himmelrich herself will finish her first term this year. Councilmember Tony Vazquez is in his third term as he served one term on the Council in the 1990s before being elected again in 2012. Winterer is in his second term.
Councilmembers Terry O'Day and Gleam Davis were both appointed to fill unexpected vacancies, finishing out the terms of Genser and Councilmember Herb Katz respectively. They are both serving their second full four-year terms.
O'Day was elected in his own right in 2010 for a short term and again in 2012 for his first full term. Davis, appointed in 2009 after Katz's death, similarly was elected in her own right for a short term in 2010 and for her first full term in 2012.
The Santa Monica Daily Press noted in its coverage that the ballot measure would not impact Santa Monica-Malibu Unified School District Board of Education or Santa Monica College Board of Trustees elections, as they are governed by state law.
The Daily Press also notes that once the city vets the language of the measure, proponents have about six months — 180 days — to gather enough valid signatures, about 6,500, or 10 percent of all registered voters.