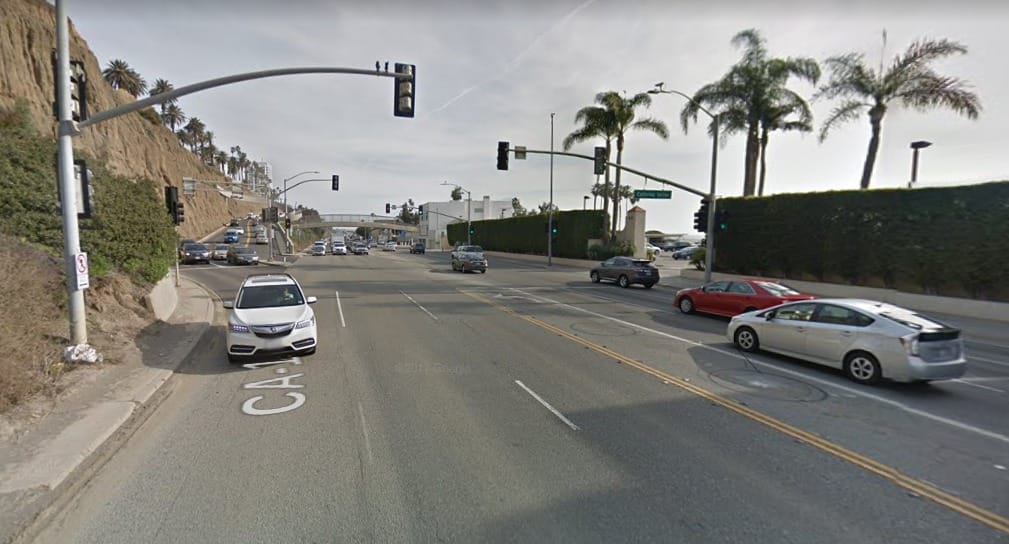 While riding his bike north on Pacific Coast Highway around 7 p.m. on October 15, 23-year-old Kazumasa Nozaki was hit from behind by a driver and killed.
Witnesses say that the driver attempted to flee but was chased down by bystanders. The witnesses' account is detailed in this report by The Lookout News and bikinginla.com.
Police told The Lookout that they are "looking at possible negligence and fleeing the scene of the accident." Authorities told Next Thursday that the investigation is ongoing and it is unclear when it will be finished.
Nozaki is the seventh person to die in the streets of Santa Monica this year as a result of a traffic collision, raising serious questions about what the city is doing to make streets safe for all users. Last year, Santa Monica adopted a "Vision Zero" goal as part of its Pedestrian Action Plan, meaning that the city committed itself to reducing serious traffic-related injuries and deaths to zero.
The Pacific Coast Highway is a particularly dangerous stretch of road, but it is not unique in being the site of traffic deaths in the city of Santa Monica. This year alone, someone was killed while crossing Lincoln Boulevard, another person was killed crossing Santa Monica Boulevard, and a man was killed when a driver slammed into him in the Civic Center parking lot.
In fact, of the seven fatalities this year, five of them happened roughly within a month of each other.
"We've had wonderful success getting more people biking and walking. The flipside of that is that there are more opportunities for conflict and we need to continue invest to increase safety and prioritize people over cars," Councilmember Terry O'Day told Santa Monica Next in April shortly after a woman was killed crossing Santa Monica Boulevard during an early morning jog.
The particularly shocking spate of fatal collisions prompted the City Council to look at the matter more closely in May.
But since then, another person has died. So where is Santa Monica's commitment to "Vision Zero"?
"Since going to Council, staff has been working on development of a two-year Vision Zero Action Plan to identify initial locations of focus for countermeasures, and to guide city-wide coordination among departments on actions to reduce severe and fatal injury collisions. The plan is scheduled to go to Council in December 2017," Francie Stefan, the city's mobility manager, wrote in an email to Santa Monica Next.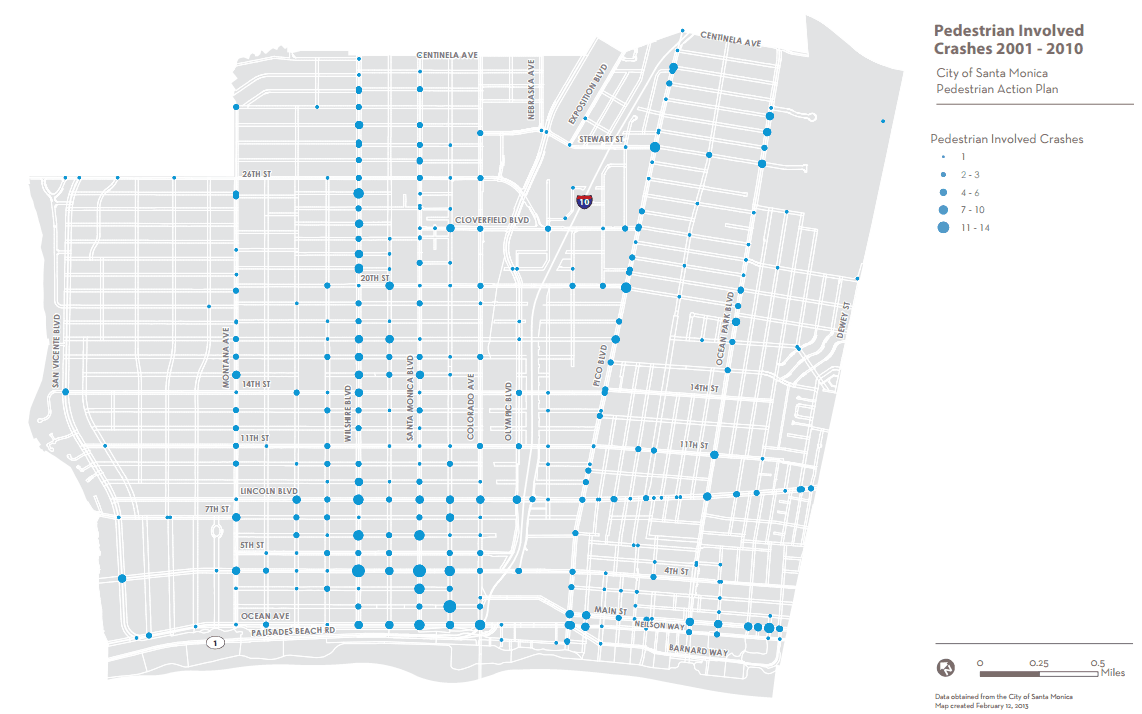 "Given the importance of the issue, we wanted to carefully craft strategies to get to the 2026 target date in the Pedestrian Action Plan. That was the idea behind creating an initial two-year Action Plan from which we can evaluate the reach and impact of interventions and programs, and use that data to inform next steps in the years to come," she said.
In her email, Stefan listed a number "immediate actions" the city is taking:
Striping plans for the scramble crossings at 2nd/Santa Monica Blvd., 2nd/Broadway, 4th/Santa Monica Blvd. and 4th/Broadway
Implementation of Lead Pedestrian Intervals at a number of locations citywide
Design for a protected cycle track on Ocean Avenue consistent with the adopted Downtown Community Plan
Completion of revisions to the Samohi access improvements on Michigan/7th
Plans and implementation of 15 mph speed signs around JAMS, Will Rogers, Roosevelt and Lincoln schools
Procurement for Construction Documents for the four Lincoln Neighborhood Corridor pedestrian crossings
On-going outreach and education through National Night Out, Mayor's Rides/Walks, Fall Festival, Kidical Mass, and Bike It Walk It as part of Safe Routes to School
COAST Street Festival and pop-up cycle track on Ocean Avenue, Mobility Hub.
Implemented three intersection treatments for cyclists including two "bike box" intersections
Procurement for design of sidewalks on Olympic Boulevard between Stewart and 26th Streets, and for protected bike facilities on Stewart between I-10 and Colorado Avenue
Obtained grant funding to pilot a Safe Routes for Senior program
Currently applying for grant funds to evaluate Wilshire Boulevard potential countermeasures, and do public outreach
Currently working on concept design for 17th street protected bikeway and outreach
Completed initial internal draft designs for Beach Path extension north of Pier
The Lincoln Neighborhood Gateway plan is probably the most visible safety improvement measure the city has approved this year. Still, there were those who were concerned that the plan didn't go far enough.
At the April 25 City Council meeting, when the plan went before the City Council, it was approved with a 5-to-1 vote. O'Day cast the lone dissenting vote because he said he thought the plan focused more on landscaping than actual safety improvements to the boulevard.
"What I'm concerned with is that the plan that I see today is making value decisions that I don't think reflect how I've been trying to make those decisions in a planning context in this city," O'Day said at the April 25 meeting. "And, in particular, it looks to me that it prioritizes beautification over safety of bikes in particular. I think there is a real lack of thoughtfulness related to bikes in this plan."
Future safety improvements will require both budget allocation and expenditure of political capital.
The city of Los Angeles, which also recently adopted a Vision Zero policy, is taking an aggressively progressive approach to street safety by addressing one of the root causes of unsafe roads: the way they are designed to encourage high speeds. L.A. Councilmember Mike Bonin successfully led the push for $27 million toward Vision Zero work in the city's 2017-18 budget.
L.A. is using funds from transportation sales tax measures M and R, state S.B.1 gas tax revenue, and other sources. Funding goes to infrastructure projects including road diets, painted curb extensions, crosswalks, signals, and the like – as well as to enforcement, mostly funding additional police focused on ticketing speeding drivers.
At the study session at the May 9 City Council meeting, city staff pointed to Los Angeles' approach.
"Los Angeles defined a 'high-injury street network' of roadways prioritized for design changes and speed management to reduce the severity of injuries when crashes occur. Elected officials and other leaders need to courageously lead efforts for street design and operations that prioritize safety and manage speeds, even when resistance arises due to non-safety concerns such as parking and large vehicle access. Los Angeles is currently pursuing investing all of the Measure M Local Return funds into Vision Zero projects," city staff wrote in its report.
But it is worth noting that there has been vocal pushback against implementation of safety improvements on Venice Boulevard in Mar Vista and in Playa del Rey. And Santa Monica city staff acknowledged that it will take political will to make "Vision Zero" work.
"There are vocal advocates for each mode of transportation (including, especially, the automobile)," the May 9 staff report reads. "Remaking the street network to equalize access and promote shared usage and safety requires not only substantial financial commitment, but equally substantial commitment to ongoing management, public engagement and education — as well as the political will to take the long view of change in the face of vigorous defense of the status quo when it comes to street design, parking policy and traffic enforcement."
The question is, will Santa Monica's leadership be able to make the tough choices necessary to avoid more unnecessary road deaths in a city that wants to promote walking, biking, and other modes of getting around its streets.