Via Santa Monica Police Activities League press release.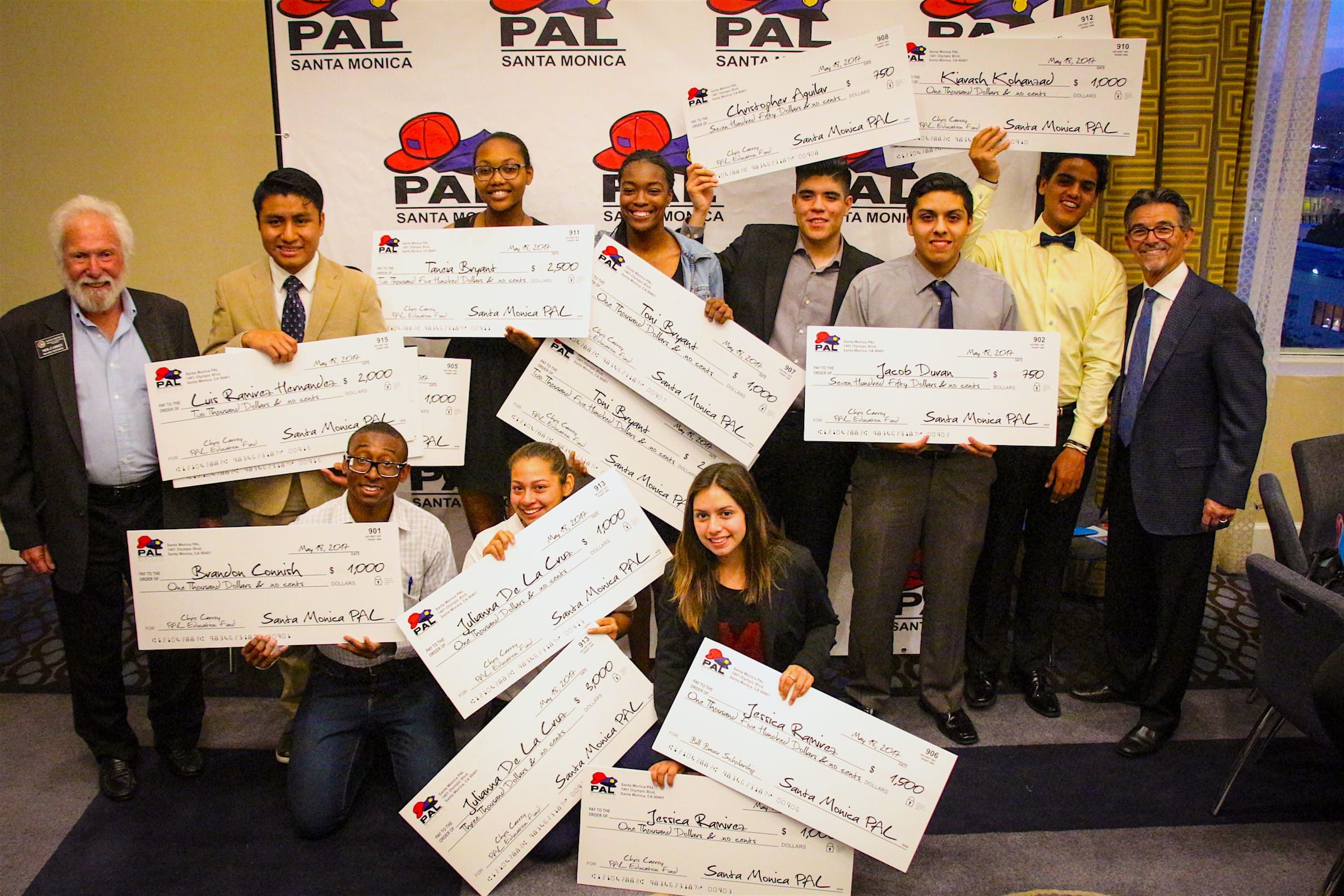 Nine Santa Monica Police Activities, PAL, kids are rich with mentors, family and friends, as well as rich in scholarship funds totaling $21,000 as presented by the Chris Carrey PAL Education Scholarship program on Thursday, May 18 at the Le Meridien Delfina in Santa Monica. More than 200 guests attended including donors, recipients and their families.
Through a joint gift from Ed Simmons and Standard Parking and from Neil and Karen Carrey, an endowment fund has been established for the Chris Carrey PAL Education Fund. This fund provides scholarships for post-high school education expenses to a PAL member who meets required criteria, shows financial need, successfully completes an application package, and is selected by the Chris Carrey PAL Education Fund Committee. The scholarship recipients are presented at the PAL Recognition Dinner and Awards Ceremony in May each year. To date, over $175,000 in scholarships has been provided to PAL youth.
The nine Chris Carrey PAL Education Scholarship 2017 recipients include Christopher Aguilar, $750; Taneia Bryant, $2,500; Toni Bryant, $3,500; Brandon Connish, $1,000;Julianna De La Cruz, $4,000; Jacob Duran, $750; Luis Hernandez, $4,000; Kia Kohanzad, $2,000; and Jessica Ramirez, $2,500.
"PAL is a place I have been relying on heavily since the age of seven and it has always been there for me," said Julianna De La Cruz, Chris Carrey PAL Education Scholarship recipient. "I have forged a special bond with PAL that will never be replaced nor forgotten."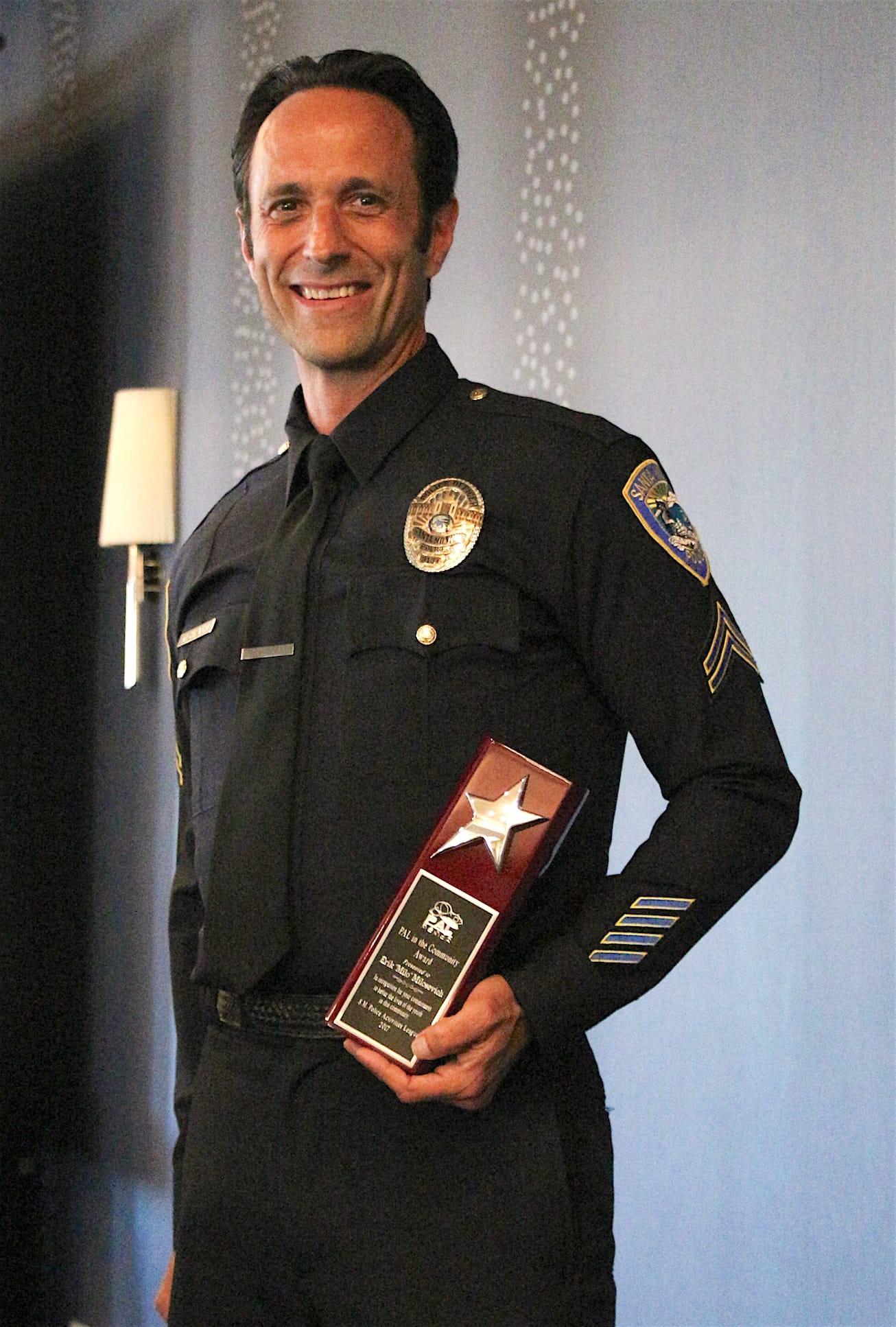 The Chris Carrey PAL Scholarship presenters included Tony Antich, Kiwanis Club of Santa Monica; Elaine Polachek, Assistant City Manager at City of Santa Monica; Judi Barker, PAL Board of Directors; Eric Reed, Santa Monica Chamber of Commerce; Richard Lawrence, Santa Monica Chamber of Commerce; Joey Powell for Mary Ann and Jim Powell, Pacific Park on the Santa Monica Pier; Ed Simmons, SP Plus; and Charles Andrews; Adrienne Blackman; Neil Carrey; Kathy Irby; Baker and Hostetler; Patty Loggins; and Helen Albright.
"We are very grateful to the many donors, sponsors and presenters for their scholarships and support throughout the year," says Eula Fritz, Director at Santa Monica Police Activities League. "This is a very special event for PAL kids and staff as many of the scholarship recipients are like family to us. Some have been with the organization for more than 10 years and we've all grown together through academic counseling and one-on-one mentoring."
In addition to the presentation of the Chris Carrey PAL Education Scholarships, the annual PAL Recognition ceremony provides an opportunity for PAL to bestow Community Recognition awards to deserving members of the community who have had an impact on the lives of youth. One award recipient was Officer Erik "Milo" Milosevich who is a former PAL officer.
The Santa Monica PAL is a nonprofit organization dedicated to providing a safe and supervised place for young people ages 6 through 17. PAL teaches skills, promotes self-respect and respect for others, and helps kids reach out to their peers and to adults. PAL provides free academic and cultural programs and a wide variety of recreational activities. Each year hundreds of youth learn to work and play in groups, with individual attention available whenever it is needed.
"PAL has taught me to lend a hand, appreciate and persist, not by telling me how to do it, but by giving me the opportunity to do it: to help others, to give thanks and to preserve past the finish line," added Luis Ramirez Hernandez.
The Santa Monica Police Activities League is located at the PAL Youth Center at 1401 Olympic Blvd., Santa Monica, CA 90404. The Center is open Monday through Friday from 12-10 p.m. and Saturday from 12-6 p.m. For more information, call 310-458-8988 or visit smpal.org.