A multiple-vehicle crash that injured two, including someone riding a bike, closed the intersection at Colorado and Ocean Avenue, one of the city's busiest, for several hours Wednesday afternoon.
A woman in her 80s hit two other cars and a person on a bike on Ocean Avenue, sending herself and the cyclist to the hospital Wednesday, according to Santa Monica Police officials. The bicyclist is in critical condition, officials said.
The crash comes after a series of five fatal traffic collisions over the course of roughly the same number of weeks in March and earlier this month. It also comes less than a month before the City Council will hear an update from city staff about what progress has been made on Vision Zero, the policy, adopted last year by the City Council as part of the Pedestrian Action Plan, that the city's top priority should be the elimination of major injuries and deaths resulting from traffic crashes and that all engineering, enforcement, and education strategies should be tailored to that end.
According the police, the driver "was involved in a collision at Northbound Ocean Ave at Moomat Ahiko Way. After striking the vehicle in front of her, she continued north along the east curb striking multiple vehicles, a bicyclist, and ultimately striking two vehicles that were stopped and waiting to proceed west on Colorado Ave."
Police officials said that the bicyclist "was transported to a local hospital with injuries that were initially assessed as moderate but his condition was downgraded to critical after a further assessment by hospital staff."
The driver was also taken to the hospital after complaining of pain, officials said, also noting that the cause of the crash is still under investigation.
The intersection where the crash occurred is one of the city's busiest, as it is directly in front of Santa Monica's most iconic attractions: the Pier.
That intersection was one of 11 that the city turned into scramble crossings last year, meaning these are intersections which have a "pedestrian only" phase in their signal light cycles, during which vehicles are prohibited from entering the intersection, even for right turns.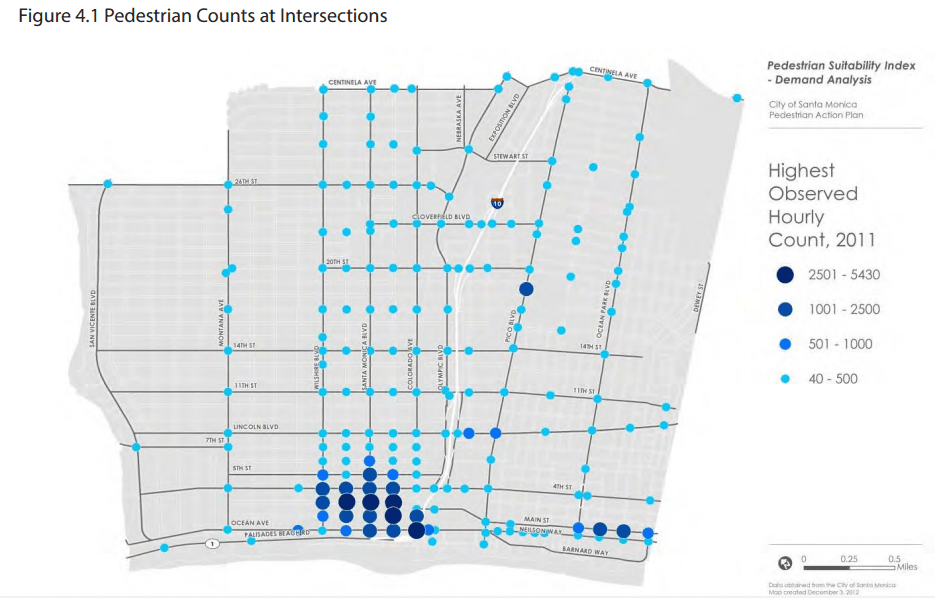 The point is to reduce times when people driving and people walking compete for the same space in the intersection, thereby reducing the potential collisions.
Scramble crossings are generally considered safer in areas, like Downtown Santa Monica, where many people often walk and it's no wonder this intersection was chosen. According to Santa Monica's Pedestrian Action Plan, in 2011, Ocean and Colorado was one of five intersections in the city that had an hourly pedestrian count of more than 2,500 people.
The recent spate of five fatal crashes in the city has highlighted the need for traffic safety improvements throughout the city.
"We've had wonderful success getting more people biking and walking. The flipside of that is that there are more opportunities for conflict and we need to continue invest to increase safety and prioritize people over cars," Councilmember Terry O'Day told Santa Monica Next earlier this month following one of five fatal crashes that rocked the city in March and April.
The City Council voted last year to adopt a Pedestrian Action Plan that put at the forefront a "Vision Zero" strategy for street safety. "Vision Zero" is the principle that the city's top priority should be the elimination of major injuries and deaths resulting from traffic crashes and that all engineering, enforcement, and education strategies should be tailored to that end.
Following the series of fatal crashes, city officials told Santa Monica Next in an email:
"We are currently analyzing both historic and new data for a report scheduled to go to Council on May 9th that will seek to pinpoint, to the extent possible, how these incidents fit into larger patterns here in Santa Monica and beyond.

"If conditions have changed, we will have to adapt and adjust our policy initiatives to meet those conditions. Achieving a goal as ambitious as Vision Zero will require flexibility, tenacity, commitment of resources, consistent enforcement, vigilant monitoring and community participation.

"There are no magic answers, but Santa Monica is part of a national movement committed to no longer tolerate senseless and tragic loss of life and life-altering injuries as tragic 'accidents.'"
At the Council meeting on May 9, the City Council will weigh in on exactly what can improve and what is working with regards to road safety in Santa Monica.