Via Santa Monica College press release.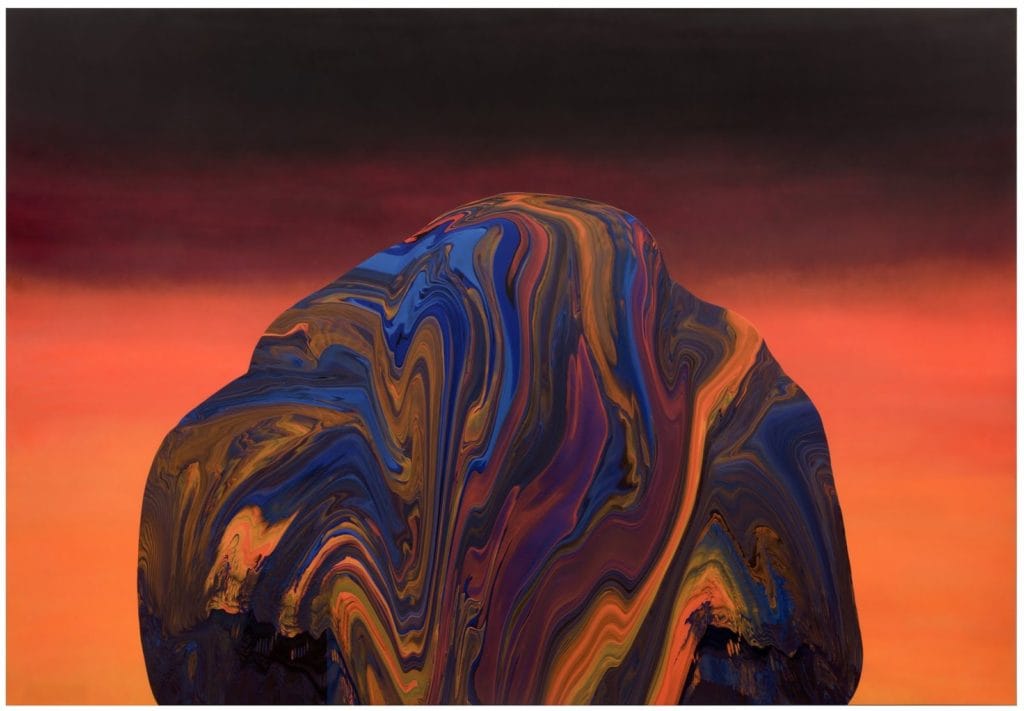 The Santa Monica College Pete & Susan Barrett Art Gallery is pleased to present "Andy Moses: A 30-Year Survey," an exhibition documenting the evolution of the artist's elusive non-objective pictorial works.
The exhibition will be open to the public from Tuesday, February 14, to Saturday, March 25, with a gallery reception on Saturday, February 11, from 6 p.m. to 8:30 p.m.
Moses will also present an art talk in the gallery on at 7 p.m. on Tuesday, March 14. Seating is strictly on a first-arrival basis.
Curated by Barrett Art Gallery Director Marian Winsryg, the comprehensive, chronologically sequenced installation follows the progression of Moses' style and process – which reflect the artist's 15 years in New York and 15 years in the Los Angeles area – and ranges from his early black-and-white works exploring galactic and microscopic imagery through chemical paint reactions, to his most recent vibrantly colored 'dispersion' paintings.
"We've been planning this exhibition for the past two years," said Winsryg, "working with the William Turner Gallery on reviewing and selecting works that capture the imagery Moses was creating at particular moments in time, and that reflect his style development over a period of time."
Moses – who grew up in Santa Monica and studied with Michael Asher, John Baldessari, Barbara Kruger, and Douglas Huebler at the California Institute of the Arts (CalArts) – moved to New York in the early 1980s and began to create process-oriented works that incorporated silkscreened science-related imagery and newsprint text into what critics have described as "meteoric and geological-looking paintings." A decade later, Moses began exploring the use of powdered pigments with acrylics to create referential, yet non-objective abstractions.
Moses returned to Los Angeles in 2000 and now works from his studio in Venice. After detailed notations, experiments with materials, and elaborate preparations, he executes each painting in a single uninterrupted session, a process described as "part painting, part science, and part 'garage alchemy,' in which humble materials are transformed completely through process." Many of his recent pieces feature pearlescent pigments on canvases that are convex or concave in shape, causing the colors to shift and change like fluids as the viewer moves by them.
Works by Moses are in many private and public collections, including the Los Angeles County Museum of Art (LACMA), Orange County Museum of Art, Laguna Art Museum, and the Frederick R. Weisman Foundation.
Moses has had numerous solo exhibitions over the years at galleries that include William Turner Gallery (Santa Monica), Peter Blake Gallery (Laguna Beach), and Sam Freeman Gallery (Santa Monica).
His works have also been featured in many group exhibitions, including "Elements" at LA Artcore, "Skin/Deep" and several other exhibitions at William Turner Gallery, and "West Coast Abstraction" at Peter Blake Gallery.
Moses has also been the recipient of the prestigious Premio Michetti, awarded since 1947 by Italy's Fondazione Michetti to outstanding Italian and international artists.
SMC's Pete & Susan Barrett Art Gallery is located at the SMC Performing Arts Center on Santa Monica Boulevard at 11th Street, Santa Monica. Please enter from 11th Street or the center courtyard between The Broad Stage and the newly constructed Music Hall.
Gallery exhibits, receptions, and art lectures and talks are free.
Gallery hours are noon to 5 p.m. Tuesday through Friday and 11 a.m. to 4 p.m. Saturday.