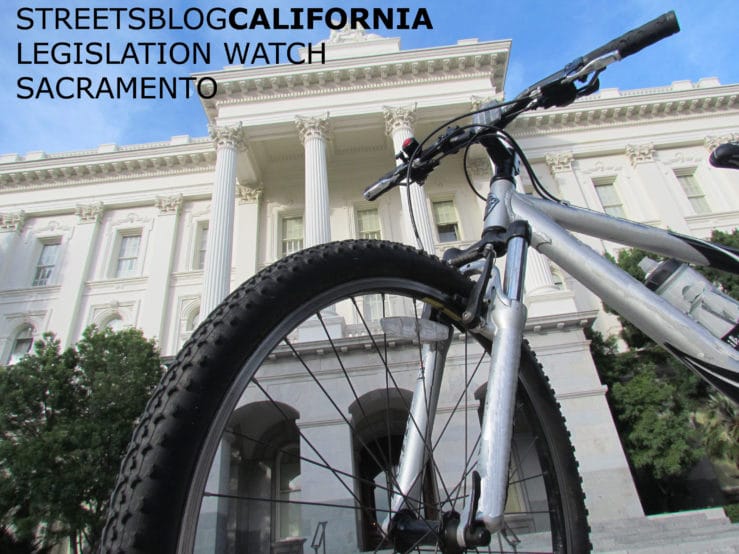 This article originally ran on California Streetsblog last week.
Wasting no time, lawmakers opened the first day of the California legislative session by introducing a slew of bills and resolutions to get things started.
The two biggest bills—S.B. 1 from Senator Jim Beall (D-San Jose)  and A.B. 1 from Assembly member Jim Frazier (D-Oakley)—are pretty much identical, and pretty much the same bills that got nowhere in the Transportation Special Session that ended a few weeks ago. Both raise funds by increasing gas and diesel taxes, by increasing vehicle registration fees and imposing a higher fee on zero emission vehicles to make up for not contributing any gas taxes, and by finding and identifying "efficiencies" within Caltrans to save money and reallocate it to other priorities.
The crucial issue is, what are those investment priorities? And will they align with other state priorities like greenhouse gas reductions? So far, the answer is: not exactly.
The focus of the $6 billion annual revenue from these bills is on "fixing roads and bridges," with some restrictions that would sort of ensure it would be spent wisely. However, there is little to guarantee that it won't be spent on the business-as-usual approach of widening roads to make room for more traffic. There is one small benefit: bills both require that the California Highway Design Manual incorporate the concept of "complete streets" throughout, by either July 1, 2017 or January 1, 2018, depending which bill you're looking at. That's as far as the notion of "complete streets" goes in these bills, though.
The amount allocated for road maintenance and construction would dwarf the amounts both bills would invest in transit and active transportation. And, although they would double the amount of cap-and-trade money going to the Intercity Transit and Capital Rail program, they add nothing from the $6 billion the bill would raised bill. Given the anemic last few rounds of cap-and-trade revenue—and remembering that the purpose of cap-and-trade was never supposed to be to raise money—that is hardly a guarantee of a robust, long-term investment in transit, which is what the state needs to help it meet any sustainability goals.
Both bills would invest $80 million in the Active Transportation Program, a small but very needed amount. "Up to" an additional $70 million, say the bills, would go to the ATP from "efficiencies" found within Caltrans, but it's not clear what incentive Caltrans would have to actually identify those "efficiencies" and make them happen, if the money were just going to be taken from the department and handed over to one of its programs.
Both bills also include a couple of eyebrow raisers: they would remove the California Transportation Commission—which makes state transportation funding decisions—from the oversight of the California State Transportation Agency, and create instead an Office of Transportation Inspector General, which would be funded from the $6 billion raised by the bill. On the face of it, forcing Caltrans to find and eliminate waste while creating a new oversight agency in place of one that exists seems…..disingenuous.
Besides the transportation spending bills, other early bills include Assemblymember Chris Holden's A.B. 17, another try at getting free and reduced-fare transit passes into the hands of people who need them. Holden (D-Pasadena) shepherded a similar bill through last year's session but wasn't able to get it passed in the end.
Senator Beall also introduced S.B. 3, which would create a $3 billion statewide housing general obligation bond to address the housing shortage. And Senator Toni Atkins (D-San Diego) submitted S.B. 2, the Building Homes and Jobs Act, which would impose a $75 fee on real estate transaction documents to fund affordable housing.