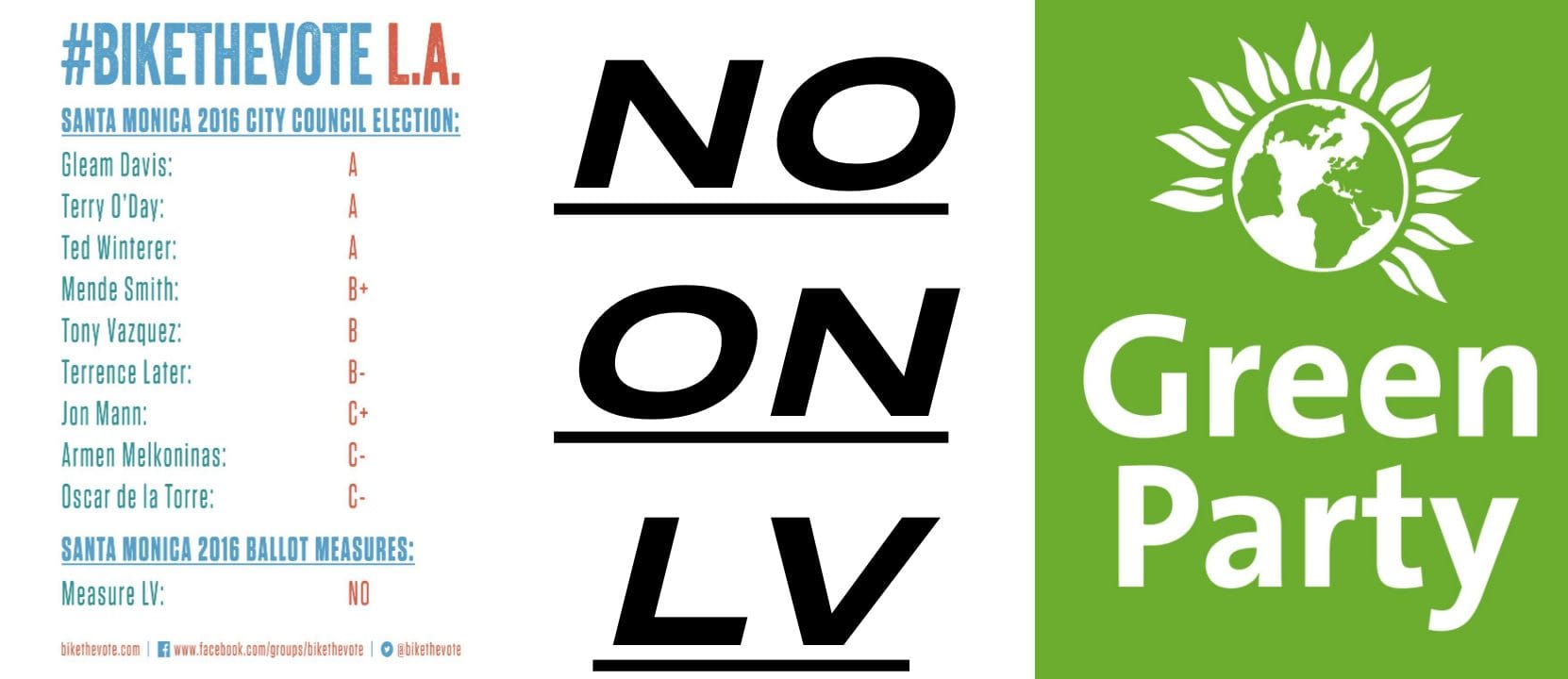 The campaign bandwagon against Measure LV got even more crowded over the last week as the region's "Bike Lobby" and political left-flank both announced that they were urging Santa Monica residents to vote no on LV. Last week, Bike the Vote LA released their candidate's report card which included a dis-endorsement of LV. Monday night, the Green Party Los Angeles County Council (GPLAC) also voted to oppose LV.
Measure LV was brought to the ballot by a signature gathering campaign by the no-growth advocacy group Residocracy. It would require a citizen's vote on nearly all developments that are more than two stories and major repairs or remodels on existing buildings above that height threshold. It also fails to exempt hospitals, schools, fire stations, nonprofits, and other vital institutions. Whether it's the intended goal or not, critics of the proposal fear it would end the already-slow growth of housing stock.
After noting the many allies of bicycling safety that were opposed to LV, Bike the Vote made the case that a side-effect of decreasing the housing stock and planned density for the community is making streets less safe for vulnerable road users.
"As a group focused on improving the safety and quality of mobility options as well as the overall livability of cities and neighborhoods, we recognize the need for smart and sustainable development to address issues of housing affordability, equity, and mobility. Measure LV would only make automobile traffic worse and drive up housing prices, while leading to longer and less bikeable commutes for many people in Santa Monica and around the region. Bike The Vote L.A. urges a "NO" vote on Measure LV."
While the group did not make endorsements for City Council, it did award three incumbent Council Members "A" grades : Gleam Davis, Terry O'Day and Ted Winterer. The next highest grade was a B+ for challenger Mende Smith who scored ahead of incumbent Mayor Tony Vazquez.
At Monday's meeting of the GPLAC, the board voted unanimously to oppose Measure LV over the objections of Smith who is an outspoken supporter of the measure. The local Greens have not endorsed in the Santa Monica City Council race, although Smith has been featured nationally in the party's "spotlight" on Green Party candidates throughout the country.
You can see a nearly complete list of supporters and opponents to LV at the respective websites.