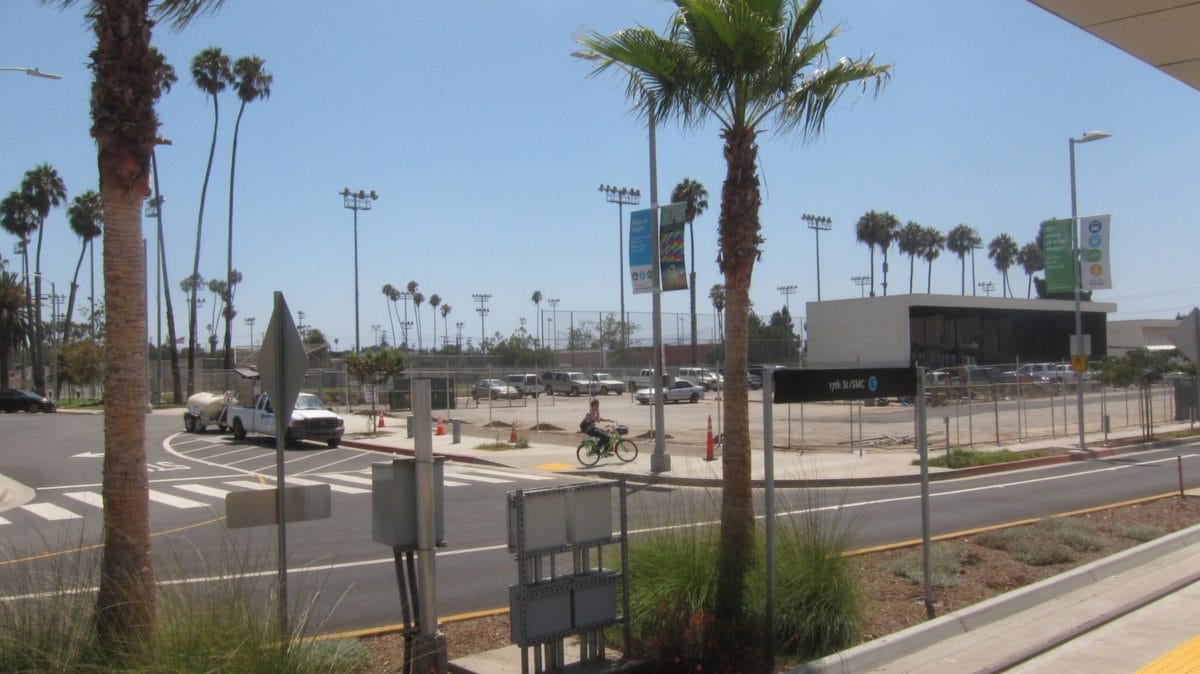 Step off the Metro train at the 17th Street/SMC stop in Santa Monica and you're greeted by an uninviting industrial scene dominated by a large city maintenance yard. Memorial Park is off in the distance, obscured by unattractive lines of chain-link fencing.
The view doesn't get much better on the other side of the tracks. There you'll see low-slung, faceless commercial buildings, some of them vacant.
Meanwhile, Santa Monica College, a location for which the stop is partly named, is a good half-mile away and nowhere in sight.
Metro riders at the 17th Street stop might be tempted to remark what American writer Gertrude Stein once famously said of her native Oakland: "There is no there there."
Unlike the glamour destinations of the bustling downtown Santa Monica stop to the west or the creative-artsy vibe of the 26th Street/Bergamot Station stop to the east, the 17th Street stop seems like an afterthought. A metro stop because, well, one had to be built somewhere between those two more destination-friendly stations in Santa Monica.
On a recent weekday in the early afternoon, a dozen or so people were waiting for trains in either direction, certainly not the mass of riders that the Downtown stop is experiencing at all hours.
One rider peering down the tracks for his train was Dana Cruikshank, a maintenance technician who has been using the Expo Line to commute to his job in Santa Monica from his home in the Crenshaw District.
"It takes me 20 minutes to get back and forth from work, so I love it," he said. "I only have a five-minute walk to work from here, and I don't have to worry about parking."
Ridership is heaviest during the commute hours in the early morning and late afternoon, according to Hector Alvarado, a Metro Safety Ambassador who has been stationed at the 17th Street stop for the past two weeks.
For students of Santa Monica College, the main campus is a 10-minute walk from the metro station. Or they can board a shuttle bus or hop on a bike.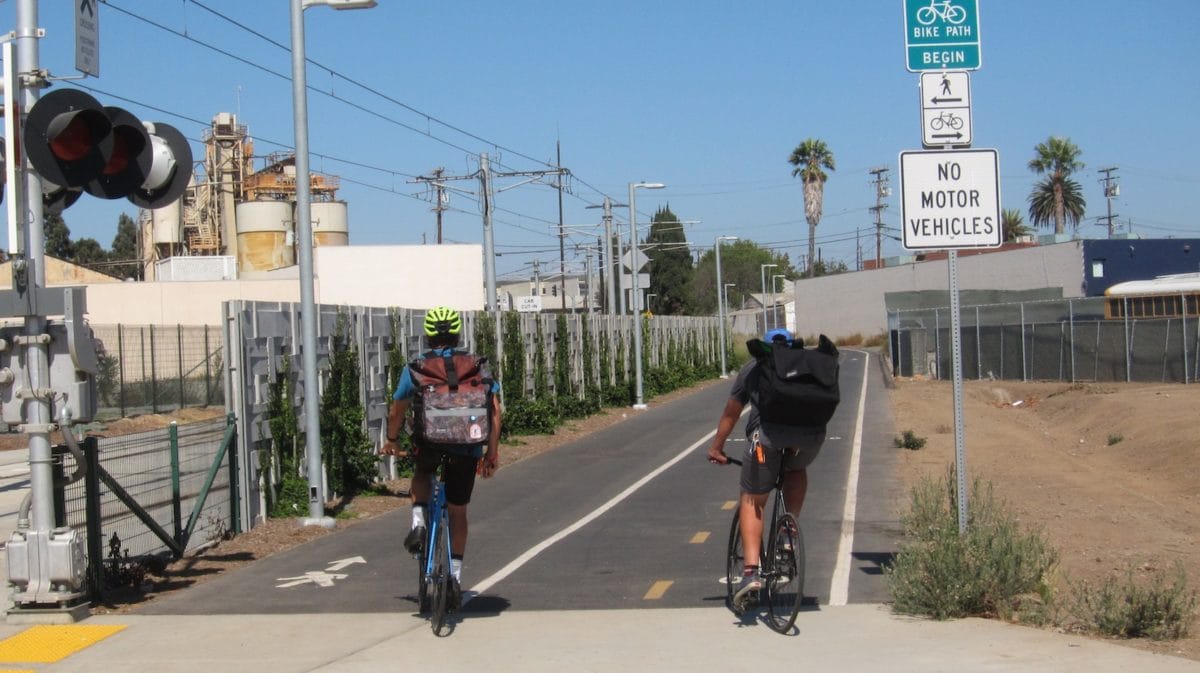 Alvarado has used the Expo Line for his own commute from West Covina to Santa Monica. He parks his car at the El Monte Metrolink Station, takes a bus to downtown Los Angeles, and then boards the Expo Line to Santa Monica.
"I am not going to stay sitting in traffic, wasting gasoline. It makes no sense. So I relax, take a nap. It's a nice ride," he said.
And the 17th Street stop has proven popular with local residents, such as Richard Rodriquez, 66, who has lived in the neighborhood his entire life.
"I go from here to L.A., where normally I would drive. It's a lot cheaper and more comfortable."
Those who want to experience the neighborhood beyond the industrial and commercial ambiance near the station can venture a few blocks in either direction and find a variety of options, from the longtime neighborhood standby Co-oportunity Market to a Jewish synagogue. Memorial Park offers a large ball field, tennis courts, skate park, dog park, basketball gym, and fitness center.
Local businesses have noticed a slight uptick in foot traffic from people wandering off the Metro and into the surrounding neighborhood.
"We have a lot more people walking around the community," says Xavier Banister, owner of the Cuttin Up! hair salon on Broadway.  He says his business has increased almost 10 percent since the Metro Line opened in May.
"A lot of people don't know exactly where to go, so they come to the barber shop. And then they find their way to the Promenade," he said.
While Banister is pleased with the additional customers, the manager of a nearby coffee shop isn't as thrilled. While she didn't want to be quoted, she said that they were happy with their neighborhood customer base before the Metro Line opened. The additional people wandering in from riding the train have put a strain on their ability to serve their regular customers.
For cyclists, the 17th Street stop offers a mixed bag. On the positive side the stop features twenty bike lockers and several bike racks, along with a large Breeze Bike Share station. And the station marks the beginning of a dedicated bike path heading east.
But if you're heading west, this is where the dedicated bike path ends, and there's the rub. You have to pedal your way north to Broadway and finish your journey to downtown Santa Monica and the beach along a bike lane that runs right next to vehicular traffic.
It's all a learning experience as everyone adjusts to having the Metro in the neighborhood.
"It's a new paradigm shift," says James Wilson, a principal with Lee and Associates, a real estate company looking to lease a commercial building right across the street from the new stop.
"I've heard clients that look at my space and say, 'This would work really well. We could jump on the train and go downtown.' So that's a real plus.  I think the train stop will be helpful over time if it becomes more routine."
The opening of the 17th Street stop afforded the city a chance to initiate needed improvements to the neighborhood, according to Francie Stefan, mobility manager for the city of Santa Monica.  She said the city envisioned this stop as serving local residents as well as commuters to the college and two nearby medical facilities, UCLA Medical Center and St. John's Health Center.
With that in mind, the city is using Metro funds to add more street lightning in the neighborhood so that train commuters won't feel intimated walking in the dark once winter comes, she noted.
And 16th Street was turned into a one-way road heading north from Olympic Boulevard to add more parking for Memorial Park and to make the street more pedestrian-friendly.
There are even grander plans to extend the green space of Memorial Park to Colorado Boulevard.
The ongoing development of the Memorial Park Neighborhood Plan is another opportunity to ponder how best to design the neighborhood surrounding the 17th Street stop. Planners are envisioning ways to "activate" the commercial areas surrounding the station, including 20th and 14th Streets, to include more destination options such as coffee shops and corner stores, which are in short supply in the area.
And if the 17th Street metro stop remains fairly toned-down in comparison to the city's other two stations, that's fine too, according to Stefan.
"That's what is wonderful about it. It's a great characteristic," says Stefan. "We don't want to always go to a busy area. It's nice that it's a low-key station."