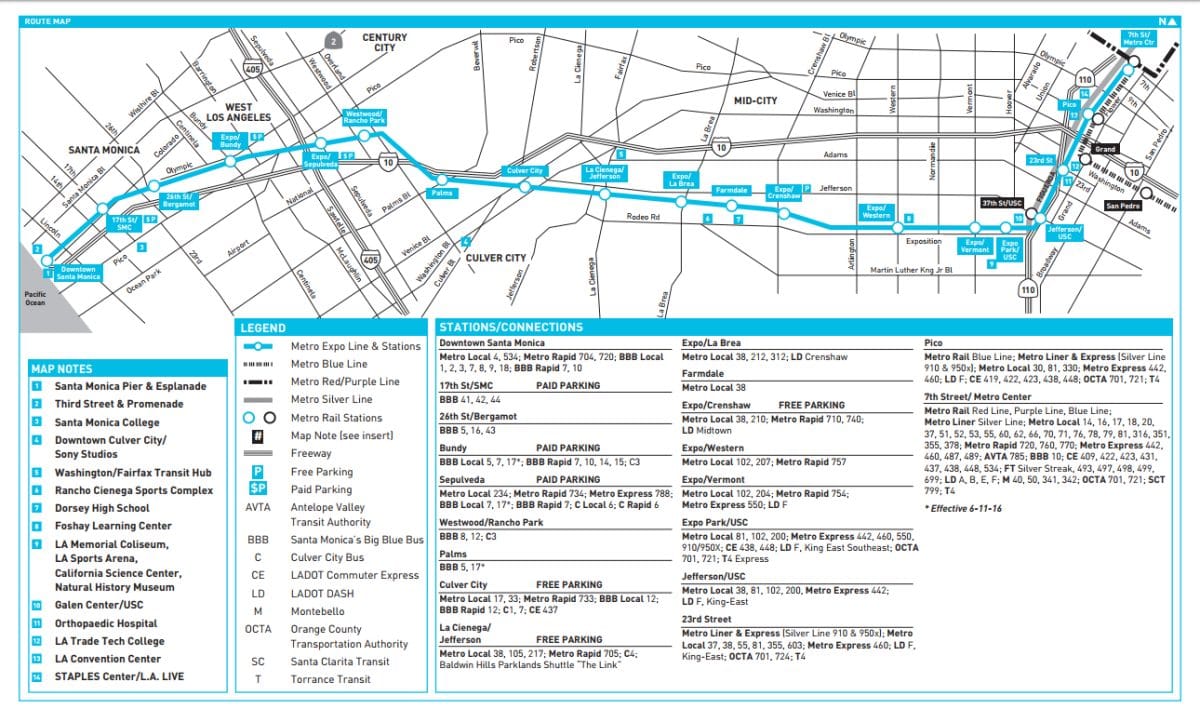 In case you needed a reminder that, in less than a month, you'll be able to take a train from Downtown Los Angeles to Downtown Santa Monica, Metro.net has posted the official route map and timetable for Expo.
According to the time table, travelers can expect a trip from Downtown Santa Monica to the 7th Street Metro Station in Downtown L.A. to take about 45 minutes. The westbound trip looks like it will take slightly longer: about 50 minutes.
The newly released time table and route map serve as a reminder that Expo Phase 2, a 6.6 mile extension from the current Culver City terminus to 4th Street/Colorado in Downtown Santa Monica, is opening to the public in just about two weeks. And there will be no shortage of fanfare. As Metro's The Source reported last month, the transit agency will be offering free rides on Friday, May 20 (opening day) and Saturday, May 21.
On Saturday, six of the Expo stations will be hosting festivals to celebrate from 10 a.m. to 4 p.m.: Culver City station, Palms, Bundy, 26th Street/Bergamot, 17th Street/SMC, and Downtown Santa Monica. That day, the Big Blue Bus and Breeze Bike share will also offer free rides.
Then, about two weeks later, Santa Monica will have its first open streets event, called Coast. Roughly two miles of streets will be closed off north and south of the Downtown Santa Monica station to give people a chance to explore Main Street and Ocean Avenue by bike, on foot, or any other non-motorized means.
More details on all the celebrations can be found at smgov.net/expo. There are more details about free Breeze Bike Share rides here.
While Expo's arrival alone is worth celebrating, the fanfare will also draw attention to Santa Monica's multimodal transportation initiative which aims to increase the number of options people have for getting around. Recently, The Los Angeles Times took a closer look at all the things Santa Monica is doing to encourage people to think differently about how they get around.
Whether it's adding 11 pedestrian scramble crossings Downtown, bringing in more car-share options, realigning Big Blue Bus service to better connect with Expo, expanding the city's bike lane network, or launching the first public bike-share system in L.A. County, Santa Monica is working toward a multimodal city.