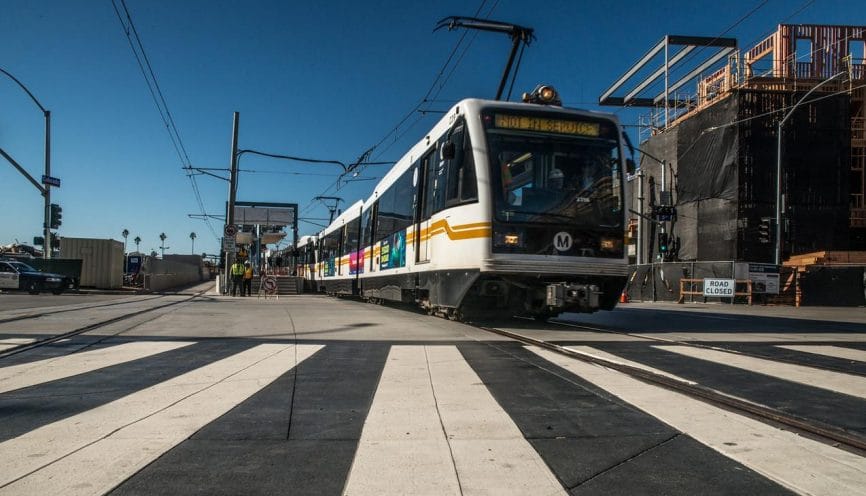 Transportation is often a topic of conversation on the westside. People seem to love complaining about traffic as much as they hate sitting in it.
But now we will have something positive to look forward to in the world of westside transportation. Santa Monica announced today three upcoming celebrations to herald a sea change in the way people can get around in the city and surrounding places.
On May 20, Santa Monica will celebrate the grand opening of Expo phase 2, which will connect the bayside city to the county's growing regional train network, and 1.5 miles of new off-street bike/pedestrian path along the Expo route in Santa Monica (though this still needs some work just east of Santa Monica). Officials expect the train to begin running in the afternoon and be free to ride.
Festivities will continue on May 21 with activities at all three Santa Monica stations (26th/Olympic, 17th/Colorado, and 4th/Colorado) as well as free fares on Big Blue Bus, Expo, and Breeze Bike Share, which has 500 bikes at 75 stations throughout the city and in neighboring Venice.
"Each station will celebrate the opening and various locations will provide information about local transportation options, and encourage attendees to get out and about to enjoy local businesses and activities happening throughout the day," according to city officials.
Then, on June 5, Santa Monica will continue the celebration with its first open-streets event, now being called "Coast," according a press release put out by city officials Wednesday.
During the event, hosted by Metro, about two miles of streets will be closed off to motor vehicles, allowing visitors and residents alike to explore at a more human pace.
"Local businesses, organizations, community groups, and city departments will be actively involved in this citywide event, including producing interactive, engaging activity hubs along the route," officials said. Coast will also be an opportunity for people to learn about the array of new — and existing — mobility options available in Santa Monica and the surrounding area, including Breeze Bike Share, the Big Blue Bus, Expo, and the car-share service Zipcar, which will be available in the spring, according to officials.
The city of Santa Monica is also moving toward installing 12 pedestrian scrambles in its downtown by "late June" aiming to make crossing the streets safer in the bustling core.
"It's a great time to be living and working in Santa Monica. People can move around our city and in and out of L.A. without relying on a car," said Mayor Tony Vazquez in an official statement issued Wednesday.
"This $1.5 billion investment brings a new level of regional accessibility to Santa Monica and we want to mark this transportation game-changer by energizing the community and showing them how these options can impact their daily lives," he said, referring to the second phase of the Expo line.
"We know traffic is a big local concern, and it's our hope that everyone coming to, or from Santa Monica will take this opportunity to try these new transportation options," he said.
For information about the Expo Line Phase 2 opening events, visit metro.net/moreexpo. For more local information, visit smgov.net/expo.