Expo phase 2 will be opening to Downtown Santa Monica in less than a month and already, the terminus at 5th Street and Colorado Avenue is shaping up to be a multi-modal hub.
In order to improve the pedestrian and bicyclist experience along Colorado Avenue from the Expo station in Downtown Santa Monica to the Pier, the city invested in a complete overhaul of the street. The improvements include widened sidewalks (20 to 30 feet wide), better street lighting, and a protected cycle track, the city's second.
Santa Monica Spoke's Cynthia Rose visited the site of the future Colorado Esplanade, as the city is calling the new multi-modal street, and it's looking pretty close to complete. She posted some pictures in Santa Monica Spoke's Facebook group.
The Colorado Esplanade begins at 5th Street and Colorado and runs along the north side of the Expo station in Downtown Santa Monica. The above picture looks east from the northeast corner of 4th Street and Colorado. In the foreground is the part of the roadway for cars, which will now only allow westbound traffic.
In the middle, you can see the curb that separates the cycle track from vehicle traffic. The project also includes a significantly wider sidewalk on the south side of the street.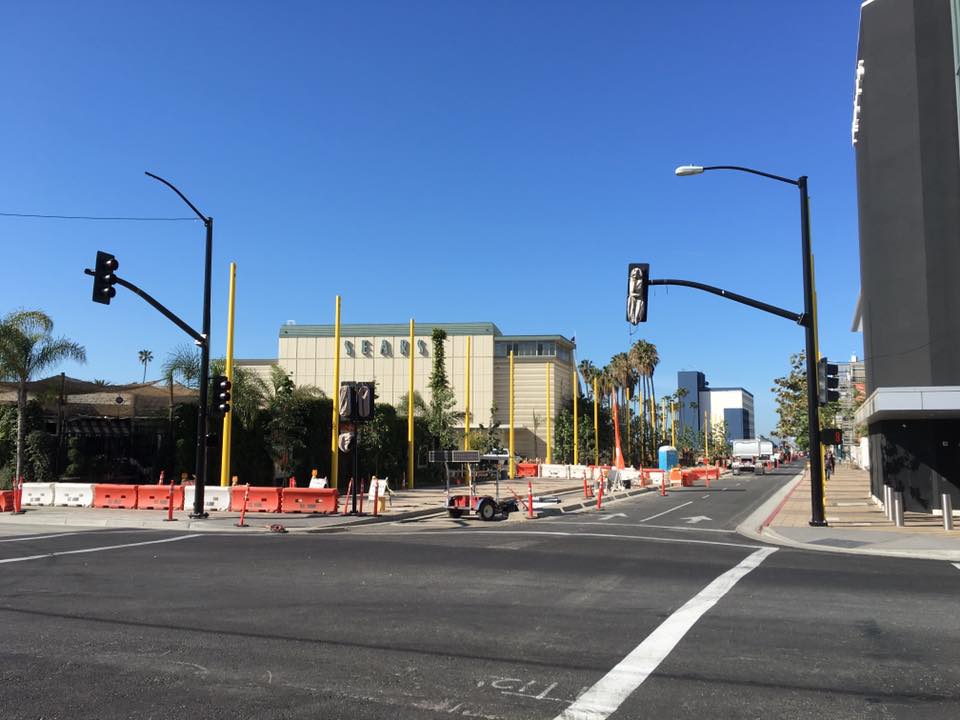 Construction isn't quite complete, but the Esplanade improvements continue west. People disembarking Expo will have a direct line of sight to the Santa Monica Pier. The cycle track and widened sidewalk are also visible in this picture, taken by Rose from the northeast corner of 4th Street and Colorado.
And here's a closeup of the Downtown Santa Monica Expo station. According to a recent profile of the Esplanade in L.A. Magazine, officials expect the project to be ready by Expo opening day.